Español"They are a bunch of crooks all the way down the line! Understand?… And don't compare Argentina to Uruguay, are you ignorant?" These were the words of Jorge Batlle, during a 2002 television interview, while he was still president of Uruguay.
The attorney from the historic Colorado Party governed from 2002 to 2005, a tenure of rocky relations with Argentina. These weren't helped by remarks against the neighboring country regarding their strengthened relationship with the United States, and their determined decision to cut diplomatic relations with the Castro dictatorship in Cuba.
Batlle has since retired from politics and now dedicates his time to running his ranch. This week, however, he enthusiastically agreed to an interview with the PanAm Post. When asked for his opinion on the José Mujica administration, he answered in classic Uruguayan fashion, with a purposeful and deliberate tone. "[I'll] only speak on that to Uruguay, not to the exterior," he said, questioning whether this was still possible in the digital age.
Nisman and Argentina's "Guilty Conscience"
When asked about the controversial death of Alberto Nisman, the Argentinean prosecutor who accused President Cristina Kirchner of covering up Iran's involvement in the 1994 AMIA bombing, Batlle only had "one thing to say." Kirchner, he believes, has done nothing but "discredit the prosecutor" since his death, and her Cabinet chief, Aníbal Fernández, has spewed "nonsense."
"He is a public official at one of the highest levels of government, and is authorized to speak on behalf of the president. Therefore, the administration has focused on discrediting this person instead of keeping its mouth shut and allowing the Judiciary to act."
Batlle argues that the Argentinean government's insistence on creating a "deplorable image" of Nisman is a sign of "guilty conscience."
Socialist Problems
The former president declined to comment on marijuana legalization in Uruguay, perhaps driven by his conservative nature.
"Reporters can ask all the questions they want, but regarding marijuana, it is important to understand that this was voted on two years ago, and it is still not known if the laws will be implemented. You need to understand, [this is] kind of ridiculous. I think there are more important things [to consider] in Mercosur and in America than that."
Fiery, and comfortable discussing economics and international policy, the attorney casts his bait and waits. "What a coincidence that all these socialist governments have united their countries," he reflects.
Known for his strong opposition to Cristina Kirchner, I ask what the future holds for Argentina. "Don't worry about it," he assured me. "Mrs. Kirchner will leave office in 2015. What comes next will be completely different."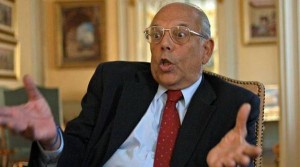 He explained that the biggest problems facing Argentina today are a slow down in investment and the high tariffs that producers are forced to pay when exporting agricultural products. "The tariffs have been very bad for domestic production, and that is what has allowed [Uruguay] to grow. The lack of tariffs here has caused Argentinean production to come to Uruguay and made this an agricultural country."
Instability, says Batlle, is another serious problem in Argentina. "I would say that in a normal political climate, Argentina would see the most growth in all of South America."
Despite his "everything will be alright" attitude with Argentina, the mood changed when we discussed the land of Carnival and bossa nova.
"Brazil has committed serious political mistakes, because it has committed serious economic mistakes. In 2015, Brazil will have a negative growth rate; GDP will decrease. Right now, the worst thing that could have happened to Dilma Rousseff is having brought this upon herself," he stated.
Batlle was also comfortable discussing the economic crisis in Venezuela. The key, he said, is that the country is entirely dependent on oil, and its political and economic situation deteriorated after the collapse of oil prices from US$110 to $40 per barrel.
"The economy has not been able to withstand that combination of grave errors," he said with an air of academic authority.
Without mincing words, Batlle said plainly that "Venezuela is absolutely a dictatorial regime. It is silently approved by ideological allies in these other American presidents."
He believes that because of Venezuela's problems with inflation and varying exchange rates, Maduro's policies will not benefit production or price stability.
On the question on whether the centralization of Venezuela's government has been out of convenience or ignorance, Batlle says no president benefits from his country in misery.
"No president benefits from a country without milk. Practically all the powdered milk consumed in Venezuela in 2014 came from Uruguay. However, that ended in early 2015, because Venezuela has run out of resources." He reiterated that "when a country incurs economic problems, political problems immediately follow."
"When the government controls the justice system, the electoral system, the means of communication, and manages the economy, you will know … that the government is nearing the abyss."
Translated by Thalia C. Siqueiros. Edited by Fergus Hodgson and Guillermo Jimenez.