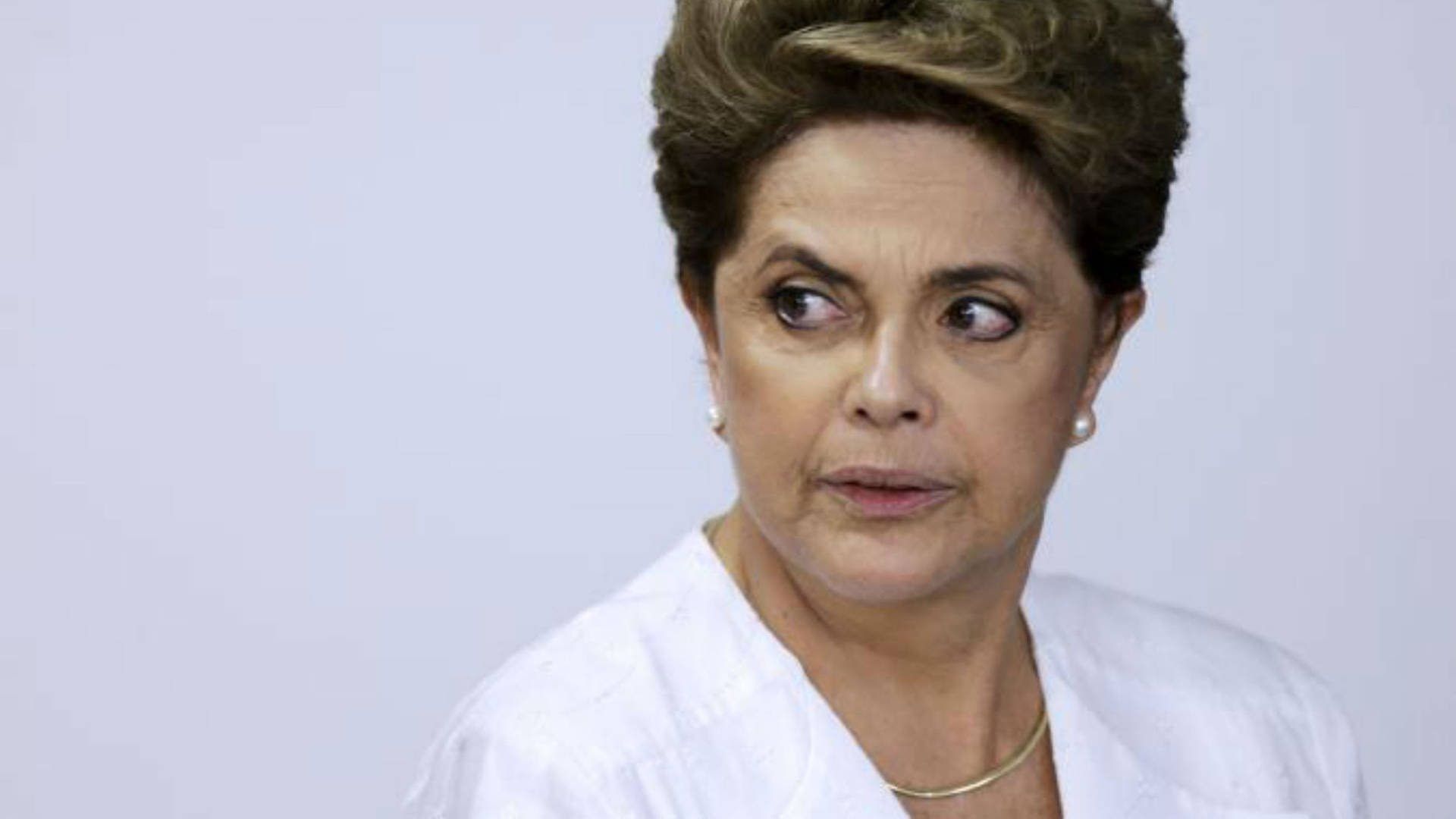 Español In the middle of the presidential campaign, Brazil's Electoral Supreme Court (TSE) on Sunday ordered Google to immediately remove from its advertising network all allegedly noncompliant ads promoted by Empiricus, a financial consulting firm. Government supporters accused the Brazilian company of connections to opposition candidate Aécio Neves, and of using speculation to spread "terror." The controversial advertisement warned of financial chaos if the president were reelected on October 5.
Dilma Rousseff's Worker's Party (PT) filed a complaint on July 25, and she announced the measure through her official campaign website, "More Changes." The explanation given was that she respects freedom of speech, but what happened in this case is that Empiricus ads in the most important news websites of the country — Estado de Minas and Correio Brazilense — exceeded their limits and contravened electoral legislation.
"When they announce how to 'protect your assets from Dilma,' the company creates a horror scenario, relating the reelection of the president with a possible downturn — usual, by the way — of financial markets," reports the Rousseff campaign website.
Meanwhile, Flavio Caetano, a PT coordinator, said that Empiricus Research was carrying out "economic terrorism," and "the company Empiricus used sponsored ads in Google to spread propaganda content favoring Aécio [Neves] and against Dilma, which is legally reprehensible."
Rousseff's representatives have requested that the preliminary suspension hold until the end of the elections period and apply to any advertisement by Empiricus that could be related to the presidential campaign of 2014 or any of the candidates. They have also requested that the judiciary impose a fine of R$30,000 (US$13,300) on opposition candidate Aécio Neves, Empiricus, and Google — the latter for distributing allegedly illegal material.
Empiricus Defense
In a clarification note posted on July 28 on the company's website, Empiricus replied to the accusations that they have been promoting illegal electoral propaganda.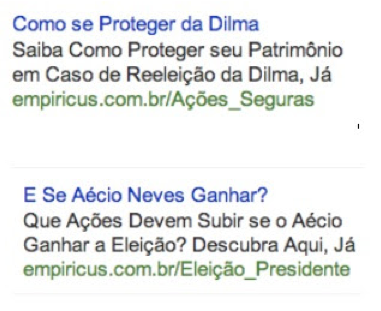 First, they invite the president to prove that there is a real relation between opposition candidate Aécio Neves and the company. Then they explain that the investigation carried out by them shows that in the case of Rousseff reelection, financial assets will depreciate: "This is not an opinion; it is a fact."
"The market reacts in different ways, and with a greater likelihood, it favors Aécio over Dilma," the statement continues. "Of course, there are no predictions of a departure from this correlation. It was this way in the past, and still is. So it can be supposed that the momentum will continue, since there are no new facts to making a structural change in the process.
Under a sub-heading, "explanation for dummies," Empiricus describes Google's ads selection algorithm which benefits the ads that are most clicked. The advertisements related to Dilma simply brought more visits than those related to her opposition.
"If it is well established — and not an opinion — that markets will react with Aécio [Neves] in a different way than with Dilma, one cannot, when talking about markets, apply the same treatment to Aeíco as to Dilma," the Empiricus spokesmen continue.
Reinaldo Azabedo, a blogger and reporter with Veja — an Abril publication, one of the biggest publishing houses of Brazil — condemned Rousseff's through a July 28 article: "Attention Readers! You can like or dislike a journalist; you can like or dislike a bank analysis; you can like or dislike an adviser's opinion. Approving or rejecting these are part of the democratic game. What doesn't belong in the democratic game is censoring dissident voices or, worse, trying to impede simple debates."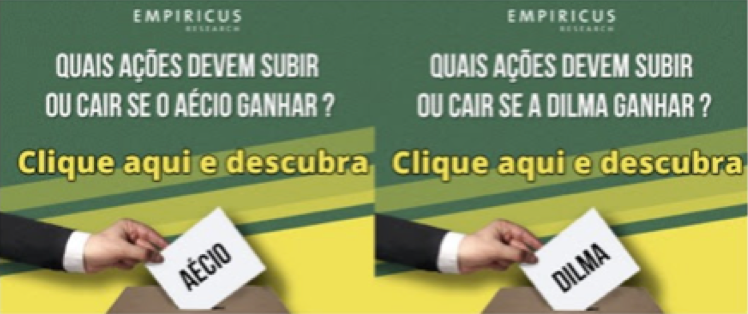 Santander Bank Warns Top Customers
Last week the Brazilian branch of Santander Bank sent a report to their most lucrative clients, and they also assured that the economy would worsen in case of Rousseff's reelection. PT representatives responded in a similar fashion.
"This is economic terrorism. They already did this in the past. This kind of analysis from Santander is a disguised way of saying they have another candidate," believes PT Vice-President José Guimaraes.
Under pressure, the bank sent a formal apology letter to President Rousseff and released a statement publicly apologizing as well. In addition, they fired at least one of the authors of the report.