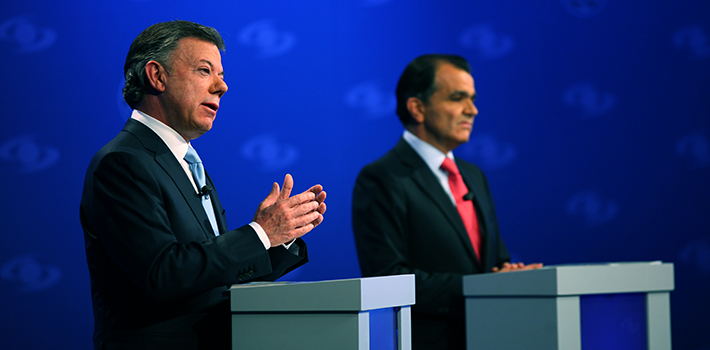 EspañolThe first of two debates between presidential candidates scheduled for a second electoral round in Colombia took place on Thursday night, and was broadcast by Caracol TV. Juan Manuel Santos, the current president seeking reelection with the National Unity Party, faced off against Óscar Iván Zuluaga, the candidate of the Democratic Center.
The economy, employment, international relations, and the process of peace and justice related to negotiations with the Colombian Revolutionary Armed Forces (FARC) were among the issues addressed by the candidates.
In an effort to mitigate the mistakes that each of them has made so far throughout their campaigns, they both presented their own proposals while criticizing the administrative decisions of the other in a nearly constant round of self-praise and blame.
According to pre-debate polls, most people predicted the debate would end in a tie. After the debate, several other polls indicated the supporters of either candidate believed their man had won.
National Security and Peace Negotiations in Colombia
Santos referenced the ongoing conflict with the FARC by saying, "We have the oldest conflict and the continent's largest guerrilla group, but that has not stopped our desire to work for peace."
He highlighted the fact that during his tenure "both the number one and number two leaders of the FARC were taken down," and that the 28 heads of the so-called "BACRIM" (crime and drug trafficking organizations) are all either in jail or dead.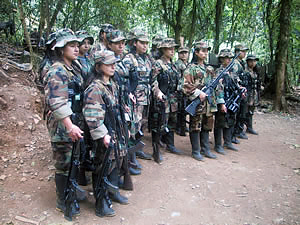 Santos made sure to make peace negotiations with the FARC his main point during the debate, a topic that generated the most friction with his opponent, suggesting that Zuluaga wanted to end these negotiations.
"We have agreed on three out of five points of a preset schedule towards the achievement of a deal, which will boost social progress. What I'm sensing is that Dr. Óscar Iván knows very little about the peace issue. He has been attacking me for three and a half years because I sat down to talk about peace with our enemies."
He added that his opponent does not believe that an internal armed conflict in Colombia exists at all, but rather views it as a terrorist attack.
Prior to first electoral round, Zuluaga said he would suspend talks with the FARC, but appears now to have changed his mind. During the debate, he claimed to support the negotiations, adding that they should be carried out "with conditions."
Zuluaga asked rhetorically, "Would it be too much to require that the FARC, the world's main drug cartel and the terrorist group, stop recruiting children before peace is negotiated? That they stop using landmines? Or that they stop extorting and kidnapping innocent Colombians? That they stop murdering police and soldiers in cold blood? That they stop threatening the country's infrastructure? Is that too much to ask?"
Meanwhile, top FARC leader Rodrigo Londoño Echeverri, nicknamed "Timoshenko," released a pre-recorded message on Thursday asking Colombians to engage in a "massive and spontaneous blank vote, capable of delegitimizing, even legally, both the neoliberal and militaristic options."
Economy, Employment, and Investment
Among the other issues debated by the candidates were the economy, employment, and in particular, doctor salaries.
Santos leaned on his achievements as president and noted his administration's constant search for opportunities to improve social mobility.
"I'm definitely in favor of the theory of having an economy that citizens feel is improving education and employment, with opportunities for their children to progress. We will continue to change the model so that the poorest do not feel vulnerable, giving them homes — those homes that Dr. Oscar Iván does not like — free education, free vaccinations for their children."
President Santos said the policies implemented during the last four years he has been in office are responsible for employment growth "like never before" in Colombia, and that "the unemployment rate has been decreasing for 45 straight months."
He also said that he believes physicians should be better paid, and went as far as suggesting a minimum wage for doctors. "They must earn at least COL$3.5 million (about US$1,850)," he said.
Santos then criticized Zuluaga for claiming to want to improve conditions for workers, event though he worked to eliminate overtime compensation during his time as finance minister.
In addition, Santos accused Zuluaga of leaving behind a fiscal deficit of COL$19 billion at the end of former president Alvaro Uribe's term. He further noted that, at the time, Colombia had one of the highest levels of inequality in the region, second only to Haiti.
As for his plans for the economy, Santos proposed taxing the wealthy, while promoting investment. "The only way that a society generates jobs is through investment. There must be a proposal for giving it proper incentives, that implements stable rules, that makes it competitive. We are competing with the world, and we need to be successful in the world," he said.
Zuluaga responded by explaining that investment in 2002 represented only 15 percent of GDP. After his time as finance minister, investment levels rose to 26 percent of GDP, before the Santos administration took over.
He also wondered why no major reforms had been carried out during Santos' last four years in office. He said that, contrary to what Santos claims, the economy is not in good shape. "Not surprisingly, our position in the competitiveness indexes has fallen dramatically," claimed the opposition candidate.
For Zuluaga, helping the manufacturing sector requires implementing innovative policies that effectively improve the competitiveness of the country. "With our proposal for public education, we will create the human resources that the country needs to grow and generate better income for all households. Without education there is nothing," he said.
Regarding the salary of doctors, he said that "it is inhumane that a doctor earns COL$1.5 million per month (about US$790)."
Relations with Venezuela
When the issue of Venezuela was raised, Zuluaga said that he would not maintain a "silent complicity with Venezuela." In his view, the key is to enhance the professionalization of diplomatic bodies.
President Santos also claimed to have profound differences with Venezuela, but added, "When presidents fight, the people are the ones who suffer."