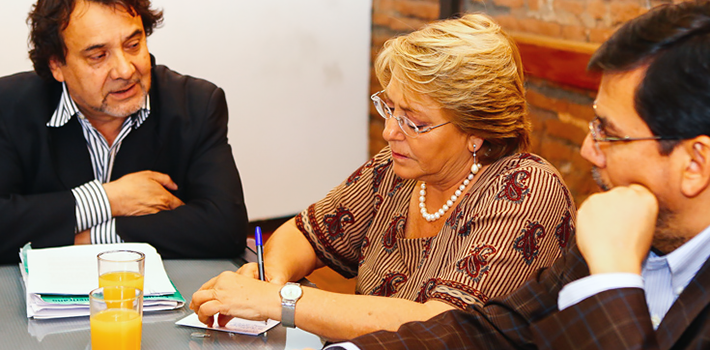 EspañolThe situation in Chile remains tense. The tax reform agreement — which no one liked in the end — brought no respite to the hostile environment that Chilean public discourse has been brewing. What could have been a sought-after breather for the Bachelet administration has failed in that regard, and recent events have maintained the uneasy climate that persists throughout the country.
First, a series of bombings that took place last month have the entire country on edge. While the Bachelet administration refuses to acknowledge the acts as terrorism, a recent Development University survey (pp. 6-7) shows that as many as 67 percent of Chileans believe that a bombing in a public place is, in fact, terrorism. The remaining 30 percent believe it to be a common criminal act. For whatever reason, the Bachelet administration is resisting the majority.
On the other hand, almost 75 percent of the public believe that current anti-terrorism laws have become ineffective and do not sufficiently protect the Chilean people. In addition, when asked to rate their government on a scale from one to seven — where one is abysmal, 4 is acceptable, and 7 is excellent — the administration received a score of 4.1; the police force received a 4.8; and the court system received a miserable 2.68.
Education is the second front where Bachelet has experienced trouble as of late. As soon as an agreement on tax reform was reached, the debate over education reignited stronger than ever. What is actually being proposed in this reform, however, remains unclear. Even worse, awareness of the ambiguous proposal has risen, and with that an unnerving atmosphere among parents who have recently entered the public debate.
This is perhaps partly why, in light of the recent Development University survey, education reform is, ironically, on the verge of failing. The survey has confirmed that public opinion is deeply divided on education policy. These divisions vanish, however, when it comes to evaluating Education Minister Nicolás Eyzaguirre, whose management receives almost unanimous disapproval.
Indeed, confronted with the question "towards the educational reform proposed by the government, your general feeling is that of support or that of rejection?" 44 percent of those polled support it, and 42 percent reject it. But if the question concerns the capabilities of Minister Eyzaguirre, the results show that — on the 1-to-7 scale — the minister receives 3.97 for credibility, 4.3 for effectiveness, and 3.68 for approachability. That makes a barely passing score of 4.
Various other elements of education reform are also interesting to discuss, in light of the recent survey.
For example, the proposal to eliminate school-selection of students faced rejection, contrary to its perceived, egalitarian popularity. Parents want their children to be able to associate with and strive for the best, away from negative influences.
An end to for-profit education did receive approval from 56 percent of those polled. But at the same time, the push for universally free university education was massively rejected.
Concerning the end of the share-cost model in education — between the state and private parties — there remains strong division within public opinion, but more so, there is doubt. Many parents agree with the fact that government education is of low quality. Hence they have begun to toy with the idea of transferring to private schools, and they would rather not have a corresponding tsunami to their family finances.
Taking these developments into consideration, in her second semester, Bachelet's administration will need to make a serious effort to chart a more precise course. Barely alive, her average of 4-point approval means not only mediocrity, but also that the government is treading on thin ice. The slightest mistake could be very costly for Bachelet.
Fortunate for us, public opinion continues to demand more and more from the presidential office. It will not cease, as people seek quality results.