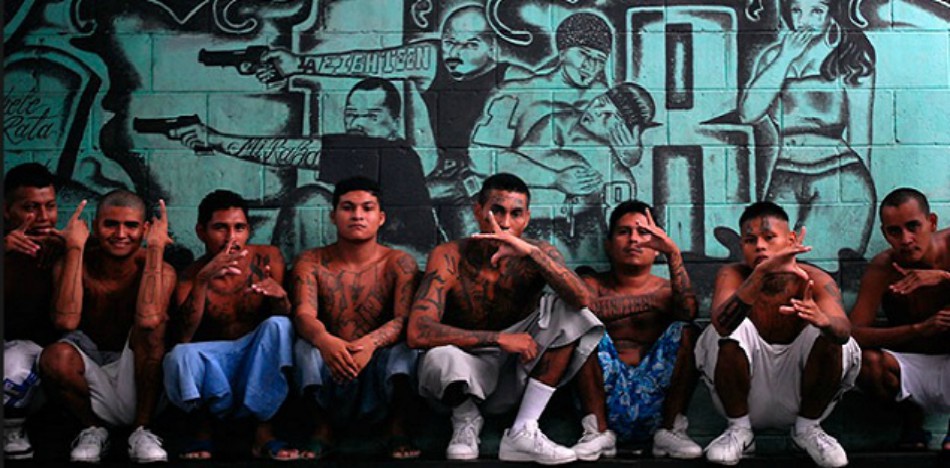 EspañolOne of the largest gangs in El Salvador wants to hold talks about disbanding, but officials are skeptical that it's the right path to peace.
The Sureños gang has reportedly discussed separating, ending extortion and locating the bodies of missing persons.
The international criminal group Mara Salvatrucha also made statement last week regarding their willingness to dismantle. But unlike the Sureños, they didn't mention extortion or locating the bodies of missing persons. Both, however, did mention possible reintegration into normal society.
That reintegration, they said, could be mediated by the United Nations and the Catholic Church.
The local newspaper El Faro conducted an interview with one gang member who represented the Sureños nationally. The spokesperson said the group was interested in negotiating a solution to the widespread violence happening in El Salvador.
While the relinquishing of arms and gang territories is important, the spokesperson said, at some point a deeper discussion must be had between the gang and the government regarding extortion and missing persons.
"Because, of course, without a body, there is no crime," he said. "But if we finally establish a dialogue, sooner or later the victims will want to know where their sons are, their relatives and we have to give that to them."
The Sureños was one of two organizations created after an internal war within the Barrio 18 gang in 2005. The other side is called the Revolutionary faction. Barrio 18 as a whole is present through Mexico and into the United States, as well as Guatemala and Honduras. Only in El Salvador has there been a fracture in alliances, each of which now operate as separately.
Reactions from political parties and civil society
Presidential Spokesman Eugenio Chicas said they ruled out any possibility of meeting with gang members.
"We are clear and firm: there is no dialogue, there is no conversation, there is no possibility of any kind of agreement that leads to that route," he said, and added that the offer was an act of opportunism.
Secretary General Medardo Gonzalez also disagreed with the approach, calling it "diversion-ism."
"The Salvadoran state can not be in those games of dialogues and negotiations with criminals," he said.
Opposition party official did not have a uniform opinion. President of the party Mauricio Interiano said he was against peace talks, while ex-candidate to the vice-presidency Portillo Cuadra expressed his support for it.
"If this gang organization decides to dismantle, it is the best news and what we must support," he said.
But he said he supported a demobilization plan that involves resources for employment and access to decent housing.
"That is to say, a whole social plan that allows reintegrating them into productive life," Cuadra said. "We don't want to hear that they want to dismantle and not pay attention. (That) would be a great political mistake … We must sit down, we must have a dialogue with them within the framework of the law."
The official website of the Central American University José Simeón Cañas (UCA) published an analysis signed by Priest Rodolfo Cardenal:
"The last proposal of the MS-13 has baffled a government committed to repression as the only option. The proposal should not be dismissed lightly, because it puts on the table the dismantling of the largest and most powerful gang. Not to explore that possibility, despite the disgust it may arouse in certain sectors, would show the triviality of the commemoration of the 25 years of the 1992 agreements. "
Source: El Faro