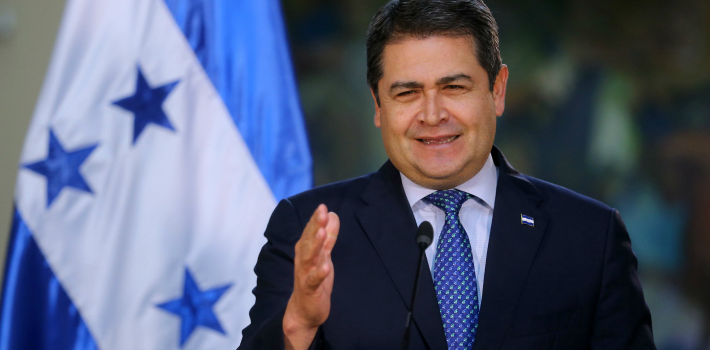 EspañolSome Honduran citizens are concerned about a possible re-election of President of Honduras Juan Orlando Hernandez.
The Supreme Electoral Tribunal of Honduras ruled that the country will abide by the decision of the Constitutional Chamber of the Supreme Court of Honduras, which recently allowed for presidential reelection.
The group "Outraged Hondurans" expressed its concern at the possibility of Hernandez announcing his candidacy. Recently, a video of Hernandez considering the idea has been circling around social media.
Read more: Honduras Supreme Court Approves Presidential Reelection
A recent opinion column written in The New York Times by Joaquin Mejia, coordinator of scientific research Institute in Democracy, Peace and Security at the National Autonomous University of Honduras, said Hernandez has a lot of influence in the Supreme Court, with the Attorney General of the Republic, the Supreme Electoral Tribunal and the National Registry of Persons.
"The re-election in Honduras is illegal, prohibited by the constitution," said Leader of Outraged Hondurans Lester Rapalo, who lives in Miami. "It could only be amended to legalize re-election through a plebiscite. And that of course has not happened."
"We as outraged people are demanding that the mutability of power in our country be respected," Rapalo said. His organization is seeking to lobby in Washington D.C. to request that the U.S. government not send monetary aid to Honduras until the government ensures it will comply with the provisions of the constitution, and respect human rights.
Incriminating video of Juan Orlando Hernández
Last year, the Chamber declared the inapplicability of the constitutional provisions prohibiting presidential re-election and sanctioning those who promoted it. The Chamber argued that the articles violated the constitution and international human rights treaties.
"I come from the land of the untamed Lempira chief and the hand of God and the support of the Honduran people. I will be the next president of Honduras," Hernandez shouted during a political rally. When asked about signs of possible abuses of power, Hernandez said he was only recalling his words of an earlier event during his term.
"I want to make it clear that I have not accepted any candidacy of the National Party," he said. "I reiterate that my best contribution to Honduras, the image of the National Party is to make the best possible government."
The deadline for registering candidacies expires on November 11, 2016.
Sources: El Comercio; Entorno Inteligente