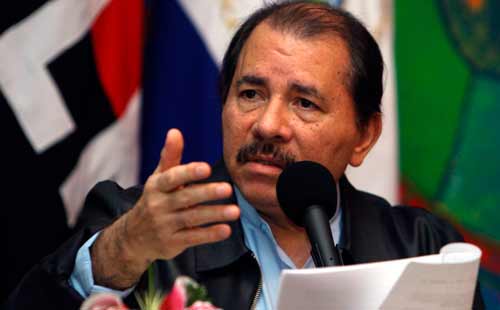 EspañolFour Mexicans and two enviornmental activists from Costa Rica and Argentina that had been arrested in Nicaragua were freed Monday, June 27 in the middle of the night once Daniel Ortega's administration decided not to press charges against them, according to the mother of one of the detained, Julieta Giménez Cacho.
The six arrested people were identified as Daniel Espinoza Giménez, 25, Byron Reyes Ortiz, 28, Ana Laura Rodríguez, 27, Salvador Tenorio Pérez, Emmanuel de la Luz Ruiz and Eugenio Paccelli Chávez, all 25.
Also arrested were members of the Farmer Movement Abel Marenco, Pedro Mena, Migdonio López and an unidentified woman.
https://twitter.com/cefeche/status/747628638762209280
Giménez Cacho explained that he received a phone call at 9:30 at night from the ambassador of México in Nicaragua Miguel Díaz Reynoso to tell him that his son Daniel as well as others would be released at the border of Honduras.
Daniel Ortega accused of lying
The six environmentalists are part of the  Mexican-American Caravan for Good Living touring Central America discouraging the use of wood stoves in rural and marginalized communities. Nicaragua was its last destination of the trip.
The environmentalists participated in a project with farmers that opposed the construction of an inter-oceanic canal and were arrested over the weekend by police, who were investigating their role in an explosive accident that left one person injured.
The arrests occurred in La Fonesca, 200 kilometers southeast from Managua, an area that will be affected by the construction of the canal uniting the Pacific Ocean and Caribbean in the south of Nicaragua. According to the police, the environmentalists "were handling explosive substances" without authorization, constituting the crime of potentially endangering other people."
//
"We categorically reject these false accusations," said the National Council for the Defense of Lands, Lakes and Sovereignty that opposes the canal. "We call on the authorities to immediately release those who were arrested and turn over their possessions."
An estimated 27,000 rural people would be relocated from their property as a result of the canal, which is being constructed by the Chinese firm HK Nicaragua Development Investment (HKND).
The future canal is supposed to be three times the size of the Panama Canal and would be ready within five years, according to HKND.
The government of Nicaragua said the canal costs around USD $50,000 million and will employ 50,000 people.
Sources: Aristegui Noticias, Univisión