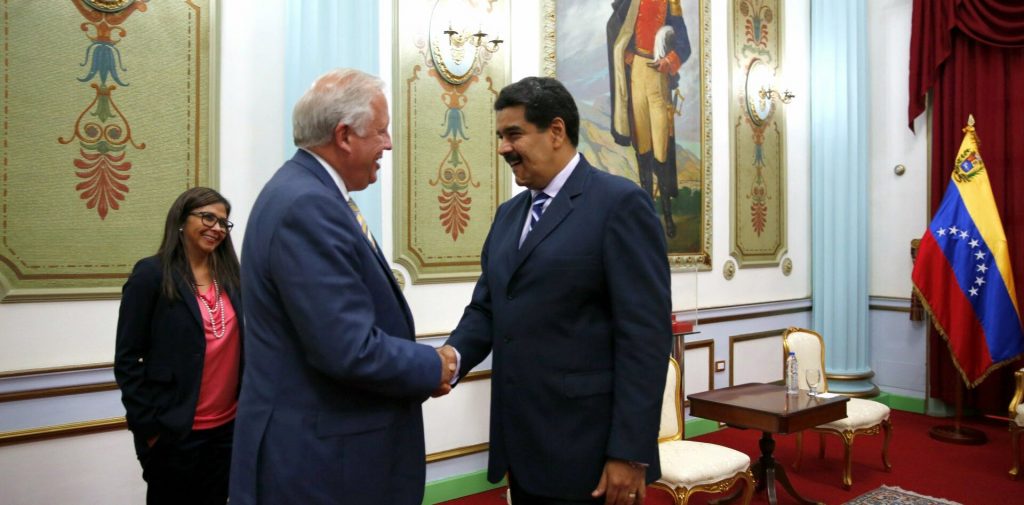 President of Venezuela Nicolás Maduro met with United States Under Secretary of State for Political Affairs Thomas Shannon Wednesday, June 22 in the Government Palace in Caracas with the goal of exploring the possibility of reactivating diplomatic talks between the two countries.
A week earlier US Secretary of State John Kerry announced his intention to maintain talks so as to ease tensions with Maduro's administration.
Before the meeting with Nicolás Maduro, Shannon talked with opposition leaders, including Henrique Capriles as well as members of the National Assembly that is also controlled by the opposition.
"As I told Thomas Shannon, in Venezuela there have been no talks," Capriles said. "Venezuelans need immediate answers. If the government wants to talk, it should give real signals of change."
Capriles also denied there's any talks with the opposition and says Maduro seeks to make the referendum process more difficult.
Venezuela and the United States have had embassies in each other's countries since 2008.
United States hopes to be Venezuela's friend
The OEA meeting will took place Thursday, June 23, in which the political status of Venezuela was discussed with the objective of creating an alliance of countries interested in solving the country's economic crisis.
"We could see the formation of a "group of friends" from member states in the OEA that … would try to work with the conflict parties in Venezuela and to drive them towards a sustainable solution," said one official
As the meetings continue to take place, Venezuelans are heading to locations where they can validate their signatures and ratify their wish to revoke Nicolás Maduro from office. The process ends Friday, June 24.
Source: Reuters