Español On November 27, Mexican President Enrique Peña Nieto announced a new initiative to establish Special Economic Zones (SEZ) in the southern Mexican states of Guerrero, Oaxaca, and Chiapas.
The SEZs are part of a 10-point plan adopted by Nieto to improve security and justice in Mexico — a hot-button issue since the forced disappearance of 43 students in the state of Guerrero in late September. Specifically, the zones will aim to reduce poverty and crime in the host states, while simultaneously increasing Mexico's industrial presence.
The SEZs will operate within a regulatory framework and include tax incentives for businesses, the details of which Nieto will present before the Mexican legislature in February.
The three zones will form an inter-oceanic industrial corridor, connecting the Pacific with the Gulf of Mexico along the Tehuantepec Isthmus. The project will include the construction of two deep-water ports, one in Chiapas and the other in Lázaro Cárdenas.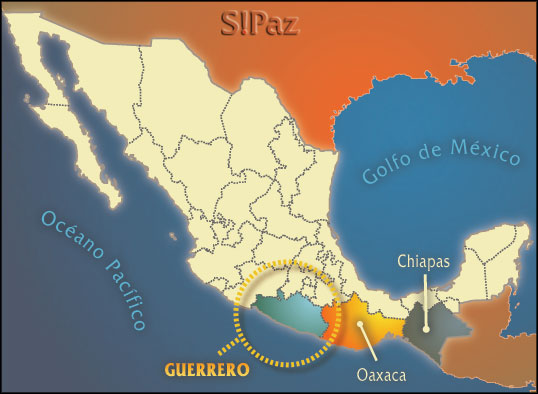 Among the incentives that the SEZs will offer to potential investors are modern infrastructure, security, preferential financing provided by the Development Bank of Mexico, foreign trade facilities, lower tax rates, and contributions to social security institutes.
In a complementary move, Nieto will pass several integral agricultural reforms intended to strengthen existing agricultural businesses and encourage sector growth.
Given the long-term economic development benefits implied by the SEZs, Nieto has taken more immediate steps to boost the Mexican economy. The President is set to launch his Temporary Employment Plan, which aims to directly benefit more than 300,000 Mexican families through infrastructure projects.
The plan will allocate MEX$2 billion (US$142 million) in credit to small and medium businesses (PYMES), and MEX$4 billion to fund agricultural initiatives, including a renovation of the coffee industry. Finally, the plan includes measures designed specifically to breathe economic life back into Acapulco, one of the world's most violent cities.
For its part, the National Commerce Bank (Bancomext) will provide low-interest, long-term credit loans to businesses interested in investing in the new SEZs.
Southern Mexico Chosen for Economic Development
Guerrero, Oaxaca, and Chiapas are the three Mexican states positioned to benefit from the potential Special Economic Zones. The southern region of Mexico is generally characterized by its high level of poverty. Data from the National Council of Evaluation of Social Development Policy (CONEVAL) indicates that 74 percent of Chiapas residents, 67 percent of Guerrero residents, and 61 percent of Oaxaca residents live in extreme poverty.
According to data compiled by the National Institute of Statistics and Geography (INEGI) in 2012, Guerrero is home to 81 municipalities that account for 3.2 percent of the country's territory and 3 percent of the national population. It's biggest economic contribution comes in the real-estate sector, which accounts for 1.5 percent of Mexico's GDP.
Oaxaca constitutes 4.8 percent of Mexican territory and is home to 3.4 percent of the national population. It's most prominent industry is petroleum, coal, chemicals, plastic, and rubber production, which accounts for 1.5 percent of GDP.
Finally, the state of Chiapas comprises 3.7 percent of Mexican land and 4.3 percent of the national population. Real-estate services are the state's biggest economic contribution, accounting for 1.9 percent of GDP.
Mexico is the 14th largest country in the world, and is home to more than 112 million people (11th most in the world). In 2013, its GDP reached US$1.26 billion, propelled largely by the trade and service sectors, which accounted for 59 percent of GDP. It is notable that 97 percent of Mexican businesses contributing to these sectors are small businesses. An additional 36 percent of Mexico's GDP is generated by the mining and construction sectors, while the primary sector contributes the final 3.7 percent.