EspañolThe Venezuelan Attorney General's office announced on Wednesday that former Deputy María Corina Machado has been indicted for conspiracy. Machado is accused of being involved in a plot to kill Venezuelan President Nicolás Maduro.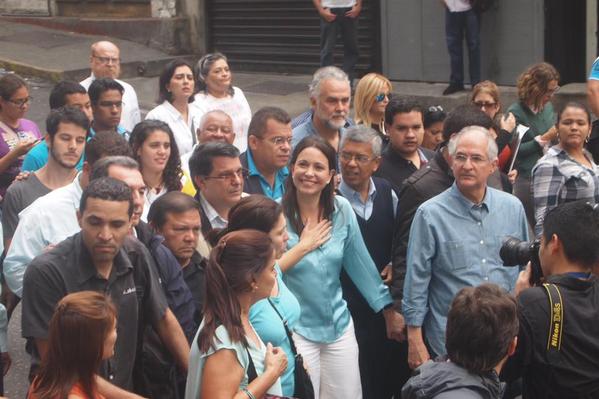 At the hearing, Prosecutor Katherine Harrington formally charged Machado with conspiracy. The penalty for such an offense runs between four to eight years in prison.
"All the evidence [against me] is false," said Machado when leaving the prosecutor's office. She went on to explain that in the following days a new date will be set for further interrogation.
"I will return to make a statement whenever it is necessary, and demand that the prosecutor advance with the process in a timely and transparent manner to confirm everything that we have said," she said.
She also stated that the accusation switch from assassination to conspiracy is "contradictory."
Last year, the Attorney General's office launched a probe into Machado, after allegations from several members of the National Assembly and a mayor. Among the alleged evidence against Machado, there are emails that she supposedly wrote to coordinate efforts and obtain "funding to annihilate Maduro."
Machado, however, assures that she was no longer using those e-mail addresses and she didn't want to kill Maduro or depose him. Rather, she wanted him to resign.
The indictment has drawn swift rebuke from prominent sources, including the US State Department, the Venezuelan Observatory for Human Rights, Human Rights Watch (HRW), and US Congressman Mario Díaz Balart.
"The charges against Machado raise concerns once again about Venezuela's arbitrary use of prosecutorial power to silence and punish government critics," said US State Department Deputy Spokesman Marie Harf.
US Congressman Balart explained that "Over the past year, María Corina Machado has led peaceful protests against the Maduro regime, and has been a fierce critic of the increasing repression, inflation, and rampant corruption in Venezuela. As a result, the Maduro regime has attempted to discredit and silence her."
Sources: El Universal, Info Latam, El Nacional.