What happened to Canada's hope for a brighter future in Venezuela? And how much does the continuation of political and economic crisis in the South American nation help to bolster Canada's lobby for the Keystone XL pipeline?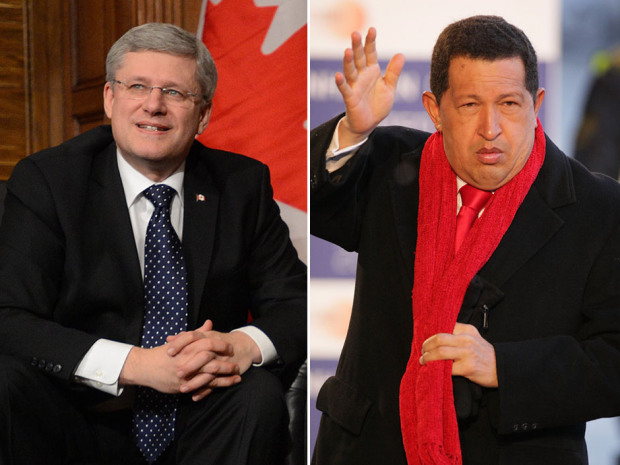 According to Canadian Prime Minister Stephen Harper, the death of Venezuelan President Hugo Chávez in March of this year left Venezuela at a key juncture: Venezuelans, Harper urged, "can now build for themselves a better, brighter future based on the principles of freedom, democracy, the rule of law, and respect for human rights."
Harper's less-than-subtle jab at the Chávez regime drew an immediate rebuke from the Venezuelan vice-minister for North America. Claudia Salerno sent Canada an official card of protest, rejecting "forcefully and categorically" the "insensitive and impertinent" comments of the Canadian Prime Minister, and reminding Canada that Venezuelans chose socialism "freely and democratically."
In April, Venezuelans went to the polls to replace Chávez.
Against the backdrop of an election marked by allegations of fraud and documented threats by government officials against opposition supporters (see here, here, and here), Nicolás Maduro, Chávez's hand-picked successor from the Socialist Unity Party of Venezuela (PSUV), was declared the winner — with 50.8 percent of votes cast against 49 percent for opposition candidate Henrique Capriles.
The White House and the Organization of American States immediately supported the call from the Capriles camp for a comprehensive electoral audit, as did the rector of Venezuela's National Electoral Council.
And Canada?
After maintaining three full days of silence in the face of post-election violence that claimed the lives of nine people and injured scores of others, Canada issued a non-committal, 118-word statement that congratulated Venezuelans for a high voter turnout and called for a "peaceful resolution" to "tensions" in the country.
While the press release, issued by Minister of State Diane Ablonczy, did not officially recognize Maduro as president, nor did Canada follow the lead of the United States in explicitly refusing to recognize Maduro in the absence of an electoral audit. Moreover, the statement made no reference to the abuse of power in the aftermath of the election — not even the actions of Diosdado Cabello, president of the National Assembly, who, one day prior to Ablonczy's statement, announced that anyone refusing to recognize Maduro as president would be stripped of speaking privileges in Congress.
Even officials from Canada's two centre-left opposition parties seemed at a loss to explain the Conservative Party position. Calling Canada's silence on Venezuela "striking," Hélène Laverdière of the New Democratic Party, said "they [the Conservatives] had views on President Chávez, but now they don't seem to actually care what's happening in the country." Similarly, the Liberal Party's Bob Rae, was stunned: "Can't understand the government's silence on this . . . Canada will need to continue to watch this situation carefully, and to be clearer in voicing our concerns."
What happened to the Harper government's belief in the "need for action on civil and political rights" in Venezuela?
The most likely answer is that increasing uncertainty over Washington's decision on the Keystone XL pipeline prompted a change of strategy. Rather than making the case for democracy in Venezuela, the Harper government is now using Venezuela's slide toward totalitarianism in order to bolster Canada's chances of securing a friendly nod from Washington on Keystone.
On the same day Minister of State Ablonczy released her statement on the Venezuelan election, Canada's natural resources minister, Joe Oliver, used the turmoil in South America to pump up Canada's credibility on Keystone: "Venezuela may be a major supplier of heavy crude to the U.S.," Oliver told a group of businesspeople and academics in Calgary, "but it has also threatened to cut supplies five times in as many years. That's not a reliable partner. That's not a stable source of oil. And that's not how Canada will ever treat the United States."
The move to frame Washington's decision on Keystone as a national security issue rather than (or, in addition to) an environmental issue, is a tack adopted by both US politicians (see here and here) and TransCanada Corporation, the Calgary-based company behind Keystone, which says the United States needs to reduce its reliance on "conflict oil."
But the uptake and intensification of this discourse by the Harper government in the post-Chávez era is pronounced. One reporter notes that Canada's natural resources minister has adopted the habit of "repeatedly fingering Venezuela as the prime example of an unreliable, unfriendly, and less-than-green source of thick, carbon-heavy crude." Another says the Harper administration is ready to "throw Venezuela under the bus" in its bid for Keystone — despite the fact that Canada's own imports from Venezuela are dominated by heavy crude.
While the Canadian government seeks to amplify the risk Venezuela poses for the United States, the reality is that falling productivity and failing infrastructure at Venezuela's state oil company pose more of a supply-side problem than political brinksmanship. The United States buys 40 percent of Venezuelan oil exports, which explains why Maduro is now seeking reconciliation with Washington, even though the United States has yet to officially recognize his presidency.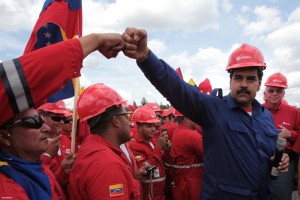 Meanwhile, the Harper government seems unmoved by the impact of increasing authoritarianism inside Venezuela. In an explicit threat (doubling as an admission that the ballot is not secret in Venezuela), Maduro says his government has identified 900,000 "compatriots" (chavistas) who switched their votes to the opposition; and the rector of the National Electoral Council has made clear that state officials actively censor whatever critical journalists remain in Venezuela.
Yet Canada has remained silent, substituting its previous calls for a post-Chávez democracy with smug satisfaction that Venezuela's ongoing crisis works to Canada's advantage on Keystone.
Given that Prime Minister Harper was once fond of describing Venezuela's "economic nationalism" as antithetical to progress, one could forgive the leaders of Venezuela's Bolivarian Revolution if they were to suggest that the Canadian government's decision to lobby for Keystone on the grounds that it is "critical to Canada's economy" looks an awful lot like the proverbial pot calling the kettle black.
What cannot be forgiven, however, is the ongoing abuse of state power in Venezuela. Nor, in good conscience, can it be ignored.