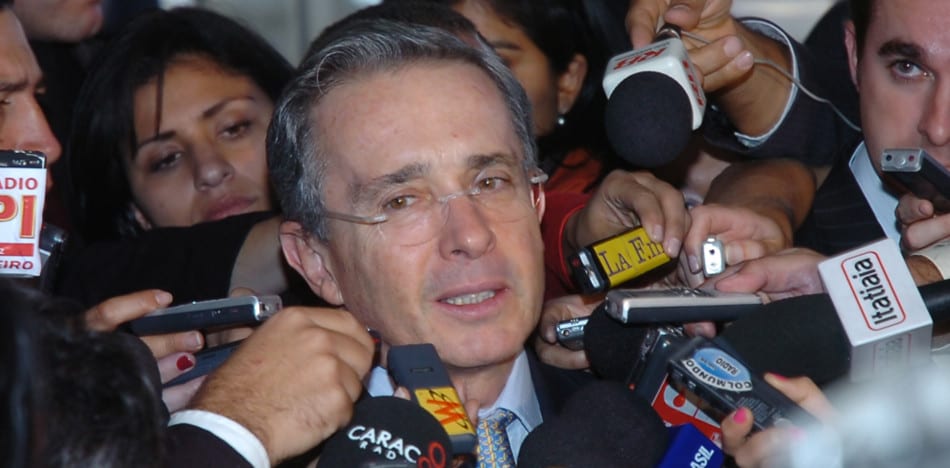 Former President Álvaro Uribe Vélez first denounced the fabrication of false witnesses, but is now being investigated himself on this charge. The leader of the Colombian right has been stabbed in the back by a court that suggests that the tapping of his telephone occurred by "error" – a one-month error – and that despite not having been done in a legal manner, the recordings will be used in the case that is being brought against the ex-leader.
Now a senator, who retains political power, Uribe has faced false transcriptions which accuse the former president of things that never happened.
Left-wing Senator Iván Cepeda, plays a starring role in this unfolding legal drama. 21 times he received permission to visit the star witness in the case against Uribe, in jail. That does not seem suspicious to the Court. During these visits, Cepeda used his watch to record conversations in which he tried to involve Uribe in an alleged manipulation of witnesses.
This is how the story begins
In 2012, former President Uribe Vélez denounced Congressman Iván Cepeda for witness manipulation. The leader of the Colombian right presented evidence that Cepeda was pressuring imprisoned ex-paramilitaries to testify against Uribe and link him to the feared United Self-Defense Forces of Colombia (AUC).
Uribe provided as evidence the testimonies of at least five exparamilitaries who claimed that Cepeda had pressed them to testify against the former president. All assured that the left senator had offered them legal, economic, precautionary measures, even offering to get them out of the country.
The witnesses Cepeda wanted to buy
The "Tuso Sierra"
Ex-paramilitary figure Juan Carlos "El Tuso" Sierra, one of Colombia's most significant drug traffickers, was sentenced to prison in the United States. After agreeing to cooperate, he reached an agreement with the US Justice Department, and on August 1, 2018, he sent a letter to Colombia's Supreme Court of Justice communicating that several people, including Senator Iván Cepeda, offered him benefits in return for testifying against former president Uribe.
In that statement, the former head of the AUC states, "While I was being held in the federal prison of Washington Correctional Treatment Facility, I received an official visit from Iván Cepeda, Piedad Córdoba, and Rodrigo Lara who asked me to give a statement against Mr. Álvaro Uribe Vélez, for his alleged links with armed groups outside the law. In exchange for my statement, they promised to manage and secure political asylum for my family in Switzerland."
Ramiro de Jesús Henao
Henao, another former paramilitary, is currently serving a 40-year sentence in Colombia and claims to have been visited in prison by Senator Cepeda, who, he says, offered him benefits in exchange for testifying on Uribe's alleged links with paramilitarism.
"He came to the jail of Itagüí (Senator Cepeda), made us legal and monetary offers in exchange for letting him record a video that involved Álvaro Uribe Vélez…and gave them information such as dates, names, and facts, related to the actions of the Metro Block so that he could have that information for purposes of manipulation," stated the drug dealer.
Gabriel Muñoz Ramírez, aka "Castañeda"
​​"Castañeda" was the boss of Henao in the AUC Metro Block, and is also incarcerated in Colombia. As in the two cases cited above, he states that Cepeda visited him in jail and pressured him to incriminate former President Uribe.
The ex-paramilitary stated that Cepeda told him the following: "Well Gabriel, I want you, that your support on some things that have to do with Dr. Álvaro Uribe…You've been through a lot in this jail. I will give you a piece of paper and write down what Dr. Álvaro Uribe did…I'll put him in jail, and I'll transfer you and your family wherever you want, to another country."
Based on the statements made by Henao and Muñoz Ramírez, in 2015 the Attorney General of the Nation filed charges against Cepeda. However, in an unexpected turn, the Supreme Court decided to dismiss Cepeda's investigation, and instead open an investigation against the former president. Now Uribe is accused of manipulating witnesses.
The star witness in the case against Uribe
The Supreme Court of Justice of Colombia will hear testimony from former President Uribe on October 8, as part of an investigation into alleged manipulation of witnesses. The star witness is Juan Guillermo Monsalve, a bandit who tried to portray himself as a paramilitary – to receive benefits from Colombia's transitional justice system – but it was proven that he never belonged to the AUC and now he is serving a sentence in Bogota's La Picota prison.
Monsalve is the son of a long-time administrator of the Las Guacharacas estate, owned by the Uribe family and a place where the FARC murdered the father of the former Colombian president. Monsalve has told the courts that Santiago and Álvaro Uribe met to plan crimes on that property, and that it was there that the brothers started the AUC Metro Block, a criminal group to which it has been proven that the star witness did not belong. In addition, Monsalve's father has denied his son's version of the events.
But what is relevant in the process against the former president is not his fanciful accusations that Uribe was the creator of the AUC, but that the interest of the Court has to do with Monsalve's indication that between February and April 2018 the lawyer Diego Cadena, on behalf of Uribe, visited him at least three times to, allegedly, ask him to record a video or sign a document to retract his testimony against the former president.
Uribe's lawyer falls into the trap
Monsalve is not alone, he has the support of Cepeda. The parliamentarian and political enemy of Uribe asked permission 21 times to visit the prisoner Monsalve. Why would a left-wing senator, accused by Uribe of seeking false witnesses in prisons, meet so many times with the star witness in the case against the former president?
In addition, Monsalve used a state-of-the-art watch to record conversations in jail. He effectively met with one of Uribe's lawyers and recorded the conversations with a recording device. Who has the money and power to facilitate the entry into jail of a device like that?
Monsalve's version is that Diego Cadena, Uribe's lawyer, went looking for him to pressure him and get him to retract his accusations against Uribe. Cadena says that Monsalve sent him messages of wanting to confess the truth and that is why he went to jail.
It remains to be seen what the recordings say, but in this regard there are two fundamentally worrisome underlying issues. The first is that it was obviously a trap, with Monsalve prepared to make secret recordings. The second is that in this country, the justice system, including the courts, has been involved in tremendous scandals such as the Toga Cartel, and now Colombians are hesitant to trust what judges say.
There are already several scandals and judicial investigations of figures in the Democratic Center.
Cadena fell into a trap, the same trap which caught representative Álvaro Hernán Prada; but this time, the attempt was made by means of several individuals close to Uribe who were contacted, some by Mr. Monsalve, while others were only told about "a witness" who had very important things to say from prison.
The intention was to link Uribe with Monsalve. Congressman Prada accepted this invitation and met with a man who was supposedly the liaison with Monsalve; now he is also being investigated by the court. But although Prada agreed to go to that meeting, in written conversations it is clear that the person who sought contact was Mr. Monsalve and that on behalf of Prada nothing was offered to the "star witness."
What is obvious is that someone sought to connect people close to Uribe with Monsalve and then say that the former president was trying to manipulate witnesses. Uribe's other lawyer, Lombana, who is much more experienced than Cadena, also tried to contact him, but he did not fall into the trap.
The blows to Uribe
As we said earlier, in Colombia it is very difficult to believe in justice, since some magistrates are incredibly brazen. One of the pieces of evidence against Uribe is the wiretaps on his phone. According to the court, they were "unintentional."
According to the court's version, they were trying to intercept the telephone of Congressman Nilton Córdoba, but by mistake they ended up intercepting the phone of the former president. "That the telephone number at hand, that of Representative Nilton, but of Senator Uribe, has not been an unexpected matter," said Judge Barceló on why the Court ended up intercepting former President Uribe.
Although they evidently had to realize very quickly that they had intercepted the wrong telephone, they continued to do so and today those recordings will be taken into account in the case against the former president. Uribe's phones were tapped 30 days, "by mistake."
Tapping someone's phones has to be done legally, and because there is a body of evidence that merits it. Which of course there was not, so the court now says that the interception was a "mistake."
We are facing such a blatant justice that says that by mistake he intercepted a former president and that he did not realize that he did it for a month, but since the recordings are there, they will be taken into account. This type of thing would not happen anywhere with a decent justice. But this is Colombia. All that matters is the attempt to put Uribe in jail.