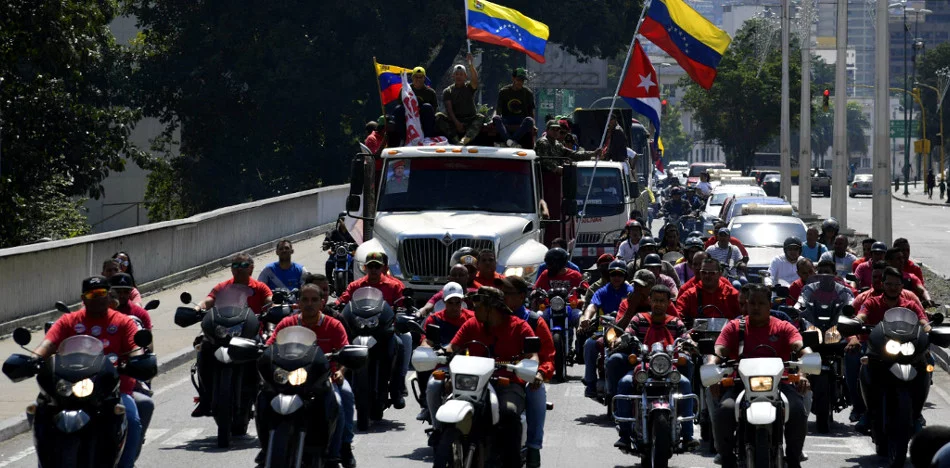 In 2014 the whole world was scandalized when several videos of the terrorist group Islamic State (ISIS) showed their members beheading prisoners. Today, in Venezuela, equally frightening events are taking place, but this time is not ISIS, but the thugs who serve Nicolas Maduro who are beheading those who oppose the regime
During the last few day a video has spread all over social media, and via WhatsApp groups, in which two thugs loyal to the regime show the heads of two men they have just beheaded as trophies. Among laughter, while showing both heads, they say: "Look, this one and this one were supporting President Guaidó."
Like ISIS, the intention of these groups of thugs loyal to the regime record and disseminate these terrorist acts to intimidate and send a threat to the followers of President Guaidó. They seek to sow fear among Venezuelans.
The video in question is not different from videos of ISIS performing beheadings. The only difference is that the scenario is Venezuela, it has nothing to do with the Middle East and its historical problems with Muslim extremist groups, we are talking about the West, about a country that is located in the Americas, a country that in the 1960s was richer than Norway.
How far will the socialist regime and its thugs go? What else has to happen for the West to stop issuing statements about the situation in Venezuela instead of doing something about it?
While this scary video goes viral on social media, Venezuelan journalist Osmary Hernandez, a CNN En Español correspondent, reports that the tyrant Nicolás Maduro has said: "We will decapitate anyone whose head has to be cut off because they have to respect the people".
This video should be seen by the UN High Commissioner for Human Rights, Michel Bachelet, who, referring to the situation in Venezuela on Wednesday, May 1, called on "all the parties to renounce violence".
Maybe Mrs. Bachelet has not realized that Maduro's men are beheading ISIS style, so she affirms that the violence comes from "all the parties".
The Socialist former president of Uruguay, José "Pepe" Mujica, should also watch the video of the decapitated Venezuelans. He recently, when asked about the brutal repression in Venezuela and specifically about the fact that military tanks are running over protesters, said: "One should not stand in front of tanks", and then add that "if you go to the street, you are exposed … "
Maybe when he sees the video of the beheadings, Mujica will say that there is simply no need to stand in front of the Chavista ¨collectives¨ because they are exposing themselves to having their heads cut off.
At the PanAm Post we refrained from publishing the video due to the degree of violence, but anyone who wants to see it, can find it with a quick search on the internet.
If the United States decides to give military aid to Venezuela's freedom fighters, they will be the heroes who liberate millions of Venezuelans from famine and terrorist groups as violent as the Islamic State.
Venezuela is not ruled by a proverbial group of romantic socialists, we are talking about drug-dealing thugs whose terror tactics have nothing to envy to those used by groups condemned and fought internationally like ISIS.
Regarding the video in question we consulted Cesar Sabas, Master in Political Science at the Simón Bolívar University in Venezuela, and PhD in Political Science from the University of Toulouse, Capitole. According to Sabas, this type of acts are a sample of what the 'collectives" and the "pranes" can do once they are completely liberated by the regime.
The "pranes" are leaders of criminal groups that act within prisons, and although they are prisoners, they maintain their criminal network with the outside world. Sabas clarifies that the regime has woven a kind of alliance with these groups leaving them to operate with impunity, so it is also likely that the video of the beheading could be the product of these criminals.
It must be remembered that several soldiers who deserted on February 23 – the day in which attempts were made to get humanitarian aid to Venezuela – confirmed that Maduro was letting prisoners loose and arming them in order to repress opposition activists.
"These groups will not be able to make any effective resistance against a well-trained army, in case the United States intervenes, their capacity for action is minimal, but they are extremely effective for the internal control of the population. It is logical to say that unarmed Venezuelans can do very little against these criminals, in the same way that so many Syrians or Iraqis had no choice but to flee ISIS", concludes Sabas.
More and more videos are circulating on social media with criminal and terrorist acts by chavista "collectives". They include murders in broad daylight of those participating in street protests, even murder while being watched by the Venezuelan police that act as their subordinates. They are a paramilitary terrorist group, the first shock line of Chavismo.
In this video you can see members of the collectives giving commands and armed in the style of any terrorist group in the Middle East. They intimidate Venezuelans so that they do not go out to protest on May 1st.
#ÚltimaHora | Paramilitares defensores de la dictadura de @NicolasMaduro sacan sus armas para "enfrentar" al "imperio americano" y a los venezolanos que se oponen al régimen (Más info en https://t.co/Pf3iLrN9cv) #2May #Venezuela pic.twitter.com/b7wLiBcTQ0

— PanAm Post Español (@PanAmPost_es) May 2, 2019
In this video an anguished woman films how the collectives enter her neighbor's house.
#Venezuela colectivos narco chavistas cumpliendo órdenes del dictador Maduro.. amenazando a los venezolanos en #Barquisimeto una vez más utliza el terror y los asesinatos para mantener el poder. #SosVenezuela #VenezuelaLibre pic.twitter.com/bidlUwvKbm

— Andrés Cano (@AndresCanoESP) January 12, 2019
The terrorists who serve Maduro walk through all Venezuelan cities in broad daylight, with their faces covered and displaying all kinds of weapons.
Pronto no mandarán los militares. Estos son los colectivos chavistas. Opiniones? pic.twitter.com/vcQodBqWLd

— NicolasUribe (@NicolasUribe) February 26, 2019
Venezuelans can not solve this problem alone, they are unarmed and they face terrorist groups that handle a level of cruelty comparable to that of feared organizations in the Middle East. The hope of millions of Venezuelans lies in the military aid that the United States can provide.