EspañolGuatemalan President Otto Pérez Molina is facing the worst crisis of his administration since he took power in January 2012. Seemingly surrounded by corruption scandals, he told a press conference on Thursday that his cabinet "isn't collapsing" and insisted that he will not resign his office.
Various groups have called for his removal since the customs corruption scandal known as The Line emerged, and several officials have even jumped ship from his administration, including members of his Patriotic Party (PP).
The resignations began on Friday, May 8, when Pérez Molina announced the resignation of Vice President Roxana Baldetti. Soon after followed the departure of Mining and Energy Minister Erick Archila, claiming that he was being blackmailed by the Renewed Democratic Liberty party (LIDER).
On Thursday, Guatemalan politics took an even more unexpected turn. Mauricio López Bonilla, one of the closest allies of Pérez Molina, resigned his position as interior minister, despite repeated denials in recent days that he was considering such a move. Also exiting the cabinet where Environment Minister Michelle Martínez and Vice Minister of Security Edy Juárez.
The Patriotic Party's government is beset by scandal and its credibility is nearing zero. Guatemalans have taken to the streets in their tens of thousands to protest, and the changes at the top are set to continue.
Will the President Resign?
Pérez Molina told Thursday's press conference that no new cabinet ministers had indicated their intention to resign, suggesting that the flight of top officials had stopped. He also said that he would remain in his post in order to "improve the image" of his administration. But the doubts continue: Baldetti argued the same in the days leading up to her departure from the vice president's office.
Also on Thursday, CNN journalist Fernando Del Rincón interviewed the former interior minister with regard to his resignation. López Bonilla repeatedly said that his decision to step down was part of a strategy to "overcome the crisis" besetting the government.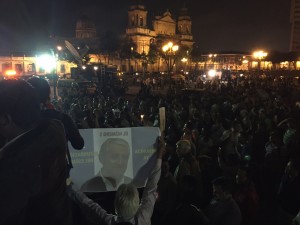 Pressure on the president to resign continues, with rural farm workers' organizations marching in recent days to call on him to step down. Pérez's fall seems ever more likely as his isolation deepens.
Protests have also demanded reform to the Electoral Law and Political Parties Law, seeking to avoid September's elections returning a new crop of politicians that will fall victim to the same corruption scandals as the last.
The Scandal Deepens
As the uproar over The Line continues, last week a new corruption scheme was uncovered within the Guatemalan Social Security Institute (IGSS).
On Wednesday morning, police arrested Juan de Dios Rodríguez, the institution's director and former private secretary to Pérez, as well as president of the Bank of Guatemala and vice president of Social Security Julio Roberto Suárez Guerra.
An investigation carried out by the Public Ministry (MP) and the International Commission Against Impunity in Guatemala (CICIG) discovered that IGSS had been awarding contracts to under-qualified firms. Also on Wednesday, police arrested 17 officials of its Managing Council and Contracting Council. Among those arrested was Otto Molina Stalling, son of Judge Blanca Stalling, who worked in the financial area of the IGSS.
CICIG Commissioner Ivan Velásquez indicated that the Managing Council handed out contracts worth 116 million quetzals (US$15 million) in favor of Mexican pharmaceutical firm Pisa S.A. to provide care for kidney patients. However, Velásquez explained, "the company had no experience in dialysis treatment." Multiple patients who were treated by the firm died and others were hospitalized.