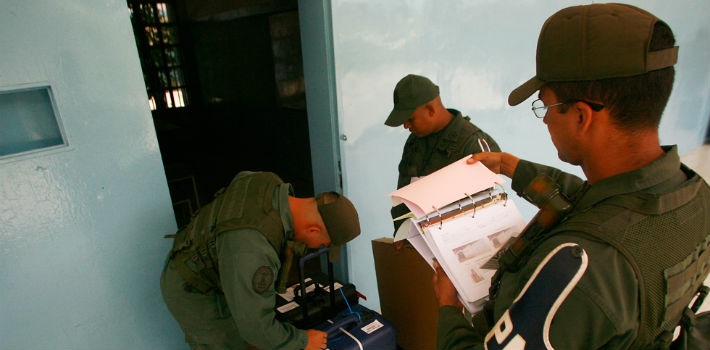 EspañolAccording to the Venezuelan President Nicolás Maduro, the primary elections for the ruling party held on Sunday, June 28, were "an expression of the people's voice in defense of peace."
However, election day was marked by several episodes of violence, among them the murder of 29-year-old Jean Carlos Añanguren, a councilman from the ruling United Socialist Party of Venezuela (PSUV).
A group of unidentified gunmen assaulted Añanguren in Caucagua, Miranda state, a region recognized as a "peace zone" by the government. The assailants set up an improvised checkpoint and attempted to block the truck carrying Añanguren and other officials on their way to deliver election materials in the municipality of Acevedo.
The attackers opened fire on the vehicle, and Añanguren, who was in the passenger seat, sustained three gunshots. The councilman was initially taken to a public hospital and subsequently moved to a private health center, but died before he arrived, according to Venezuelan journalist Daniel Guillermo Colina.
El Concejal habría sido sorprendido por sujetos armados cuando se trasladaba a un lugar para retirar material electoral. (Versión Policial)

— Daniel G. Colina (@danielgcolina) June 29, 2015

"Armed men allegedly intercepted the councilman as he drove to deliver election materials (Police version)."
More than 14 hours after the polls opened, the National Electoral Council returned the preliminary results and confirmed 3.1 million people had participated in the election, according to National Assembly President Diosdado Cabello.
Cabello said it was the first time people voted in all of Venezuela's 87 electoral circuits. On Tuesday, June 30, the elected candidates will take an oath ahead of their participation in the legislative elections scheduled for December 6.
PSUV officials, however, remained silent about Añanguren's killing and the other violent incidents that took place in the days leading up to the primaries. Maduro and his allies made no mention of the incidient on Friday, June 16, when an armed group opened fire on a crowd of electoral officials, who were protecting voting materials at a school in southern Caracas.
An army battalion stationed nearby engaged the criminals in gunfire and was able to take control of the situation without loss of life.
The same day, Carlos Manuel Pulgar, the bodyguard of PSUV Congresswoman Blanca Eekhout, was killed in an attempted robbery. Eekhout lashed out on social media, blaming Pulgar's death on "bourgeoisie fascists."
Same Old PSUV Figures
The election itself turned up the usual names: Diosdado Cabello will look to renew his seat, as will William Ojeada, who has made the jump from the opposition party to the PSUV more than once in his career.
Other candidates who will move on to the general election include Ernesto Villegas, Antonio "El Potro" Álvares, Jacqueline Frías, Elías Jaua, and congressman Freddy Bernal, whose bodyguard was also killed last Thursday.
Among the new faces for the PSUV gunning for a National Assembly seat is Hugo "El Pollo" Carvajal in the state of Monagas. Carvajal served as Venezuela's National Military Intelligence director and in July 2014 was briefly arrested by the government of Aruba over alleged links to international drug traffickers. He now looks forward to becoming a member of the Venezuelan legislature.
In total, three violent incidents were recorded over the weekend, in which armed groups attacked members of the Venezuelan National Guard and Army.
On Saturday evening, a group of roughly 40 individuals armed with long-barreled guns and grenades tried to steal weapons from four National Guard officers posted at the Ángel Rivas Darwin school, a voting station in Caracas. An officer identified as José Briceño was wounded during the stand-off, according to local media reports.
A third attack on the military took place in southern Caracas on Sunday morning, when another criminal group opened fire on National Guard troops at the Prudencio Díaz school, shutting down the voting center.
In other incidents of violence, ruling party sympathizers reportedly harassed journalists of the independent Venezuelan outlets El Estímulo and Efecto Cocuyo while they reported from the polls.