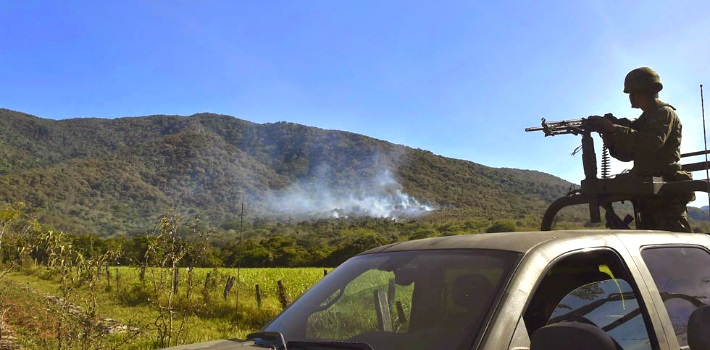 EspañolOn Monday, June 1, the Canadian government issued a warning for tourists bound for Mexico, amid a wave of violence between Mexican security forces and criminal gangs.
In a statement posed on the travel section of the Government of Canada website, Canadian authorities advise against overland travel through "potentially dangerous regions," instead recommending air travel.
Canada's advisory does not apply to Mexico nationwide, instead focusing on areas where cartels, police, and vigilante autodefensa groups are duking it out for control: the Pacific states of Jalisco, Michoacán, Baja California, and Nayarit, and the north-eastern states of Morelos, San Luis Potosí, Zacatecas, Veracruz, and Zacatecas.
"Some municipalities popular with Canadian tourists, including Guadalajara, Puerto Vallarta and Chapala in the state of Jalisco, are experiencing an increase in drug-related violence," Canadian authorities warned.
"As Mexican security forces battle against organized criminal groups, criminals have engaged in retaliatory actions such as arson attacks against businesses, gas stations and banks, shootouts, and blockades using burning cars," the warning explains.
Canadian media echoed the government's recommendation for citizens to "remain vigilant throughout [Jalisco] state and exercise extreme caution. Stay in tourist areas and follow local media closely. If you do venture outside urban areas, exercise extreme caution, including on major highways. Avoid travelling at night. It is not safe to travel near the border with Michoacán."
Authorities also advised Canadians to register on a database of citizens residing overseas.
Campaign Open Season
The warning comes after a similar advisory issued by the United States in May.
The US Department of State re-issued an alert following attacks on police carried out by the New Generation Jalisco cartel. Cartel members set up 39 roadblocks and took down a Mexican police helicopter with a rocket launcher on May 1.
Mexico is seeing a spike in violence ahead of June 7 elections, when millions of Mexicans will vote for over 2,000 offices, including for federal and state congressmen and local authorities. Nine Mexican states will choose their governors, while 17 will vote for local and national representatives.
Politicians have not been spared from the killing, with two candidates for office murdered in early May less than 24 hours apart. Enrique Hernández, a candidate for the mayoralty of Yurécaro, Michoacán State, was shot in front of dozens of people at a public square during a campaign rally.
Hours later a group of unidentified gunmen murdered Tabasco gubernatorial candidate Héctor López Cruz on his doorstep.
Canada's warning mainly recommends caution in rural zones. While regions most frequented by tourists such Sur de Vayarit, and cities like Tepoztlán, Guadalajara, San Luis Potosí, Xalapa, Veracruz, and Zacatecas remain relatively safe, the advisory urges travelers to remain alert to information issued by local Mexican authorities.