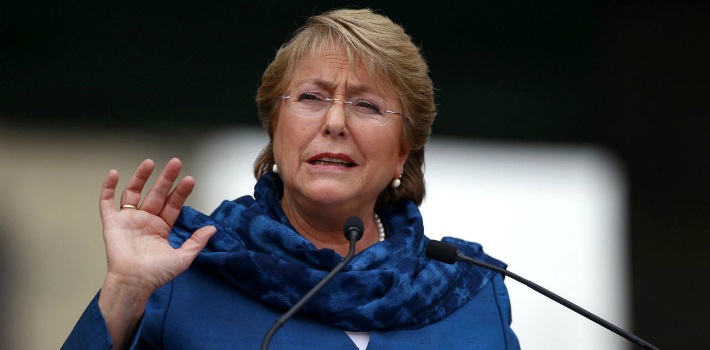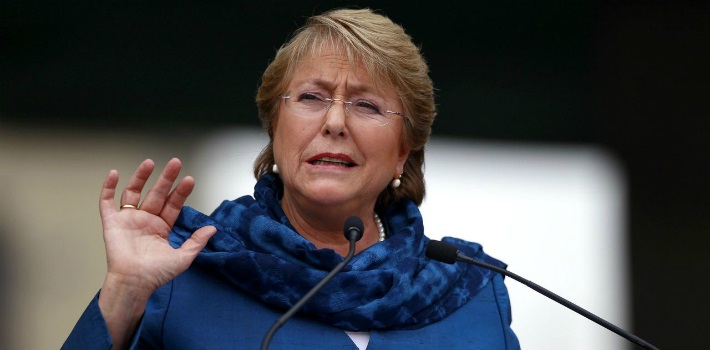 EspañolWith corruption scandals dominating the news in Chile, President Michelle Bachelet's approval ratings have sunk to a new low.
The latest public-opinion poll released on Monday, June 1, by the consulting firm Cadem demonstrates the president's popularity has dwindled to just 26 percent. The results represent a stark contrast to Bachelet's approval rating of 52 percent when she took office in March 2014, then peaking at 56 percent a few months later.
The president's disapproval rating at the time was just 22 percent, but began climbing as the scandals piled on, reaching over 40 percent by October 2014.
Despite having reshuffled her cabinet one month ago in response to growing public criticism, the president's approval rating has dropped 7 percentage points since the previous poll. According to Cadem's latest survey, the share of Chileans who disapprove of the administration now stands at 62 percent.
After the cabinet facelift in May, Bachelet's popularity rose to 33 percent, but the trend has since reversed. According to Cadem's report, Chilean society no longer trusts its political class.
The report also demonstrates that disapproval for Bachelet spans across the political spectrum, including even supporters of the ruling Socialist Party. Furthermore, 8 percent of those polled say they are indifferent to Bachelet's administration.
As for the recently appointed ministers, Cadem reports 57 percent of Chileans disapprove, while just 22 percent support the changes. Prior to Bachelet's request for their resignations, the cabinet of minister's disapproval rating had reached 76 percent.
Nuera Gate
Aside from recent labor reform announcements, Bachelet's popularity suffered its worst hit after Chilean prosecutors filed criminal charges against her son, Sebastián Dávalos, and his wife Natalia Campagnon, for influence peddling and improper use of privileged information.
In an interview with Spanish newspaper El País, the Chilean head of state assured that, both "as a mother and president," she was doing everything she could to guarantee a full investigation.
Evidence emerged to suggest Bachelet's daughter-in-law had secured a US$10 million bank loan following the 2013 elections and a meeting between Dávalos and Banco de Chile's president.
However, defense attorneys for the couple argue that the deal had nothing to do with the president and was merely a private matter between Campagnon's firm Caval and the bank.