Wait times in Canada's health care system increased between 2012 and 2013, according to a new report from the Fraser Institute — and they are sky high in comparison to 1990s levels. The classical liberal policy institute, based in Vancouver, British Columbia, asserts that the increase is greatest for elective treatments. However, general levels for all practices are historically high, and physicians consider these times longer than what is clinically reasonable.
"Waiting Your Turn: Wait Times for Health Care in Canada," a report by Bacchus Barua and Nadeem Esmail, analyzes how long Canadians have to wait from the referral to consultation and then treatment in the Medicare system. That is the nation's universal program, not only for the poor and coordinated at the federal and provincial levels. The study's underlying data comes from survey questionnaires completed by practitioners in 12 different medical specialties, and the results express a median time according to practitioners' responses.
This year's survey, the 23rd annual edition, indicates that in 2013, 928,120 Canadians are waiting for a procedure — 2.7 percent of population. The total wait time between referral from a general practitioner and receipt of elective treatment rose from 17.8 weeks in 2012 to 18.2 weeks in 2013. Most notably, the portion of time from the consultation with a specialist to receipt of treatment rose from 9.3 to 9.6 weeks. By comparison, in 1993, the combined wait was 9.3 weeks, just 51 percent of the current wait.
Wide variations exists across Canada's 10 provinces. Ontario reports the shortest total wait in 2013 at 13.7 weeks, and Prince Edward Island has the the longest at 40.1 weeks. Similarly, there is variation across specialties. Radiation oncology, for example, is the treatment which has the shortest wait at 3.5 weeks, while orthopedic surgery has the longest at 39.6 weeks.
Beyond these differences, though, the Fraser Institute's researchers contend that the strategies of the provincial governments to reduce these times are simply not working — as evidenced by their data. Despite historically high levels of funding, both in total and as a percentage of the economy, "it is clear that patients in Canada continue to wait too long to receive medically necessary treatment."
The provinces manage most of Canada's health care services, but their insurance plans must fit with the national directives and mandates of the Canada Health Act.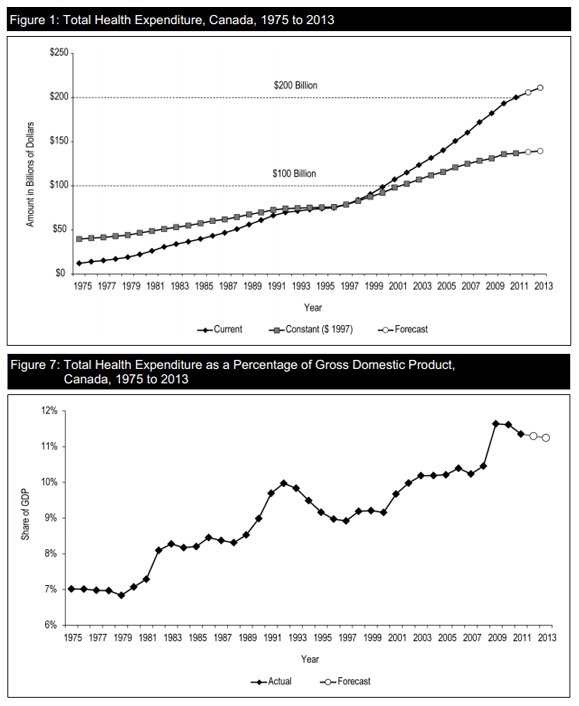 Robert Murray of the Frontier Centre, a policy institute based in the prairie provinces, explains that an unwillingness to tackle health care reform is generating the longer waiting times.
"In studies we have produced," Murrays shares, "we have found no positive correlation between health care spending and health care performance.  [Canadian provinces] continue to increase spending without taking into account what is truly wrong with the health care system, namely the lack of a consumer or patient-focused system . . . [and] we continually lag behind the European models."
He points to the budgeting process, since hospitals get a "fixed budget every year from the provincial government, without consideration of a hospital's productivity or service quality. Instituting an incentive-based funding model that rewards performance rather than continuing to throw money at a problem would be an ideal place to begin the conversation . . ."