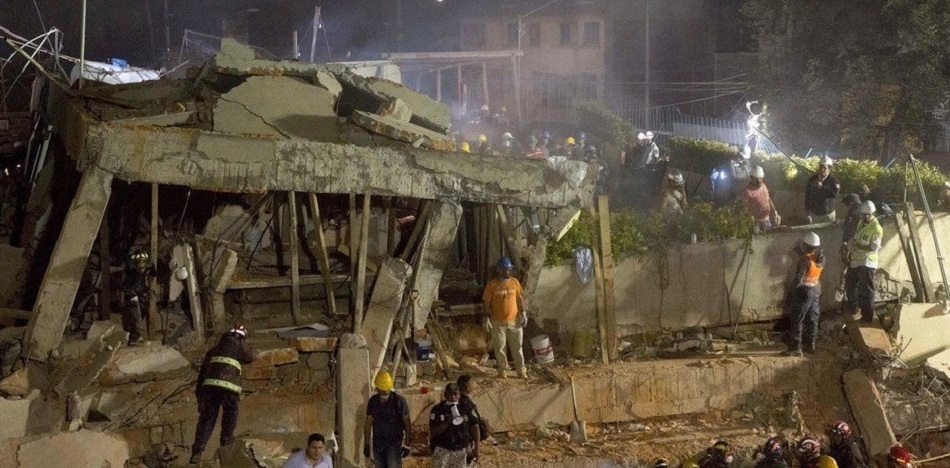 EspañolThe world watched as Mexico suffered its second devastating earthquake in two weeks, claiming the lives of at least 250 people since Tuesday, September 19. Perhaps the most distressing image to come out of the country was of a private school that collapsed with dozens of children inside.
Enrique Rébsamen School, located in Mexico City's southern neighborhood of Coapa, has become a symbol of Mexico's tragedy. The small three-story building held pre-school, elementary and high school classes for 347 students. Class was in session when the earthquake hit. As students began evacuating, the front of the building collapsed on the emergency exit route, causing dozens of them to be trapped under the rubble.
As of Wednesday afternoon, the Associated Press reported that 35 people had died there, including 32 children. So far, 11 kids have been rescued from its rubble.
Twenty-seven teachers worked at the school, but it still isn't clear how many were working during the earthquake. More than 60 people were injured, and subsequently sent to nearby hospitals. Officials estimated that around 30 people were under the school's rubble. Dozens of parents still await news of their children.
The heroes of tragedy
Mexico has mobilized its health personnel and volunteers in order to address those rescued from collapsed buildings.
Citizens are collaborating with official rescue personnel to pull people from the rubble as well as to bring food and water to victims. Rescue dogs have managed to locate victims trapped in the rubble, and many of them have been circulating around media outlets — including Eco, Frida, Evil and Titan.
The animals have become popular on social media as photos of Frida and Titan circulate with the hashtag #FuerzaMexico.
Frida is the most famous so far. She was in Oaxaca, and has rescued more than 52 people. Previously, she participated in search-and-rescue operations during a fire in Pemex, a mudslides in Guatemala and in Ecuador's most recent earthquake.
Ella es Frida ha rescatado a 52 personas. Forma parte de los perros rescatistas de Marina Mexicana. ¡Heroína de 4 patas!???#MéxicoEstáDePie pic.twitter.com/kKsnakVcoN

— D I A B L A (@ladiablarom) September 20, 2017
This is Frida. She has rescued 52 people. She is part of the canine rescue tean from Marina Mexico. Hero with four legs! 
Racing the clock
More than 36 hours have passed since people were first trapped under the rubble. Rescue personnel are racing against the clock to find them, as the average person can only survive 72 hours under such conditions, experts said.
"The official Mexican procedures state that, after 72 hours, it is not possible for a person to be rescued (alive)," said Dr. Manuel Bárcenas, who was in Mexico City assisting the authorities in a rescue.
People are facing extreme conditions, as debris causes "organ crushing," which can result in severe injury. According to the doctor, it's possible that many trapped people will drink their own urine to stay alive and thus surpass the 72 hour time limit.