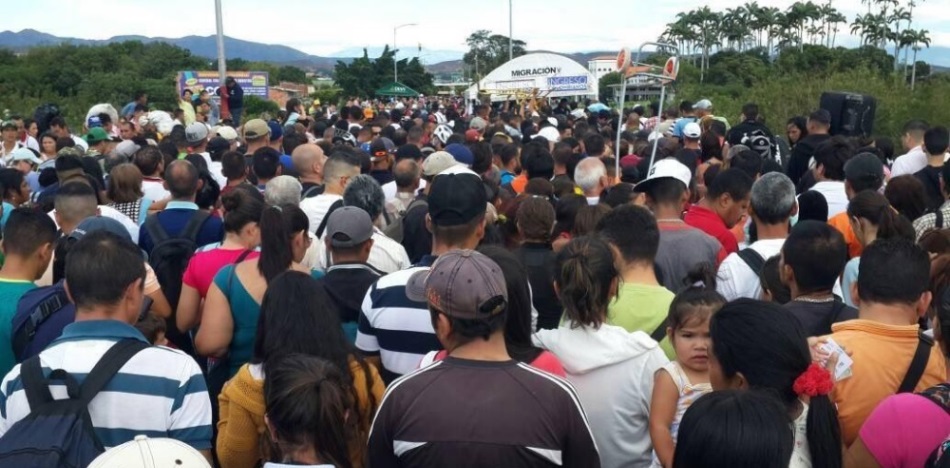 EspañolFive days remain before dictator Nicolás Maduro's Constituent Assembly convenes to rewrite the constitution, and already Venezuelans are fleeing the country in record numbers.
More than 26,000 people crossed the border into Colombia this Monday, July 26, according to the National Director of Migration in Cúcuta.
Director Nacional de Migración Colombia revela movimiento de 26 mil venezolanos en las últimas horas por la frontera. pic.twitter.com/u30FJC2OVe

— Esmeralda Rojas (@Esmerojaso) July 24, 2017
Esmeralda Rojas
@Esmerojaso
The Colombian Director of Migration confirms the movement of 26 thousand Venezuelans across the border during the last few hours. 
While some have speculated that many of them are only crossing into Colombia to stock up on food, others believe most of them crossed into Colombia before arriving to other countries like Ecuador or Peru.
Crossing the border of Venezuela and Colombia has become an arduous journey compared to the quick and simple process it used to be. PanAm Post verified that it took some people as long as 24 hours to cross over this week.
The immigration center in Venezuela was closed because "the system was down," and so officials were encouraging travelers to walk six to eight blocks to reach the headquarters of the Administrative Service of Identification, Migration and Aliens in San Antonio del Táchira.
People waited without food or water under a high, hot sun for as long as 12 hours to see if their passports would be stamped or not.
"I am desperate, this country is a disaster, and now with the Constituency everything will get worse," said one Venezuelan waiting in line, and who intended to go to Peru. "I do not care about work, I just want peace."
Once their passports are stamped, travelers formed a new line crossing the Simón Bolívar bridge.
"I have never seen so many people together intending to leave the country," said Carlos Chacón, councilman of the Bolivar municipality on the border with the Norte de Santander department. "Nothing before compares to this migration, they are no longer mere lines of people. This has become an open-air concentration to stamp passports."
Sources: El Colombiano; PanAm Post