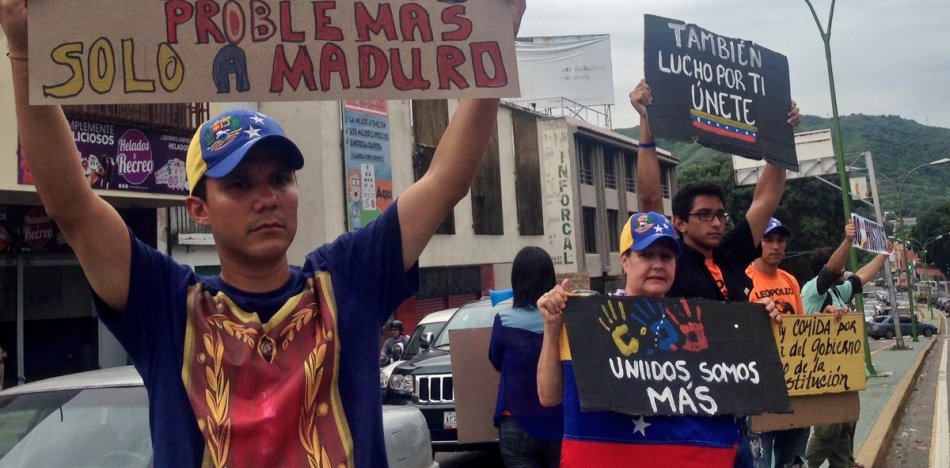 EspañolVenezuelan President Nicolás Maduro has taken a new political prisoner: Carlos Graffe, a youth leader of the opposition party Popular Will. This week, state security forces arbitrarily arrested him without warrant.
"Help me, it's a kidnapping!" Graffe shouted while being forced from his vehicle. The military officials responsible had an emblem from Valencia, in the state of Carabobo.
Así secuestraron a nuestro hermano @CarlosGraffe en #Valencia #Carabobo. Exigimos conocer su paradero #DondeEstaCarlosGraffe #LibertadYA pic.twitter.com/1q1MRjRP5q

— César Patiño (@cesarpatino45) July 14, 2017
They have just kidnapped our brother @CarlosGraffe in #Valencia #Carabobo. We demand to know where he is being taken. #WhereIsCarlosGraffe #LibertyNOW
Graffe has been fighting for democracy in Venezuela for over 10 years, serving most recently as a leader of the opposition movement Popular Will, the party founded by former political prisoner Leopoldo López.
#URGENTE secuestran al dirigente de Voluntad Popular, @carlosgraffe saliendo de una cita médica en la clínica Venezuela, Valencia. pic.twitter.com/CZ6GvXOWv9

— Lilian Tintori (@liliantintori) July 13, 2017
#URGENT they have kidnapped the leader of Voluntad Popular, 
@carlosgraffe as he was coming out of a doctor's appointment in a Clinic in Valencia, Venezuela. 
Gaffe's father Oswaldo said he was very upset to hear the news, not only because Carlos is his son but because it reveals the dire political circumstances of the country.
"It wouldn't surprise me if the Carabobo government is behind all of this," he said.
According to his father, Carlos had recently left a doctor's appointment when he was intercepted by military officials, but not even he knows what happened after that.
ÚLTIMA HORA | Madre de Carlos Graffe exige prueba de vida al Gobierno de Maduro: "Fue secuestrado por la dictadura" #13Jul pic.twitter.com/LUhzW4mD5R

— AlbertoRodNews (@AlbertoRodNews) July 14, 2017
BREAKING NEWS Mother of Carlos Graffe asks for proof of life from the Maduro administration: "He was kidnapped by the dictatorship" #13Jul
His mother has been visiting all police facilities, Oswaldo said, but hasn't learned anything.
Oswaldo condemned the Carabobo police for their actions if it was in fact them, and insisted through his Twitter account that Carlos had been taken at gunpoint.
"The only weapons that Carlos uses are his conscience, his democratic principles, his tenacity, and … a megaphone. Those are the weapons that he has used all his life," he said.
"Carlos Graffe is a political prisoner, he has been fighting for the freedom of this country for more than 10 years, he has been working hard, especially in the poorest areas of Valencia. He has raised awareness and that is why he is in prison. He is a young leader, and credible," his father continued.
With his voice cracking and tears in his eyes, Oswaldo urged all Venezuelans to participate in the referendum this Sunday, July 16.
"Carlos has been working for a long time to create a country of opportunity for everyone," he said. "This Sunday, this important event will bring us closer to reaching that dreams … the best favor we can do for him would be a massive turn out."