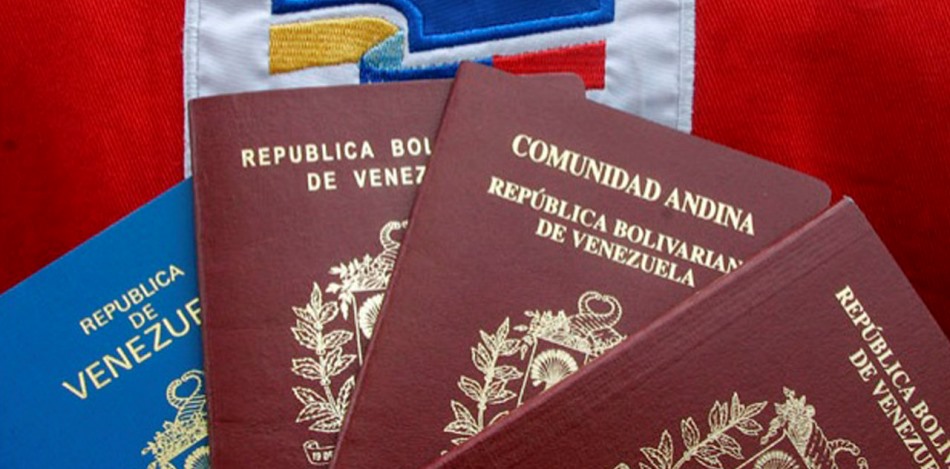 The Hugo Chavez government has promoted human trafficking worldwide with the illegal delivery of at least 10,000 Venezuelan passports to citizens of Syria, Iran, and other countries in the Middle East.
Venezuelan Colonel Vladimir Medrano Rengifo, former Director General of the Office of Identification, Migration, and Foreigners, told El Nuevo Herald that the South American country had issued at least 800 fraudulent passports a month between May 2008 and October 2009.
Medrano explained that when current vice president of Venezuela, Tareck El Aissami, was minister of Interior Relations, he ordered him not to deport the citizens who entered the country with irregular documents.
According to the colonel, El Aissami ordered him to admit about 10,500 people.
"The passports were legitimate and officially issued, but the people who carried the documents were not really Venezuelans," he explained.
They were coming in a large Airbus plane that normally arrived twice a week in Caracas, on Tuesdays and Thursdays, with 380 to 390 passengers on board.
"90% of the people who came on that flight had an irregular situation," Medrano said.
In 2015, an official of the Cuban Criminal Investigations and Criminal Investigations Corps (CICPC), identified as Misael López Soto, who allegedly served as advisor to the Venezuelan embassy in Iraq, confessed that he witnessed the Venezuelan government handing diplomatic documents to terrorists in the Middle East.
López explained in a video that embassy employees sold Venezuelan visas, passports, identity cards and birth certificates to people in Syria, Palestine, Iraq and Pakistan who paid between USD $5,000 and USD $15,000 to obtain the documents "under the watch of the Venezuelan diplomatic authorities."
Lopez Soto's statements coincide with arrests of citizens who have been captured with Venezuelan passports.
Hasil Mohammed Rahaham-Alan, who was allegedly traveling with a Venezuelan passport, was detained in 2003 on a British Airways flight to London's Heathrow Airport.
His flight left Caracas and made stops in Colombia and Barbados. In his luggage he was carrying a grenade, which warranted the evacuation of the terminal and the arrival of the military.
In 2008, the US Treasury Department issued a statement saying that "it is extremely disturbing to see that the government of Venezuela employs and provides refuge for Hezbollah facilitators and fundraisers."
This was because Ghazi Nasr al Din, who was being sought by Interpol, allegedly served as Charge d'Affaires of the Venezuelan Embassy in Damascus, Syria, and was subsequently appointed Director of Political Aspects of the Embassy of Venezuela in Lebanon. He currently participates in the National Electoral Council as an elector from Damascus, Syria.
According to the Brazilian magazine Veja, sources stated in 2015 that Nasr al Din allegedly maintained a network of manufacturing and distribution of authentic Venezuelan passports that were provided to hide the true identities of the terrorists.
The Washington-based Center for a Secure Free Society published a paper entitled "Canada on Watch: Assessing the Threat of Iran, Venezuela and Cuba to Immigration Security" in 2014. The authors conclude that Venezuela issued at least 173 Venezuelan passports to radical Islamists seeking to enter North America.
The authors of this report, Victoria Henderson, director general of the Institute of Canada for Social and Economic Analysis (ISEA); Fernando Menéndez, a researcher at the Center for a Safe Free Society (SFS) and Joseph Humire; Director of the SFS, link Tareck El Aissami, who headed the Interior Ministry between 2008 and 2012, to a money laundering network to cover up funding for extremist groups in the Middle East. They also say that, for years, El Aissami has been facilitating the entry of Iranian terrorists into Venezuela.
Tareck El Aissami represents a double danger for the United States and the world, given his connection with two serious crimes: terrorism and drug trafficking.
On February 13 the vice president of Venezuela was included in a list of the US Department of the Treasury, for allegedly collaborating with international drug trafficking.
According to the investigations carried out the criminal organization headed by El Aissami is one of the main suppliers of the drug network that Hezbollah operates in Europe.
According to the US Treasury Department El Aissami exercised control over planes that took off from a Venezuelan air base, in addition to controlling the routes of the drug that went through Venezuelan ports.
"El Aissami represents a very dangerous cocktail for the national security of the United States, which is the mixture of drug trafficking with a connection to Hezbollah," said Martin Rodil, an expert on security issues linked to Venezuela.