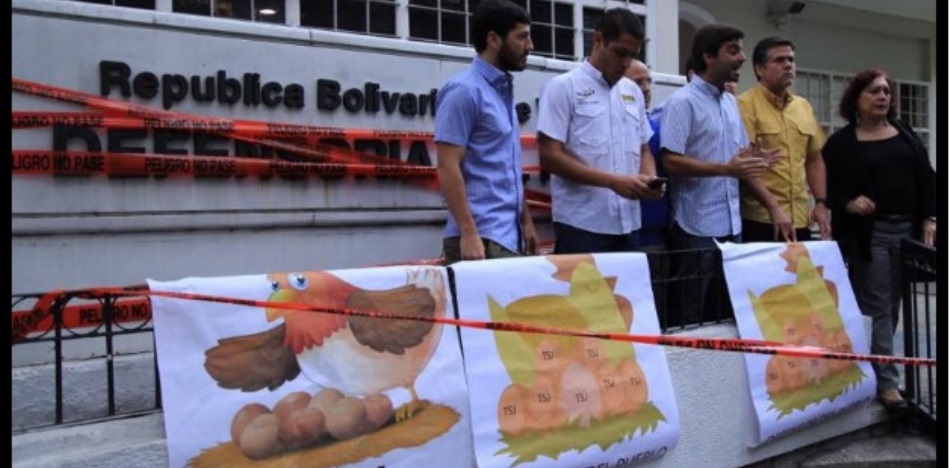 This morning the Venezuelan Public Defender's office was shut down symbolically by the opposition assemblymen who protested at Tarek William Saab's office this morning.
This Friday, April 7th, a group of members of the Democratic Unity Table (MUD) arrived at the Ombudsman's Office and covered the office's front with red tape all over.
The protest took place after William Saab announced on Thursday night that the Republican Moral Council will not declare serious misdemeanors committed by Supreme Court of Justice (TSJ) who perpetrated a coup in Venezuela by usurping the functions of the National Assembly.
"This place defends no one. They have become accomplices of a coup, so today we came as united parliamentarians first thing in the morning," said assemblyman Miguel Pizarro.
"This Ombudsman's Office is of no use to Venezuela. We are telling Tarek William Saab that he must take action and proceed with the magistrate's removal," said assemblyman Jorge Millan.
Other legislators on the site included Marialbert Barrios, Jose Manuel Olivares, Juan Andres Mejia, Stalin Gonzalez, Tamara Adrian and Rafael Guzman.
Despite the opposition majority in the National Assembly, the TSJ has still failed to acknowledge the body, and has taken over functions of the legislative powers.
On Thursday, thousands of Venezuelans marched to demand that the Ombudsman's Office and the Republican Moral Council demand the magistrates' dismissal. However, public defender Tarek William Saab rejected the request.
Over the phone with state-run channel VTV, Public Defender William Saab ignored the request made by the thousands of protesters who faced a state security barrage of rubber pellets, tear gas, and armored trucks.
The Republican Moral Council met and decided to not deem the judges' offenses to be serious.
"At the meeting, it was agreed to declare the opposition's request inadmissible because it is considered out of order to pronounce on the recent TSJ judgments … The Republican Moral Council rejects the request to find the magistrates at fault."
In the wake of this decision, the opposition and the National Assembly lost their opportunity to dismiss the Supreme Court of Justice judges. The only option left is criminal law, whereby the Public Ministry would have to respond to the lawsuit filed by the assemblymen, and decide to indict the magistrates.
Source: El Nacional