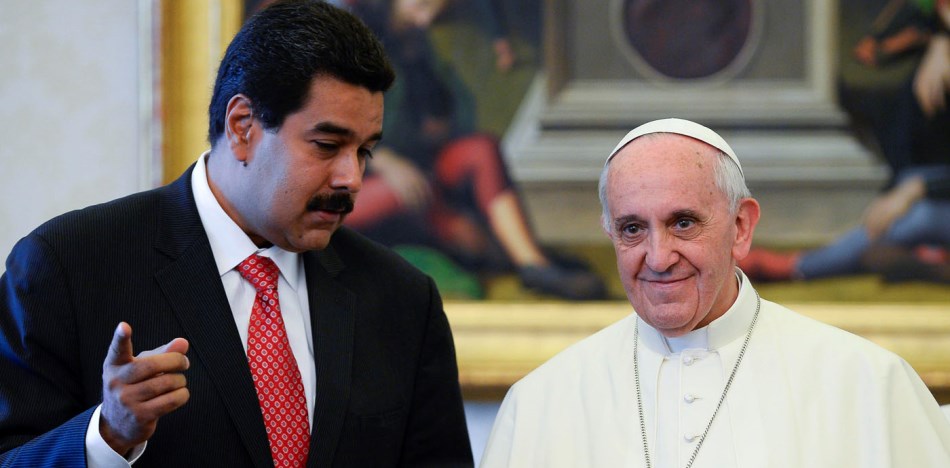 EspañolPresident of Venezuela Nicolas Máduro is working to set up a meeting with Pope Francis in hopes of restarting talks with the Venezuelan opposition.
Maduro is reportedly hoping to meet with the Pope at the Vatican, along with representatives from his opposition.
He mentioned the plan during his televised radio program "Sundays with Maduro" without offering major details, but did confirm his administration is still willing to keep talks going despite the two-month pause.
The opposition represented by the major opposition party, Democratic Unity Round Table (MUD), threw out any possibility of talks after Maduro and his administration did not comply with previously agreed-upon commitments that included freeing political prisoners, publishing a timetable for elections and accepting international humanitarian assistance.
The opposition coalition, which is made up of more than 20 political parties and organizations, rejected proposals made last month by international facilitators to reestablish dialogue, saying it would present a series of alternatives in the next few days.
Maduro's attempts to kick start talks come at a moment in which the opposition is undergoing a restructuring process to avoid being dismantled by technicalities in voting laws.
MUD Executive Secretary Jesus Torrealba said he believes the opposition does not know how to manage "the enormous political capital" that was obtained in December 2015's parliamentary elections, and acknowledged in a statement last week that "the democratic alliance has to be restructured, because it's undergoing a crisis."
Source: El Estímulo; Sumarium