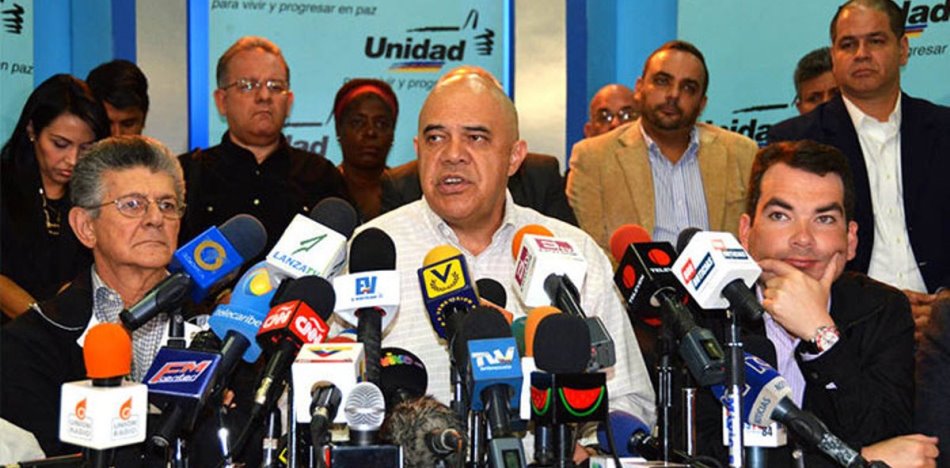 EspañolVenezuela's opposition parties will most likely be barred from participating in the upcoming elections, officials have said.
Executive Secretary of the Democratic Unity Roundtable (MUD) Jesús "Chúo" Torrealba said Sunday that Venezuela's ruling officials are trying to nullify the registration of MUD — the country's largest opposition party — for the 2017 elections, an action he deemed "unacceptable."
On January 26, Deputy Diosdado Cabello warned that the opposition may not have a political party participating in elections because it committed fraud and would therefore have to be left out.
The opposition's "fraud" occurred in 2015 during congressional elections in the state of Amazonas, as well as in the 2016 collection of millions of signatures promoting a referendum in which voters could decide if they wanted to remove President Nicolás Maduro from office.
In October 2016, Venezuelan journalist Eugenio Martínez warned of the regime's intention to hold unopposed elections by using the Supreme Court to ban opposition parties.
His report laid out that all national political parties that did not appear in the December 6, 2015 elections or the 2013 presidential elections, or that have participated in the last parliamentary elections but failed to obtain one percent of votes, will have six months to comply with the requirements of the National Electoral Council or be disqualified.
If they are, they lose the ability to request primary elections, and to run in the subsequent election.
According to the TSJ magistrate, the only way for a party to be automatically renewed is if it succeeded in obtaining one percent of valid votes in at least 12 states in the last election.
The only parties that passed that threshold were MUD and the ruling United Socialist Party of Venezuela (PSUV).
TSJ would reportedly seek to eliminate MUD after accepting the annulment of the opposition organization. If the 18 national parties that make up MUD are nullified, the opposition would not have political representation in the CNE and therefore could not nominate candidates in the 2017 elections, nor present political demands to Maduro's administration.