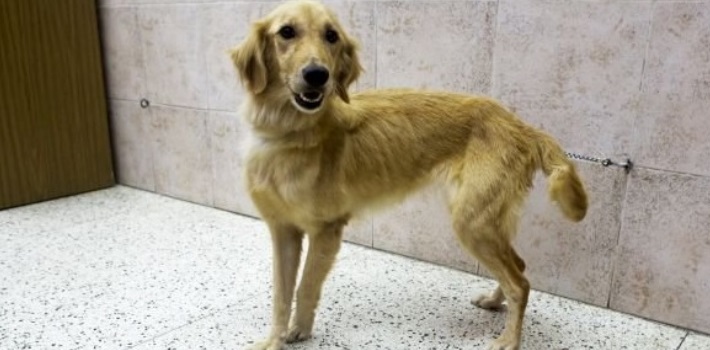 EspañolAs thousands of Venezuelans cross the Colombian border in search of food and medicine, social media has taken note of another victim of the country's humanitarian crisis that doesn't have the same control over its fate: pets.Defenseless cats and dogs are very often a low priority for families who are looking to keep their children from starving.
One Venezuelan posted this message on Facebook asking for help.
My name is Burkin, I'm a Golden Retriever and I'm 3 years old. I'm a noble, docile, intelligent and caring dog, I like to play and be held. I have a family in a difficult financial situation, who don't have enough to support me.  They're too old and can't even afford their own medicines. They don't want to kick me to the street, they know how terrible it is to wander around without food, love, with only beatings, sticks and kicks. But I'm so skinny I don't have energy to run and bark. That's why I ask God to put an angel in my way that can rescue me, adopt me and give me a new life. Please, help me sharing this message, so that my guardian angel may come soon. Many thanks.
Many families chimed in saying they did not have a way to feed their pets either.
Venezuela has the world's highest inflation, and with low wages and food scarcity surpassing 80 percent, it's easy to see how pets aren't getting the food they need.
Many Venezuelans not only deal with their own struggles for food, but must scavenge shopping malls looking for dog or cat food they can afford. A bag of dog food is about 11 days of minimum wage work. That's almost one bag of dog food for each bimonthly payment.
The Venezuelan Society for Animal Health (Avisa) said pet abandonment has risen by 30 percent. This is mostly attributed to the financial resources required to support a pet. Likewise, they claim there are more adoption signs and less people interested in adopting.
"I can't pay for my dog's food," pet owner Andrea Sanchez said. "I'd rather give them rice or leftovers, I'm not thinking of abandoning them yet.  I don't want to think in the moment I have to sacrifice them."
Venezuelan families are often more concerned with meeting the most basic of needs: diapers for children, milk and medicine for grandparents. Man's Best Friend simply does not fit into the equation during such tough times.
There are over 70 animal protection agencies in the country that give shelter, food and medical attention to animals, many of which are trying to rise to the occasion of this increase in abandoned dogs.
Asodepa, a Foundation for the Defense and Protections of Animals in Maracaibo said the main cause of abandonment is families leaving the country without time to look for a new owner.
The Asoguau Foundation in the state of Carabobo said unexpected puppies, sudden moving and financial problems were the main reason for abandonment.
Home-cooked pet food
The pet situation is so dire that the Venezuelan government has started workshops to teach pet owners how to prepare home cooked meals for their pets.
For example, with sardines and vegetables like carrots, cassava and moringa, combined with liver and entrails you can make a cookie dough. However, carrots, yucca and sardines all have a very elevated cost in the Venezuelan market.
They also recommend collecting the leftovers of ground bones from butchers.