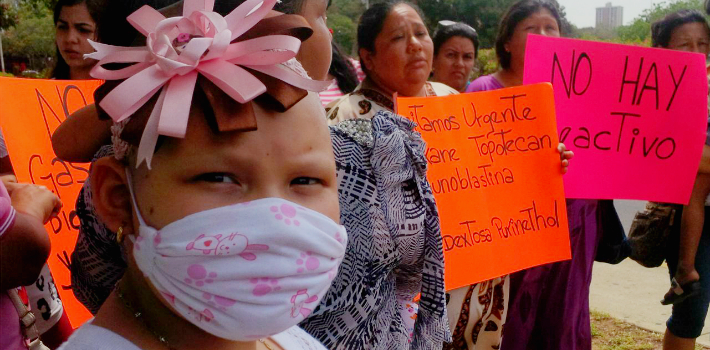 EspañolCancer patients in Venezuela, who often wait up to 15 days for treatment, are demanding that the government of Nicolás Maduro remedy the shortage of medication in the country.
On Monday, August 10, a group of child cancer patients and their relatives gathered in front of J.M. de los Ríos Children's Hospital in Caracas to protest the lack of 11 of 19 drugs needed for chemotherapy.
[adrotate group="8″]
While hospital officials responded to the protest by resuming treatment, much of the medicine patients need is still missing.
The group of protesters also lashed out at Health Minister Henry Ventura, who earlier this month blamed oncologists for the drug shortage. Ventura accused physicians of not following standard procedures for cancer treatment and prescribing non-approved drugs.
Meanwhile, Antonio Pereira, chief of the Oncology Department at J.M. de los Ríos hospital, and officials from the Health Ministry's National Program of Oncology, have promised to speed up the delivery of the necessary drugs.
Silvia de Quijano, a representative from the Venezuelan Association of Children with Cancer (Asovepanica), explained that in order to provide treatment, all the necessary drugs must be available. "The lack of chemotherapy implies, sadly, death. Cancer doesn't wait," she said.

https://twitter.com/trafficMERIDA/status/631879986559913984
"Raw ingredients for beer expedited, but children with cancer can wait."
More Shortages
This marks the third protest Asovepanica has organized due to the shortage of drugs and other medical supplies, such as syringes, gauze and bandages, masks, needles for biopsies, and other supplies for intravenous therapy.
"We have no gammagram or CT scanners, let alone simple reagents to perform blood tests, which are necessary before performing chemotherapy," Quijano told local media.
Following the demonstration, health authorities promised that a shipment of chemotherapy drugs would arrive on Friday, August 14, thanks to an agreement with Uruguay.
However, Roselina Quijano, who was present during the meeting, said officials only mentioned "five or six drugs" necessary for treatment, leaving out many other medicines, including Cardioxane.
Time Running Out
The Venezuelan government has refused to authorize the sale of the foreign currency needed to import drugs and medical supplies, and shortages have now extended across the country.
Over social media, cancer patients in the northeastern state of Anzoátegui claim their chemotherapy sessions have been suspended at Rafael Tobías Guevara Children's Hospital due to "lack of air conditioning."
Meanwhile, the Hematology and Oncology Institute of the Venezuelan Central University in Caracas remains closed for "technical reasons," and has not provided treatment for cancer patients since July 2014.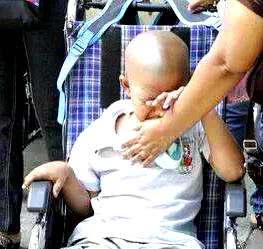 In the northern state of Carabobo, some 200 patients await surgery, since the shortage of reagents needed to perform serologies has kept doctors at the Miguel Pérez Carreño Hospital from performing the procedure for two weeks.
"For a cancer patient, waiting means losing days from his life," said Elena Delgado, a relative of a cancer patient. "The tumor grows if it is not surgically removed and treatment is provided."
In Táchira, western Venezuela, mental patients are also left waiting for necessary medicines to arrive. María Sánchez, head of the Dr. Raúl Castillo de Peribeca Mental Health Institution, says suppliers are no longer making deliveries due to the debt they hold overseas.
"The medicine situation is very difficult," she says. "Currently, we need anticonvulsants, anxiolytics, antipsychotics, and antibiotics."
On Thursday, August 13, doctors in Táchira took to the streets to demand "quality health care." They claim "health is in a state of emergency" in the region.