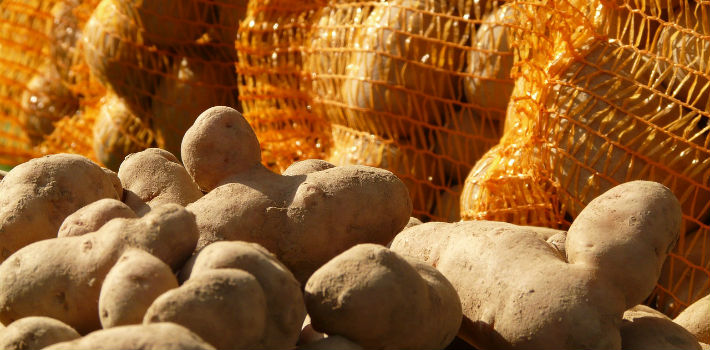 EspañolEarlier this year, we reported that McDonald's in Venezuela could neither import potatoes to make fries nor find a reliable supply domestically. Now we know why, and not just because of currency controls.
Venezuela's National Seed Service (Senasem) has been asleep at the switch, and let 175 metric tons of potato seeds (initially reported as 175,000 tons) go rotten in state silos. When locals discovered the magnitude of waste on July 8 — in excess of all potatoes produced in 2014 — they took to social media and could hardly contain their outrage, describing it as the "official self-imposed economic war."

https://twitter.com/CARAPALIDA036/status/618787466548482048
"Now this! They've found 175,000 [kilos] of damaged potato seed; who will take the blame? The [economic] war is within, and they're pissing me off with their damned revolution."

A delegation from the National Federation of Potato and Vegetable Producers of Venezuela made the discovery in the state of Mérida, 700 kilometers southeast of Caracas. Producers then assembled at the Ministry of Agriculture to present formal accusations and demand an explanation from the authorities.
In Venezuela, silos are the responsibility of Senasem. This state agency's function is "to carry out all activities necessary for there to be a continuous, sufficient, and timely supply of seeds in the different areas needed by the country, so that production caters to the demand of the domestic market."
However, in the first half of 2015 alone, the domestic price per kilo of potatoes has suffered an increase of over 1,507 percent. It began at 28 Bs., and now, due to the lack of production, has risen to between 350 and 450 Bs.
The price is one matter, but the Venezuelan population's outrage is directed towards 175,000 kilos lost at the hands of the government amid rampant food shortages.
According to the 2014 report by the Confederation of Farmers' Associations (Fedeagro), the annual domestic demand is 17,000 metric tons. An excerpt from the document states:
The potato sector shrank by 31 percent. Factors surrounding this decline were: the seed shortage which impeded meeting the second consumption cycle for fresh potatoes (7,500 tons of potatoes were imports, out of 17,000 tons, which are required yearly to meet the country's requirements…)
Cries for Seed Ignored
Just as the alarming number of potato seeds were rotting at the hands of the Ministry of Popular Power for Agriculture and Lands, Aldemaro Ortega, president of the Association of Potato Producers (Asopapa), forewarned in June that Venezuelan producers needed at least 57,000 tons of seed and denounced that they could not source them.
Ortega noted that fertilizers and appropriate herbicides were also scarce in the country. While sowing of the seeds is normally scheduled for December 10, that has not been possible for the past two years in Venezuela: "He who sows early in the season shall reap the harvest in summer; he who sows at an inopportune time shall harvest during winter."
Recently, he warned that this year the decline in potato production in Carabobo state would be close to 60 percent, adding that this entity is responsible for augmenting the national supply. Estimated national production will be approximately 9 million kilograms during the second quarter of 2015, compared to 22 million in 2014.
In December 2014, Julio Paredes, National Federation of Potato and Vegetable Producers president, publicly accused the government of importing potato seed from Canada which was rotten when it arrived in Venezuela. This situation, he claimed, put 20 percent of 2015 production at risk.
He mentioned that in previous years farmers had been present in Canada during the purchase, had granted their approval, and the harvest had been successful. However, in 2014, regime officials excluded them from the visit.
Producers requested an investigation from the National Assembly's Committee on Agriculture to determine where responsibility lies, but they have yet to receive a response.
"It has been proved that the potato seed arrived in sacks that were wet … now they want to dump accusations on us about poor management of seed which arrived in a rotten condition in the first place," added Aldemaro Ortega in early 2015.
The "Economic War" on Whom?
Venezuela's Nicolás Maduro regime has repeatedly asserted an "economic war" led "by the opposition, the far right, and imperialists." Chavista officials hold these groups responsible for the visible shortages in the country. Further, Maduro assures that private-company representatives hoard to derail the nation's development.
Meanwhile, Venezuelan constituents scratch their heads as to how the government can lose this much potato seed, when it should be in farmer hands ready to be cultivated.
¿Guerra economica? SI, del regimen hacia el pueblo.Nos necesita pobres y hambrientos. Hallaron 175.000 toneladas de semillas de papa dañadas

— Si Se Puede! (@kkatiragladys) July 8, 2015

"An economic war? Yes, from the regime against the people. It needs us poor and hungry."

This isn't the first time outrageous amounts of foods have rotted under the watch of the Venezuelan government. In February, authorities discovered 45 tons of decomposing food products in state trucks belonging to Venezuelan Food Producer and Distributor (PDVAL).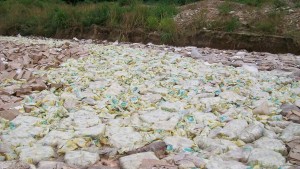 Among the 45 metric tons found, 15 had decomposing chicken, and the rest included oil, flour, rice and pasta. It's important to note that all these foods are staples and among the main items in scarce supply in Venezuela.
In April 2014, it was 1,715 metric tons of meat and chicken, and 1,000 metric tons of milk, locked in containers in Puerto Cabello, Carabobo, all valued at about 10.5 million Bs.
In June 2010, it was close to 70,000 metric tons of spoiled food, imported in 2009 by the state-owned PDVAL but never distributed to the retail network.
Later that month, ABC from Spain claimed that Cuba was directly linked to this rotten food scandal in Venezuela. The Spanish newspaper said that former Cuban Minister of Commerce Barbara Castillo Cuesta was at the front of the group of Cuban advisers linked to the import of these spoiled foods.
Editor's note: A previous version of this article cited 175,000 tons of seeds wasted, a figure corrected on July 10 by the National Federation of Potato and Vegetable Producers of Venezuela.