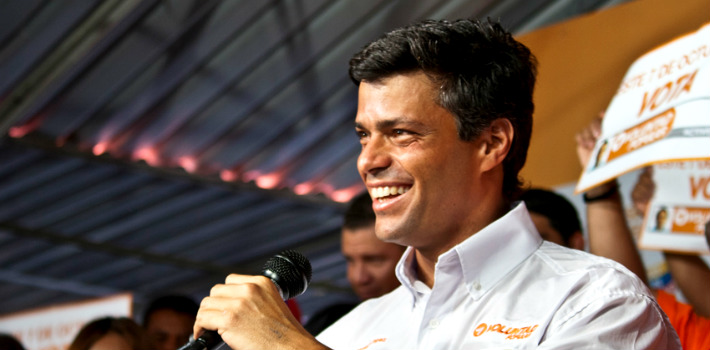 EspañolOn Tuesday, June 23, Venezuelan opposition leader Leopoldo López put an end to his 30-day hunger strike.
The National Electoral Council (CNE) announced on Monday a date for this year's legislative elections — one of the hunger strikers' key demands. Lilian Tintori announced her husband's decision to end his protest the following day during a press conference and read a letter from López in which he explained his decision.
As López's health worsened in the last few days, he received letters from his father, wife, and the Caracas archbishop, Cardinal Jorge Urosa Sabino, urging him to abandon his strike.
Mi Leopoldo amado los hemos logrado! Te amo con toda mi alma! pic.twitter.com/8q7R3Va9RR

— Lilian Tintori (@liliantintori) June 23, 2015

"My beloved Leopoldo, we've done it! I love you with all my soul!"
López launched the hunger strike alongside his former cellmate at Ramo Verde, fellow opposition leader Daniel Ceballos, and received both domestic and international support. In the end, more than 100 Venezuelans joined the protest, and together, the hunger strikers called for the Nicolás Maduro administration to set a date for legislative elections, secure international observers for the polls, and release all political prisoners.
The protesters were able to claim a partial victory on Monday with the CNE's announcement, as well as commitments from the European Union, Organization of American States, and UNASUR to send volunteers to observe the upcoming elections set for December 6.
The CNE, however, has so far only authorized UNASUR to travel to Venezuela for the polls.
The Vatican, United Nations, former Latin-American presidents, the European Parliament, and the legislatures of Colombia and Brazil expressed their concern over the humanitarian crisis in Venezuela and condemned the presence of political prisoners in a democratic country.
They also promised to follow up on the advances made by the Venezuelan government. Furthermore, Human Rights Watch and the Club of Madrid urged Pope Francis to intercede on behalf of Venezuelan political prisoners.
Although the Maduro administration did not respond to the request for the release of political prisoners, Ombudsman Tarek William Saab said jailed protesters whose health conditions have worsened would receive medical care.
Timeline of a Historic Strike
1. On May 22, authorities transferred Daniel Ceballos to a maximum-security prison. He later announced he would begin a hunger strike to demand freedom for all political prisoners and a set date for legislative elections.
2. After releasing a video recorded inside his cell on May 24, Leopoldo López announced he would join the strike. Two days later, political prisoners Raúl Baduel and Alexander Tirado joined as well, and invited the Venezuelan people to support them and follow suit. As the days passed, other political leaders, teachers, students, and ordinary citizens also joined the call.
3. On Saturday, May 30, Popular Will called for a massive march in Caracas to show support for the political prisoners and demand the government fulfill their requests. The opposition coalition, Democratic Union Roundtable (MUD), then announced a schedule of events to support the protesters.
4. On June 5, two Venezuelan councilmen began their hunger strike in solidarity from Rome. The councilmen reportedly ended their strike the following week after meeting with a representative of the Vatican and expressing their concerns over the human-rights crisis in Venezuela.
5. On June 10, three Venezuelans who joined the strike outside the UN headquarters in New York met with a high-ranking UN official who listened to their concerns and promised to travel to Venezuela to verify their complaints.
6. On June 11, Daniel Ceballos was forced to abandon his hunger strike due to his rapidly deteriorating health, and was transferred out of the maximum-security jail.
7. On June 15, Ombudsman Tarek William Saab announced his office would request humanitarian measures for prisoners on hunger strike with poor health conditions.
Abuse, Torture, Death Threats
Defense lawyers for López and Ceballos claim the Venezuelan government attempted to sabotage the protester's efforts. They say prison authorities told the hunger strikers they would be deprived of certain rights while in jail unless they dropped their protest.
They also claim López was refused treatment from a trusted physician until it was almost too late, a violation of the World Health Organization Malta Declaration.
Other activists and students from across the country who joined the protest say they faced various kinds of threats and abuse.