EspañolWhen members of a society retrospectively analyze past dictatorships, there is a tendency to view them as historical mistakes, bumps on the road of democratic continuity, or external events that managed to sneak in within a series of social and political advances.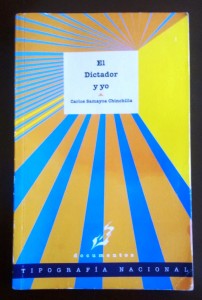 In Latin America, we have a distinct penchant for overstating our processes of peace and democracy which, while having made great strides, remain very young and very incomplete. This is why, when we speak of dictatorships, authoritarianism, and repression, they seem so inexplicable to us.
Dictatorships in our region are studied from a mystical perspective, as if studying some supernatural phenomenon, devising elaborate structural analyses to explain every case in our history. We tend to forget the very ordinary nature of authoritarianism: the factors that cause people to become open to the idea of a concentration of power, and indulge in populist rhetoric.
Two years ago, in a bookstore in Guatemala city, I came across a book that changed my perspective of these so-called historical errors. Tucked away in the historical literature section was a colorful edition of the existential novel The Dictator and I by Carlos Samayoa Chinchilla, renowned Guatemalan writer and personal secretary to the dictator Jorge Ubico Castañeda (1931-1944).
Samayoa Chinchilla's book is distinct from all of the other dictator-related novels that were born out of the Latin-American magic realism movement, where politics was intertwined with supernatural abilities attributed to those that ruled over the continent. The Dictator and I conveys the day-to-day happenings of an autocrat, acting as a guide to understand his character, but also as a mirror for Latin-American introspection.
Without constant vigilance, a free press, and an unwavering respect for individual rights, every country is a potential dictatorship waiting to happen.
In this account, the exercise of power is not portrayed as pompous or eccentric, but as the sum of the fears and insecurities of an ordinary man: life transported him to a position of ultimate authority, a place shrouded in megalomania and paranoia.
The paranoia can be seen as a reflection of an entire country in the midst of crisis, and the reader is left with the impression that almost anyone could become an Ubico, an Afredo Stroessner, or more recently, a Hugo Chávez. These mean, while different, were very similar after all. As Samayoa Chinchilla flatly states, they govern "with a straightjacket for all aspiration that is not their own."
Perhaps the most important lesson from this marvelous novel is that the battle is never truly won, and we would be naive to think we currently have a system of peace, cooperation, and freedom. With the daily complications that come with a wounded continent and the public's desire for immediate solutions, it should come as no surprise that more confidence is generally placed in charismatic and paternalistic figures than in an institutional framework.
Without constant vigilance, a free press, and an unwavering respect for individual rights, every country is a potential dictatorship waiting to happen.
In The Dictator and I, we learn to view authoritarianism as the result of natural incentives within the public sector that are pushed to their limit. It is made possible through the public's own acquiescence, the redistribution of economic and political power among government cronies, the fear of treason, and the use of violence to suppress dissent.
It is important to understand that the Ubicos, Stroessners, and the Chávezs of the world do not come to power through some sort of magical process. The natural inclination to rule over others that exists in all Latin Americans was simply awakened, while the rest of the public slept.
Translated by Alex Clark-Youngblood. Edited by Guillermo Jimenez.