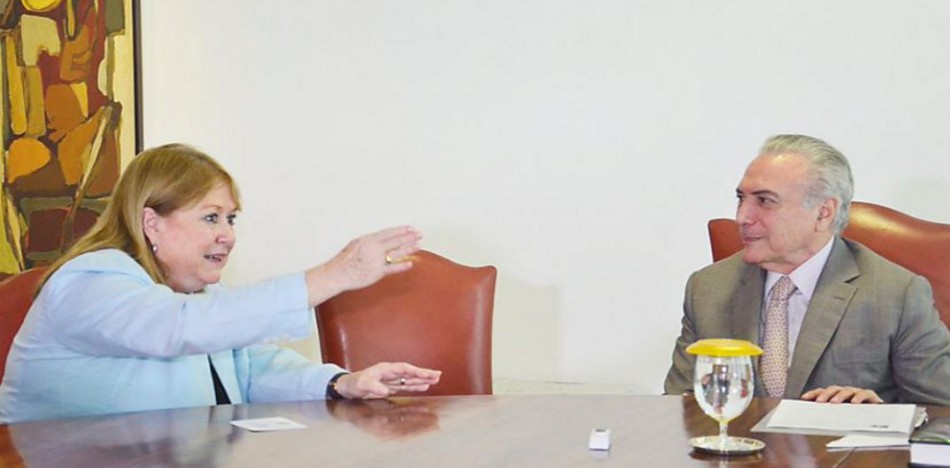 Argentine Chancellor Susana Malcorra said that the growth of the Brazilian economy is of "absolute and total importance" for the future of Argentina's economy.
"When you have a partner that accounts for almost 40% of your trade balance, in a complex economic situation, lack of growth has a real and direct impact," Malcorra told the Argentine daily La Nación from Brasilia.
In the context of her first visit to Brazil since Michel Temer took office, Malcorra hoped that Brazil's economic situation would improve in 2017, in turn producing a positive effect for Argentina.
"Maybe in the short term you feel some turbulence here or there, but the fact that Brazil has strong institutions is a long-term reinsurance that its problems will be solved. The estimation that we make is that the economy of Brazil begins to move forward and that the 2017 numbers will be positive; exactly how positive is something we are not entirely clear on," said Malcorra.
Malcorra also called for taking advantage of the current situation to "revitalize and energize" Mercosur, in the midst of the crisis that the regional bloc is currently weathering with Venezuela.
During the trip, Malcorra met with her Brazilian counterpart, José Serra, and was received at the Planalto Palace by President Temer and several of his top advisers, La Nación reported.
In a joint press conference given by both chancellors, Serra stressed that in the meeting held on Thursday they discussed issues of bilateral integration and Mercosur.
Malcorra and Serra agree that signing a free trade agreement with the European Union is of paramount importance. "It is about boosting bilateral trade agreements within the context of Mercosur," said the Brazilian minister.
"We have to standardize the technical and sanitary requirements for international trade, which are critically important. If we succeed, it will have a very positive domino effect on our foreign trade policies," Serra said.
Malcorra also sees a silver lining in Donald Trump's victory in the United States, allegging that it will result in diminishing trade between the United States and the European Union, and suggesting that the Mercosur bloc should be poised to take advantage of the situation.
Regarding Venezuela's status in the regional bloc, Malcorra clarified that it was not a "suspension" of the Caribbean country, but a "cessation of participation."
Malcorra and Serra accept that the Venezuelan government will use Mercosur arbitration mechanisms to seek to reverse the measure, however, theyconfirmed that as of January 1, Argentina will assume the pro tempore presidency of the bloc. From that moment on, Venezuela will not be part of the group until it enacts the necessary regulatory changes.
In the first quarter of next year, Argentine President Mauricio Macri will make his first official visit to Brazil, following Témer's visit to Buenos Aires last October.
Source: La Nacion