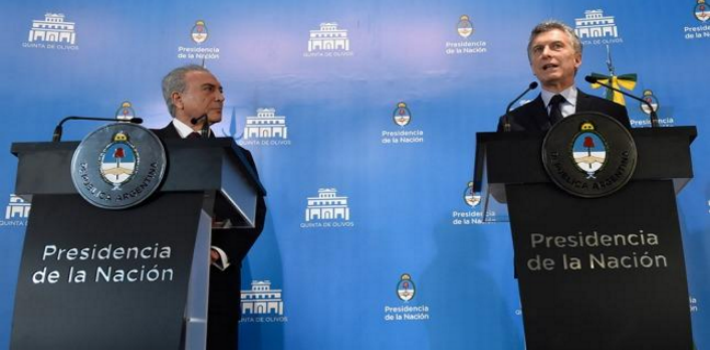 EspañolArgentinean President Mauricio Macri and his Brazilian counterpart Michael Temer agreed Monday on the need to "empower" Mercosur.
During a meeting, the two presidents talked about the permanence of Venezuela in the regional bloc as well as Colombia's decision to vote "no" on the peace deal with the guerilla group FARC.
It was Temer's first official visit to Argentina. The two leaders had already talked during the Olympic Games in Rio de Janeiro and at international summits.
The two leaders gave a press conference from the presidential residence  of Argentina. Macri said the meeting Monday "comes after months of work" and that both countries have an "ambitious agenda".
"I feel very close to Brazil, those who feel close are a majority," said the Argentinean president.
"In a globalized world, tightening and pushing forward Mercosur will help to address the relationship with the world in the best way," Macri said. "We need to reduce poverty in our countries. It is clear that this is achieved by improving education and as a result of creating quality employment."
Temer said that since assuming the presidency of his country following the dismissal of Dilma Rousseff, he had been trying to make sure his first trip within South America was to Argentina.
He said he and Macri concluded they can work together to strengthen Mercosur and its bilateral relationships.
"We want to increase not only our political but business relations," Temer said. "This depends on conversations had over time. A number of points between Brazil and Argentina will be worked on. The number of Brazilian companies that are in Argentina and the Argentinian groups operating in our country are not small. We have many reasons to stimulate our relationship."
Read more: Argentina, Peru, and Brazil Promise New Era at UN Meetings
They both agreed that if Venezuela does not meet the standards established by Mercosur for formal entry, it will be removed from the bloc.
"We have given a deadline," Macri said. "If they do not meet it, they will cease to be active members of Mercosur. Beyond this, we are concerned about the violation of human rights and the refusal to accept the referendum.
The broad agenda Macri and Temer addressed Monday also included reducing poverty, the fight against drug trafficking, terrorism and commitment to climate change.
Peace in Colombia is peace in the region
Both presidents also spoke about the rejection of the peace process in Colombia.
The Brazilian president said that they will continue to seek an option of peace in Colombia.
"Maximum effort and desire will be given in getting Colombia's peace to come to fruition. This is useful for Colombia and for all the states of South America", he said.
Macri backed Temer noting that peace in Colombia is important not only for Colombia, but for the entire region.
"It is essential and we struggle to ceasefire the conflict and to really have a space to find alternatives," he said.
Rejection to Temer's visit 
While leaders held the meeting, a group of Brazilians living in Argentina, accompanied by some Argentineans, gathered outside the presidential residence to protest the visit of President Temer.