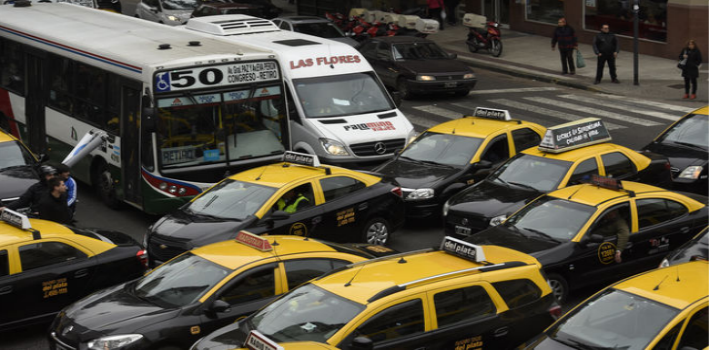 EspañolTaxi drivers from the Union of Radiotaxis (CAR) gathered on Thursday, September 1, outside the Buenos Aires legislature to protest against BA Taxi, a free phone app to be launched by the city to displace foreign competitors such as Uber.
Last week, the Buenos Aires government introduced a bill that would allow passengers to hail a licensed taxi ride from their phones and pay with a credit or debit card.
In a statement, the CAR argued that if passed, the bill would result in the "immediate" bankruptcy of over 42 small and medium taxi firms.
"It is incomprehensible that the same government which allegedly supports small companies seeks to modify a law that will destroy 42 firms that employ 1,400 families in the city of Buenos Aires," said Miguel Ángel Bello, president of the CAR .
"We oppose the bill because it is unilateral and opens the door to foreign applications and ends up privatizing the service," said Walter Troncoso of Radiotaxi Tu.
Troncoso said that "it is not the role of the state to compete with the 42 small companies that are here today to ask the congressmen not to continue with this bill."
The union said they have not been able to secure a meeting with city officials, who have not yet issued any response to their requests.
The government app will allow passengers, among other features, to see the vehicle and driver identification in their phones.
It will also generate an electronic report of ride with information such as date, time, departure and destination, and the amount paid.
In June, the city's transportation authorities informed taxi drivers that the a new app was in the works to protect them "against Uber, which attempts to provide transportation services illegally without authorization."
Uber continues to operate in Buenos Aires despite repeated protests from taxi drivers, the opposition of city officials, and legal actions.