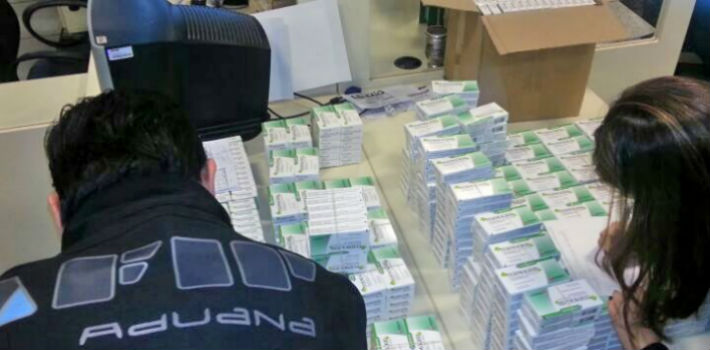 Argentinean customs authorities detected irregularities in a medicine shipment going to Venezuela in April. They found that the certificate issued by the National Administration for Medicines, Food, and Medical Technology (ANMAT) was expired. The permit, moreover, only allowed the company in question to move medicine around the Argentinean provinces, not abroad.
According to Infobae, a digital news source, permits for other medicine shipments to Venezuela were also expired and had no authorization to export goods from Argentina. Additionally, the customs authorities found that the shipment's declared amount was USD $12.9 million, while the invoice for the shipment which Laboratorio Internacional Argentino S.A. issued to Farmamed S.R.L., an export business, amounted to USD $780,482,000.
Infobae points out that businessmen Pablo Rubio and Juan José Levy, who owns Farmamed and Esmer laboratories, are behind the illegal export business.  They've had business with Venezuela for several years now due to deals between former president Cristina Kirchner's government and the Chávez-Maduro regime involving Argentinean medicine for Venezuelan oil.
Three weeks ago, the Argentinean authorities raided Juan José Levy's residence as a result of the investigation.
Infobae reports that Rubio and Levy obtained their contracts due to their close links with Julio de Vido, the former Minister of Planning under Kirchner. As a result of the deals, Venezuela bought medicine from Argentina at 10 times their real market value in the midst of the country's worsening medicine shortage.
According to Infobae, PDVSA, Venezuela's state-owned oil company, started an investigation on the medicine deal with Argentina.
The case is being handled by the Criminal Economic Court, which handles customs cases. Customs points out that the minimum fine for this case would be AR $2.1 million (USD $ 142,631).
According to Infobae, the National Administration of Social Services (ANSES) also awarded contracts related to a national internet and computer program to companies linked to Levy and Rubio. The companies are being investigated for a large fraud involving imported tablets.
Levy is also linked to the "Panama Papers" scandal through offshore societies in the Seychelles. He is also under investigation for money laundering in Panama.
Source: Infobae.