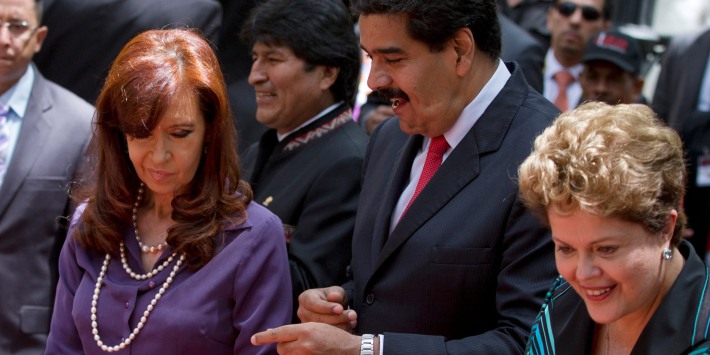 EspañolAt the beginning of the century, it was conceivable to think of Latin America as being in a socioeconomic and cultural movement completely dictating the political destiny of South America.
The movement was best known as "Socialism of the 21st Century" Disguised with attractive symbols of love, brotherhood, equality, and freedom, and represented by charismatic leaders like Che Guevara, the movement quickly positioned itself as a new solution to our problems.
But today the results are clear: the bet on socialism in Latin America has failed.
In Argentina, disapproval toward the end of Cristina Kirchner's second term was high due to an acute economic crisis caused by mismanagement of monetary policy, excessive controls, and endless corruption scandals involving high-ranking public officials, including the president herself.
The recent elections eventually gave a crushing blow to the Argentinean status quo, with the victory of current President Mauricio Macri.
Ecuador, at the hand of Rafael Correa, seemed to be the glory of socialism in Latin America: a developing country with economic growth born out of socialist ideologies. However, such policies usually have a "mirage" effect and Ecuador was no exception.
When growth comes at the expense of debt and high tax rates, it usually ends up discouraging the only real source of wealth that a country has: entrepreneurship. Today, Correa is the target of harsh criticism for political clumsiness and tax hikes in response to the terrible earthquake that happened last April, among other things.
In Brazil, Lula da Silva and President Dilma Rousseff are the figureheads of failure. The country received attention in response to its rapid growth, which led to it earning the honor of hosting two major sporting events: the 2014 FIFA World Cup and the 2016 Summer Olympics.
The World Cup was held amid public protests expressing discontent about excessive spending on stadium construction while education budgets were cut. The Olympics will be held with a politically defeated Dilma Rousseff out of office, as she faces impeachment on corruption charges.
In Chile, Michelle Bachelet seems to solve everything with governmental "bonuses" and social programs. This has resulted in considerable economic slowdown despite the country having led Latin America economically in recent years. Now, the country is struggling to attract foreign investment.
José "Pepe" Mujica of Uruguay was perhaps the most charismatic president in the country's history. It is virtually impossible not to sympathize with this good-natured figure driving an old Volkswagen and wearing sandals.
The legalization of marijuana helped Uruguay embrace freedom and open up development. But some decisions — such as passing a law censoring the media — teaches the lesson that looks can be deceiving if not backed up by real action and policy.
Evo Morales gave speeches about equality and love for indigenous people in Bolivia, and then made employees tie his shoes. Recently, he came under attack for suppressing freedom of expression through social media.
The well-known situation in Cuba has not improved. Poverty is actually worsening while Castro wears new Adidas and a Rolex. Socialism advocates argue for broad advances in health and literacy but they forget that the price to pay cannot and should never be freedom.
They refuse to admit that a country in which its inhabitants are willing to risk their lives on a raft may not be the paradise the government claims it is.
Venezuela is perhaps the most painful of all cases. Nicolás Maduro continues to grant himself more and more power, to take political prisoners and do nothing to stop shortages of basic goods.
In these situations, everyone's first impulse is to opt for a change. Things are not going well but could be much worse if we do not work  to correct things. In each of the above countries, there are lessons that cannot be ignored.
It is necessary to identify and adamantly reject policies that propose government intervention in the economy, avoid speeches disguised as social justice that generate friction within society and identify the charismatic and populist leaders who lack authenticity.
Don't buy magic solutions or speeches from a "political messiah." Our commitment to progress and development will help us attain freedom.