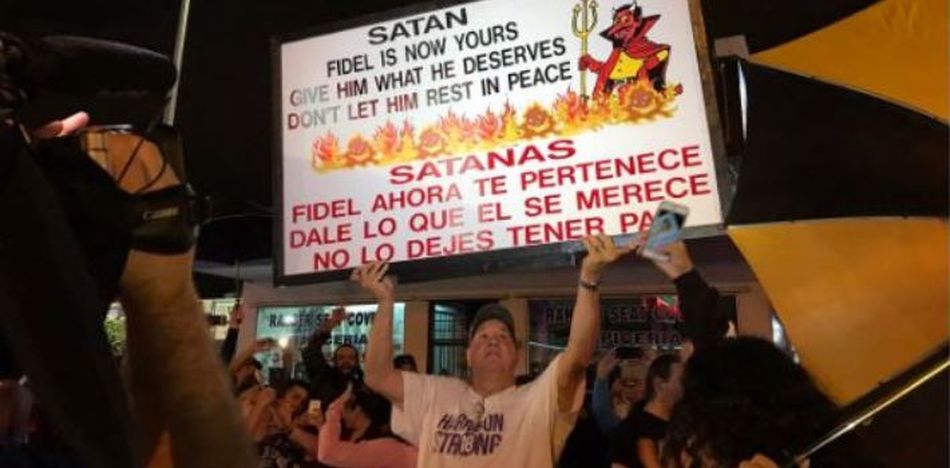 There is a wonderful book called Soldados de Salamina, which tells the vicissitudes of a journalist looking for a republican war hero, almost 60 years after the Spanish militiamen's troops fled to France. In that novel, Javier Cercas, its author, sheds a tragic phrase of what Spain was  after the Civil War: "At one point, the Spanish who opposed Franco decided to leave to biology what they could not do for their own means ".
I confess that I am paraphrasing, that I did not look for the exact text in the book. And also that was what I felt this morning, as I also felt the afternoon of March 5, 2013: like Francisco Franco, like Hugo Chavez or Stalin, Fidel Castro died in his bed, a natural death.  He died exercising power (this was behind the scenes) and, above all, without ever having faced what in justice would have touched him: facing a process, jail and ignominy.
The perfect dictator has died. The prototype dictator: he who not only managed to impose his will for decades, at the cost of turning his country into a graveyard ("They will build a desert, and they will call it Peace", said Tacitus), but managed to be praised and earned prestige for doing so.
And that in the last years of his life, he became, moreover, a contradictor of himself without anyone reproaching him. It is enough to remember how in 2010 Castro affirmed at the University of Havana that "among the many mistakes we have all made, the most important thing was to believe that anybody knew anything about socialism or that anybody knew how to build it."
That is self-criticism: in a democratic country, a ruler who said something similar would be removed. In Fidel, however, it was "wisdom."
Whats Next?
As there is no justice in death, which will come to us all (much less in death at age 90, after a long and healthy life, and enjoying all the pleasures, which systematically denied the suffering of Cuban people). I confess that I do not understand the clamor that was experienced in Miami and other places of Cuban exile this morning.
"¡Murió, murió!", exclaman cubanos y cubano-estadounidenses en #Miami tras la muerte de Fidel Castro. pic.twitter.com/HZi02LzD9d

— Patricia Sulbarán (@patsulbaran) November 26, 2016
He's dead, he's dead! That was the clamor of Cubans and Cuban-Americans in #Miami after the death of Fidel Castro.
Of course, I do understand it on a human level: I remember my father on a shortwave radio, more than 40 years ago, following the news coming from Madrid, the hope of the death of the dictator and the uncertainty of what Came in a country where, it was said, only Franco was able to prevent the dismemberment and a new edition of the Civil War.
There was no such grim future: Spain in 2016, with all its problems, but a living democracy, a country of the first world. That, of course, is what one wants for Cuba – and also, because I write from here and it is difficult not to be the navel of myself – for Venezuela. Is it possible?
For now, we will have to see the most pompous state funerals remembered in Latin America, because nothing is more cheesy than a communist in a trance of mourning. It is surprising, because of its historical dimension, the brief communication that his brother (although he takes care of not naming the family relationship, he calls him "compañero", so as not to leave even more evidence of the dynastic character of all "real socialism"). On the death of Fidel Castro. Nothing about what can come: life goes on, as always, and something that distinguishes communism is its apparent ability not to be moved by anything.
Nevertheless, it is probable that the changes that will bring the death of Fidel Castro will be felt first in Latin America that in his own Cuba. During all the decades of his regime, Castro was a kind of "certificate of anti-imperialism" that was issued to the Latin American presidents.
A photo of the Cuban dictator – believed by those who took it – issued a "patent of leftism" that served to fit well with an electorate that Latin American presidents presumed to be a pro-socialist; An anti-imperialism that, moreover, served more as an excuse for our own miseries and to cover up the immense political corruption that has always suffered Latin America, than to explain (its opposite, imperialism) our failure compared to the success of the United States (and Canada).
The truth is that beyond the polls, Castro was always rejected in Latin America, mainly because we all know or knew some victim of his tyranny.  A victim we liked, he was our neighbor, our co-worker or our friend. Or all of them. Like now, in Latin America or the world, many will sympathize with the Venezuelan newcomer who flees from the horror of the practice, against the flow of history, of communism in the twenty-first century.
Latin America, then, seems to get rid of a castrating stepfather. Of course, the much diminished Sao Paulo Forum will continue to lose its influence. The Government of Maduro, in Venezuela (we will talk about this) is left without a refuge, perhaps the last one, because the Bolivia of Evo Morales does not count and Rafael Correa, in Ecuador, for some time does not want to be related to Nicolas Maduro.
And in Cuba? Diplomats say that the country, since 2006, is in "post-Fidel", and that "post-Raul" can now come. The truth is that in his later years, and in his increasingly sporadic appearances, Fidel always behaved like a kind of "bad cop" who criticized the opening (very timid and always hypocritical) of his brother, the heir.
What can follow is that free of these ties, Raúl should consider a real reform in the economy, the much vaunted "Chinese model" of political dictatorship with economic opening, which began to be outlined on December 17, 2014. If he succeeds, he is also to be overcome by biology (remember that he is also octogenarian), or if his successors in this "real socialism" (the real thing seems to be hereditary) could be the ones who open the country to 60 years of ostracism.
While the festival is raging on, Dad dies

As I see the world from Venezuela, I can not help but be surprised that the death of Fidel Castro has taken the government of Nicolás Maduro so unprepared, and not for the first time: already with the opening of Cuba's relations with the United States Maduro made a continental ridicule, convening an anti-imperialist agreement in Mercosur the same day that Raul Castro and Barack Obama signed their historic agreement.
This time, ridicule is similar. The government, insisting that nothing happens in Venezuela, that people do not eat from the garbage, that inflation is not 700% and the shortage is 80%, committed to waste $ 2 million in a music festival called "Suena Caracas" (and social networks mocked with the label #SuenaCorrupto) to be held since last night and for 10 days.
Less than an hour before Raul Castro announced the death of his brother, the political father of the "Bolivarian Revolution", the festival began with a brutal salvo of fireworks , an affront to the thousands of Venezuelans who went to bed, at the same moment, without dinner.
It is possible that Fidel Castro died without agony, those things happen at age 90. You lie down and you do not get up and go. But it is hard to believe that there was no anticipation of the Cuban dictator's state of health.
Did not Raul Castro notify his main political ally of the situation? It would not be the first time. It happened 23 months ago.
And Nicolás Maduro, it seems, does not count much in the new scheme of the Cuban revolution, because he can no longer supply oil. In short, that's how the Devil pays who he serves.
May you rest in peace and may God absolve you, Fidel Castro. Because history, despite what you have believed all your life, will not.