"Hello. I'm María del Pilar Hurtado, and I want to hand myself in." With a single telephone call to the Colombian ambassador in Panama, the former director of Colombia's Department of Administrative Security (DAS) ended four years on the run on Friday, January 30.
Interpol issued a red alert for her capture in 194 countries earlier last week, with Hurtado's whereabouts unknown after she escaped to neighboring Panama in 2010, accused of masterminding the so-called Chuzadas scandal. Hurtado allegedly directed a large-scale wiretapping operation on behalf of then-President Álvaro Uribe (2002-2010) to smear his political rivals, including current President Juan Manuel Santos.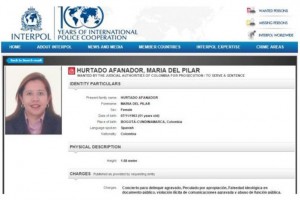 But the scandal over the illegal eavesdropping carried out between 2007 and 2009, uncovered this year by Semana magazine, is far from over. DAS officials not only illegally intercepted the phone calls and emails of politicians, but also of judges and journalists.
The Uribista camp has dismissed the scandal, and Hurtado's role in it, as a political ploy. Uribe's various enemies have meanwhile condemned it as another example of the dirty politics that preceded the Santos era.
The former DAS official is under protective custody in the Colombian Attorney General's Office, after being flown from neighboring Panama in the early hours of Saturday morning. The Supreme Court has already tried Hurtado in absentia, delivering a sentence of 15 years in prison with no possibility of negotiation, due to her failure to present herself in her defense.
However, Hurtado appeared in court on Saturday morning. She joins Bernardo Moreno, former presidential secretary during Uribe's administration, who is also under investigation and has signaled his willingness to give evidence in exchange for a reduced sentence.
Both Hurtado and Moreno stand accused of conspiracy to commit aggravated crime, illicit violation of communications, and abuse of public office. Hurtado faces additional charges of appropriating public funds and falsifying public documents.
Moreno has protested his innocence, maintaining that neither he nor Uribe ordered for anyone's communications to be intercepted. He also denies ever meeting with DAS authorities, including Hurtado, in his capacity as presidential secretary.
Colombian Political Fallout
But both investigating judicial authorities and rival politicians have called on Hurtado to say who gave the order to eavesdrop.
Colombian Attorney General Eduardo Montealegre told press a few hours after Hurtado's arrival on Saturday that he had advised the former DAS official accordingly: "cooperate with the judiciary, tell the country who gave the orders for the illegal happenings, and who were the recipients of those orders."
Meanwhile, various figures from the Colombian political scene made their opinions known on the case, both via local media and personal Twitter accounts.
Iván Cepeda Castro, a senator with the Alternative Democratic Pole party, suggested that "the link is clear" between Hurtado and Uribe: "Who must be thinking of seeking asylum now is @AlvaroUribeVel. I hope he shows his face in court." The radical politician added: "His desperation and fear over what Hurtado could say is evident. Don't run away. Calm yourself, and face justice."
Uribe himself has not remained silent. The former president took to Twitter to dismiss Semana as "Santos's magazine, and the press organ for the attorney general's office," suggesting that Santos had placed pressure on Interpol to pursue Hurtado on false information. "What a coincidence that Santos managed to secure the Interpol arrest warrant for María Hurtado on the same day as Oscar Iván Zuluaga's testimony."
Zuluaga, Uribe's protege and Santos's rival in the 2013 presidential race, gave testimony relating to the case of a hacker accused of spying on the FARC peace process.
Luis Pérez, a lawyer for activist group Victims of the Chuzadas (the wiretapping), met with press at the judicial hearing that followed Hurtado's arrest. He shared that the former DAS director had shown interest in cooperating with investigators.
Pérez also highlighted that although judgement has already been issued against Hurtado, negotiating concessions such as a reduced sentence or increased security for her family is possible if she divulges more information.
Panamanian Precedent
Although Hurtado was living illegally in Panama after she failed to renew her passport at the Colombian consulate, the Panamanian government took no steps against the former DAS chief until Interpol issued the red alert. The Ministry of Security then announced it would seek her arrest, prompting Hurtado to hand herself in.
Panamanian President Juan Carlos Varela is currently accusing former President Ricardo Martinelli of authorizing a similar program of illegally monitoring his political rivals.
The allegations, added to a mounting corruption scandal linked with the PAN social welfare program, prompted Martinelli to flee Central America last week for Miami from Guatemala City, where he was attending a session of the Central American Parliament (Parlacen).
From Miami, where Martinelli declared himself a political refugee, the former president later flew to Italy via Canada and Ireland, according to Panamanian daily La Estrella.
Translated by Laurie Blair. Edited by Fergus Hodgson.