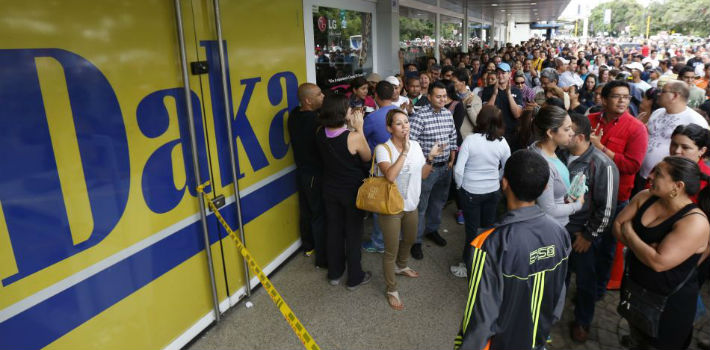 Throughout the past year, the government of President Nicolás Maduro has repeatedly signalled with great fanfare a forthcoming economic overhaul. Soon to be unveiled, Venezuelans were told, were major measures that would reverse the country's dire financial situation and put a stop to the rampant scarcity that characterized 2014.
However, the long-planned announcements have so far resulted in markedly limited adjustments. One major decision the president communicated in a press conference on Sunday, January 4, was that he would transfer control of motorway tolls — eliminated in 2008 by his late predecessor Hugo Chávez after calling them "capitalist hold-ups" — to state governments. He also revealed that he was heading to China that very afternoon, most likely to seek further cheap credit at the expense of Chinese taxpayers.
The Asian giant is Venezuela's main creditor, lending the South American nation some US$46 billion since 2009. Half of that debt has already been serviced, at least according to the Venezuelan Finance Ministry.
In his address to the country, Maduro also appointed a new head of Cencoex, the institution in charge of administering the foreign currency reserves received for oil exports. Petroleum sales currently account for around 98 percent of the country's revenues; their management is now to be divided between two new entities, the Venezuelan premier announced.
As a result, it will be Cencoex chiefs who face the cameras and take the flak for plunging oil prices. Meanwhile, Maduro's world tour will take him from China to visiting the cartel of oil-producing countries (OPEC), whom he will try to convince to curtail production in a bid to salvage the going rate for petroleum. An announcement of the devaluation of the Bolívar is additionally expected, affecting all three official US Dollar exchange rates. Daily transactions on the black market, meanwhile, are already 30 times higher than the cheapest official setting.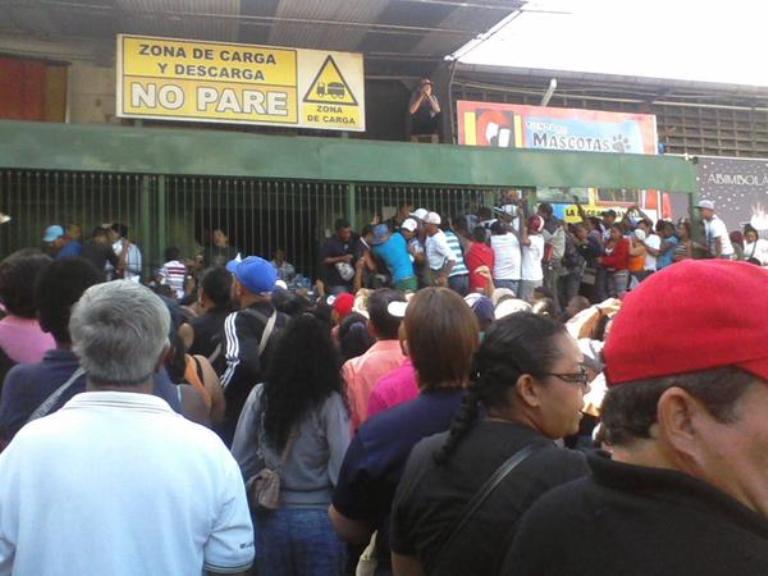 Despite the piecemeal changes, Maduro reassured the nation that "we will never change the [economic] system." He also insinuated that he could release Leopoldo López, the Popular Will (VP) opposition leader imprisoned since March 2014. The only catch: this would be in exchange for Puerto Rican nationalist agitator Óscar López Rivera, jailed since in 1981 in the United States on terrorism charges.
"The Chavista answer to the huge economic imbalance is more bureaucratic babble," economist Orlando Ochoa said in frustration on Twitter. "Maduro and his economists have just demonstrated their inability to deal with the economic crisis; they're utterly thick Marxists," he added. "The state controls over imports and distribution will enrich the Chavista cadre, while socialism's grip suffocates the economy," Ochoa concluded.
Maduro y sus chavistas van a convertir a Vzla en un gran mercado negro, asfixiado por controles socialistas, con aparato productivo postrado

— Orlando Ochoa P. (@OrlandoOchoa) January 4, 2015

"Maduro and his cronies will turn Venezuela into a big black market, suffocated by socialist controls and impaired production." The Venezuelan president has faced severe criticism from economists.
The Venezuelan economy shrank by 4.9, 4.8, and 2.3 percent respectively during the first three quarters of 2014, which means it has officially entered a recession, according to Venezuela's Central Bank. The official annual inflation rate of 63 percent —180 percent according to the Troubled Currencies project — was the highest in the globe, and shortages forced Venezuelans to stand in line for hours for consumer goods, pharmaceuticals, and auto parts.
However, the government's main concern lies in the international price of oil, which has fallen to $46 per barrel after a decade around the $100 mark. The nation's 2014 budget, assuming a $55 per-barrel tag, was practically doubled through amendments and extended credits, and this year's budget was calculated with a $60 price tag in mind, despite all evidence to the contrary.
In the face of this situation, Maduro's options are extremely limited, economist Luis Oliveros told Radio Caracas. The president could considerably slash public spending, which would have a devastating short-term effect on economic performance. Option two is to  exponentially increase the monetary supply, which given the absence of a coherent economic program could see inflation skyrocket to 1,000 percent — this according to Francisco Rodríguez, a former employee of the Chávez administration and now an analyst at the Bank of America.
The Year of Empty Supermarkets
At the outset of 2015, Venezuelans launched a Twitter protest called #AnaquelesVacíosEnVenezuela (#EmptySupermarketsinVenezuela), which in a few hours was trending nationwide. Citizens posted photo evidence of shortages in the country's stores after the Excelsior Gamma supermarket reported to the National Guard a reporter who was trying to take pictures of people lining up outside on December 31. The officers decided to leave the journalist in peace, and the store apologized hours later, arguing that company policy requires people to ask permission before taking photographs, "in order to protect the privacy of clients and preserve intellectual property rights."
As Maduro's popularity plunges in Venezuela (22 percent in December, as gauged by Datanálisis president José Gil Yépez), his sudden trip may represent an attempt to distance himself from the unpalatable announcements due to be made by Cencoex.
Jesús Torrealba, the general secretary of opposing coalition the Democratic Unity Roundtable, made such a prediction. "Cencoex will announce the devaluation, [tax authority] Seniat will announce a tax hike, while he [Maduro] flees to China — so brave, so responsible." Others, like intellectual Ibsen Martínez, had even harsher words for the president via Twitter: "Maduro, we understand that the cards you've been dealt are tough, but if you can't deal with them, why not just leave for good?"
While the national government maintains an optimistic tone, Datanálisis survey data from November showed that 85 percent of the population believe that the country's outlook is bleak, and near 80 percent of respondents thought that things will only get worse in 2015.
Vice president Jorge Arreaza, Hugo Chávez's son-in-law, told press after a meeting between Maduro and ruling party mayors that "the Venezuelan socialist system guarantees stability and development." Meanwhile, the country's key economic and violence indicators are among the worst worldwide.
Translation by Daniel Duarte. Edited by Laurie Blair.