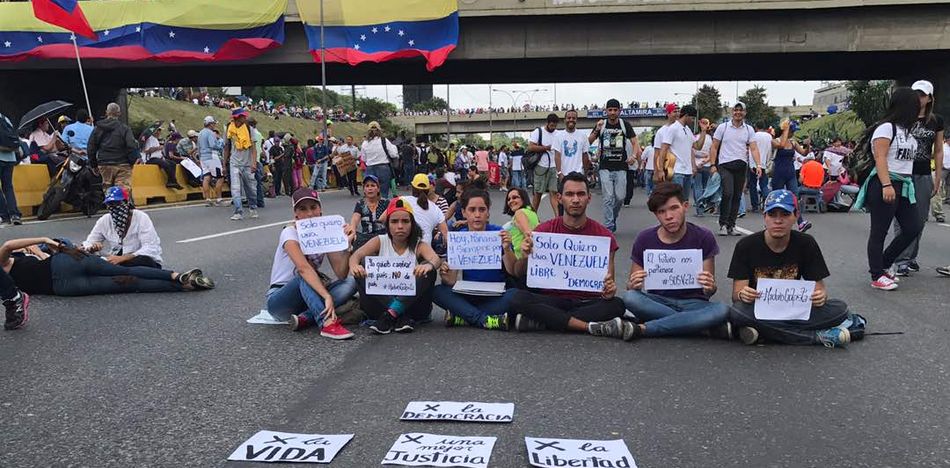 EspañolVenezuela's political opposition is holding a sit-down against President Nicolás Maduro this Monday, May 15, with the intention of paralyzing the country.
Venezuela has been rocked by protests for over a month, but this one will be more unique because protesters plan to occupy main roads in each state — sitting or standing in large groups so cars can't pass — until their bodies can "no long take it," Governor of Miranda Henrique Capriles Randonski said.
"We will spend many hours there demonstrating that our spirit is relentless," he said. "We have been protesting for more than 40 days and we must prepare for many more."
The event will be start at 7:00 a.m. and is expected to last approximately 12 hours.
In the capital of Caracas, the sit-down will take place at two major points: Victory Avenue in the west of the city and the Francisco Fajardo exit to the east.
Seguiremos en resistencia: Este #15Mayo diremos #NoMasDictadura en el Gran Plantón que se hará sentir en el este y oeste de Caracas pic.twitter.com/nHkUFYV0JR

— Unidad Venezuela (@unidadvenezuela) May 14, 2017

Tweet: We continue to resist. On #May15 we say #NoMoreDictatorship during the sit-down in east and west Caracas.
How the "Great Sit-down" developed
Police threatened residents so as to prevent them from attending Miranda's demonstration.
#Urgente la GNB amenaza a los vecinos de los nuevos teques para quitarlos del gran plantón nacional! #NoMasDictadura pic.twitter.com/rGMhnrATPv

— Mariana Suárez Ulloa (@marianasuarezu) May 15, 2017
Tweet: #Breaking the National Bolivarian Police threaten neighbors to prevent them from attending the march #NoMoreDictatorship
Residents in Palavecino, one of municipalities most attacked by repressive forces of the regime, started its march.
#15May | En Palavecino, uno de municipios más atacados por fuerzas represoras del régimen, iniciaron el plantón https://t.co/Geswv3fSIY Lara pic.twitter.com/kIINFJSvFz

— PanAm Post Español (@PanAmPost_es) May 15, 2017
Tweet: #May15 In Palavecino, one of the municipalities under attack by the regime took a stand.
National Bolivarian Police closed access to the 9 de Diciembre bridge. (Caracas).
Caracas | Puente 9 de diciembre cerrado por piquete de la GNB (7:50 am) #15May pic.twitter.com/fkxdDdHGma

— Último Momento (@ultimomomentovz) May 15, 2017
Tweet: Caracas. 9 de diciembre brige is closed by the police.
Though opposition leaders asked protesters to not block streets during the event, people have already begun to do so as a form of protest.

#LaraProtesta15M cardenalito sociedad civil Larense comienza plantón contra la dictadura 7am vía @carlosi_suarez pic.twitter.com/GG3wsXF8X7

— Funpaz (@Funpaz2013) May 15, 2017
Tweet: Civil society in Lara began a stand against the dictatorship at 7am.
https://twitter.com/Arwium1/status/864087608619565060
Tweet: RT Report: #May15. This is how Bolivar avenue looks like at sunrise.
People started to gather at the Santa Fe exit in Caracas.
#15May Así luce el Distribuidor Santa Fe, empezando el Plantón Foto: @margaratoledo – @PeriodistaAlejo pic.twitter.com/sKfVMQf5fc

— Reporte Ya (@ReporteYa) May 15, 2017
Tweet: #May15 This is what the Santa Fe exit looks like. The sit-down begins.
#PlantonNacional A 45 días de resistencia en la calle, hoy #15Mayo, arrancó en Santa Fe #Caracas pic.twitter.com/wEqjZZioE2

— Angela E Vera Lefeld (@uguelo) May 15, 2017
Tweet: #NationalStand 45 days of resistance on the street, today #May15, it began in Santa Fe, Caracas.
Opposition leaders give instructions to carry out the sit-down on May 15.
Recordemos hermanos debemos organizarnos, es PLANTÓN, no es trancazo, resistencia en cada punto del país ¡SOMOS MÁS! #NoMásDictadura pic.twitter.com/mxHHj3Ydha

— Voluntad Popular (@VoluntadPopular) May 15, 2017
Tweet: Brothers and sisters, remember, we must organize ourselves, it's a STAND, it's a blockade, resistance in each corner of the country. THERE'S MORE OF US!
Hoy GRAN PLANTÓN NACIONAL,todos concentrados desde las 7:00am,en Ccs en la autopista Francisco Fajardo y AV Victoria pic.twitter.com/3QM47XBECT

— Jorge Millán (@jorgemillant) May 15, 2017
Tweet: GREAT NATIONAL SIT-DOWN today, we will all gather at 7am in Caracas at the Victoria Avenue and Francisco Fajardo highway intersect.
Despite the opposition's call to protest, the metro in Caracas was 100 percent operational.
#ÚltimaHora | Metro de Caracas se encuentra 100% operativo https://t.co/Q0MzPegfZZ pic.twitter.com/1O6PLKBLKw

— Globovisión (@globovision) May 15, 2017