The average Canadian family spends more on taxes than on food, clothing, and shelter combined, according to a Fraser Institute study published on August 27.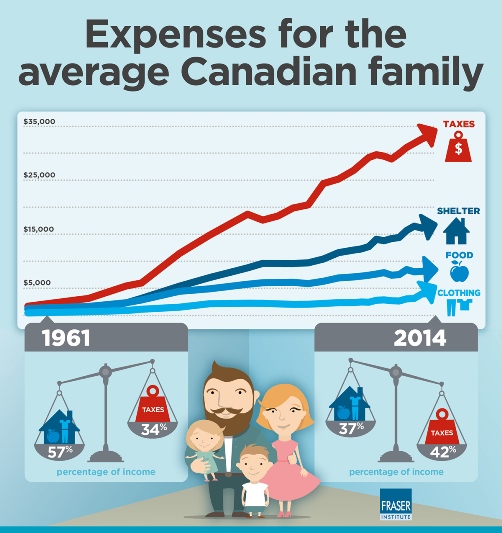 The report indicates that a family earning CAN$79,010 in 2014 would have paid $33,272 in total taxes, and only $28,887 on bare necessities.
The study's total tax bill reflects visible and hidden taxes paid to federal, provincial, and local governments, including income taxes, payroll taxes, sales taxes, health taxes, and more.
From 1961 to 2014, Canadian's tax bill has increased by 1,886 percent, outpacing the Consumer Price Index by 697 percent, a measure used to calculate what consumers pay for basic goods and services, according to the Canadian Consumer Tax Index.
In 1961, the average family spent 56.5 percent of their income on basic necessities and 33.5 percent on taxes ($1,675). In 2014, families spent 36.6 percent on their basic needs, and 42.1 percent on taxes ($33,272).
"Over the past five decades, the tax bill for the average Canadian family has ballooned, and now the amount of money going to taxes is greater than what's spent on life's basic necessities," said Charles Lammam, coauthor of study and director of fiscal studies at the Fraser Institute.
[adrotate group="8″]
Lammam said that while taxes help fund important government services, there is a disparity between the amount of money the government takes in taxes compared to what citizens get in return. "With 42 percent of income going to taxes, Canadians might wonder whether they're getting the best value for their tax dollars."
When accounting for inflation over the 53-year period, the tax bill shot up by 149.2 percent, according to the study.
"Taxes now eat up more family income, so families have less money available to spend, save or pay down household debt," Lammam said.