EspañolFrancisco Oller Elementary School, once filled with children, is now for sale for US$1.8 million. It's not a private school, but a state establishment, and has been closed since 2010: when it was shut down due to a lack of students, although it briefly reopened its doors in 2012 as part of a new government plan.
Francisco Oller was a well-known Puerto Rican impressionist painter, and the school is located in a commuter city close to the capital, San Juan. It's one of over 150 schools that have closed in the last five years due to the worsening economic crisis in the US territory, which has prompted thousands of Puerto Ricans to move to the United States.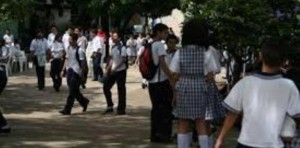 The island's Education Secretary Rafael Román justified the school closures earlier in May, saying that 45,000 of his fellow citizens have left the island for the US mainland, and that birth rates are falling.
But it's not only the lack of children that's behind the closure of public schools: massive budget cuts are also taking place, meaning that thousands of children are now having to travel dozens of kilometers to attend classes.
Furthermore, the surroundings of schools that have closed are suffering an additional impact to that already caused by recession. Neighbors of Francisco Oller, for example, report that the school has been vandalized, become a center for drug sales, and that insecurity has increased in the area. Its windows have been broken and its walls are covered with graffiti.
According to the Puerto Rican government (which faces technical closure at the beginning of 2016 if it can't secure funding to sustain itself), 600 of the island's schools may have to close within the next five years, generating savings of US$249 million. School matriculation has fallen by 42 percent since 1985, and an additional decrease of 22 percent is expected within the next five years, according to a report by the Boston Consulting Group, contracted by the Puerto Rican government to reconstruct the island's education system.
The bleak outlook for Puerto Rican education is completed by the contracting of hundreds to thousands of the island's educators by employers on the US mainland, who prize their bilingual abilities, according to Puerto Rico teachers unions.
No offers have yet been made for Francisco Oller, despite advertisements by the administering property agency highlighting its potential as a shopping or medical center.
Source: Washington Post.