EspañolMexican police have arrested another suspected believed to be responsible for the forced disappearance of 43 student teachers in the town of Iguala last September, the National Security Commission said on Sunday.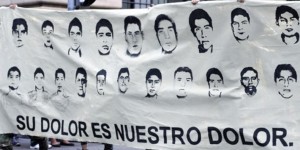 On Saturday, April 11, authorities arrested Miguel Ángel Landa Bahena, who previous suspects have identified as a member of the "inner circle" of the Guerreros Unidos drug gang. The suspected leader of the group, Gilardo López Astudillo, remains at large.
Police say Landa Bahena was carrying a gun when he was arrested in Mexico City, and have turned him over to federal prosecutors.
Authorities have arrested at least 105 suspects in the case of the missing Ayotizinapa students, including the mayor and first lady of Iguala, public officials, police officers, and members of Guerreros Unidos. 
Earlier this year, the Attorney General's Office announced they had concluded that Iguala municipal police officers turned the kidnapped students over to members of the Guerreros Unidos, who then murdered and incinerated the young men.
Three suspects in the case — Patricio Reyes, Jhonatan Osorio, and Agustin Garcia — confessed to having killed the students and burned their bodies.
Parents of the missing students, however, have questioned the official explanation and continue to demand an independent investigation. According to a report from the Mexican magazine Proceso, federal police forces were also involved the forced disappearance of the students.
On Saturday, April 11, the Tlachinollan Human Rights Center reported a group of parents traveled to Canada to put pressure on Mexican diplomatic authorities to solve the case.
Sources: Excelsior, El Universal, Fox News.