Español In 2014, Venezuela's Day of Youth — commemorated every February 12, on the anniversary of the Battle of Victory between young Venezuelan students and royalist Spanish troops two centuries ago — stopped being a day of celebration in the national calendar. Instead, it took on a bloody significance.
Exactly one year ago in Caracas, a demonstration of students before the attorney general's office in Caracas, demanding justice for other young people savagely beaten up in San Cristóbal, Táchira state, was cruelly repressed by the authorities. Two young people, Bassil da Costa and Robert Redman, were shot dead. Also left dead was Juan "Juancho" Montoya, a government sympathizer and member of a so-called colectivo, the name given to the paramilitary groups that sow terror among opposition protests in the South American country.
From that moment, as always happens within dictatorships, old or new, the government of President Nicolás Maduro attempted through propaganda to convert the victims into the victimizers, and vice versa. For promoting a demonstration that was non-violent until colectivos and security forces began to shoot at it, the government arrested leading opposition figure Leopoldo López.
To begin with, the government tried to accuse López of the killings, but such a theory was disproved by 21st-century technology, including CCTV footage from multiple angles. The video evidence showed that members of the Bolivarian Intelligence Service (Sebin) fired the shots that killed Da Costa. Yet Sebin units at that moment were allegedly acting without the instructions of then-Interior Minister Miguel Rodríguez Torres, who had, he claimed, previously given the order for the political police force to return to barracks.
Colombian news channel NTN24 was pulled from the cable network in Venezuela for transmitting live footage of the demonstration. Self-censoring Venezuelan channels screened cartoons or variety shows while security forces shot and killed unarmed students.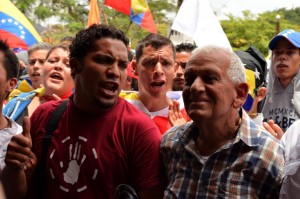 The government attempted to describe Montoya as a martyr for the Bolivarian revolution, killed by the opposition. Yet the evidence showed that Montoya was in fact shot by the same state security forces he was trying to support.
An apparently government-backed gunman on a motorbike also killed Redman on the same night, in another part of the city where protests were ongoing.
One year later, the Venezuelan government is preparing to formally sentence López for deliberate arson, damage to property, and instigation to commit crime, although none of these crimes have even been proven. Amnesty International, Human Rights Watch, the European Parliament, and the UN Working Group on Arbitrary Detention have all described López as a prisoner of conscience.
The Maduro regime has refused to free him, instead turning to Orwellian maneuvers like proposing to exchange the senior Popular Will (VP) figure for Puerto Rican terrorist Oscar López Rivera, currently jailed in the United States, on the condition that López leaves Venezuelan soil.
Maduro's proposal goes against the Venezuelan Constitution, which expressly forbids extradition from the country, and demonstrates that López's imprisonment is more a political, or even personal, issue than a legal one. Despite being behind bars for a year, López's popular approval ratings are at 50 percent, while Maduro's languish at 20 percent — and falling.
Maduro knows that he's sat on a powder keg, supported only by the military, which does brisk business at the government's expense, but fails to realize the truth of Talleyrand's words: "the only thing you cannot do with a bayonet is sit on it."
He also knows that López's continued imprisonment is a huge PR disaster for his regime, but even worse would be to release him to canvass the country with the prestige of having survived severe punishments in jail: solitary confinement, physical and verbal mistreatment, and a judicial process patently unfair to the entire Western world.
Only those governments that are accomplices to Chavismo, and that have gorged themselves for years at the petrodollar trough that Venezuela has become, look the other way.
February 12, 2014, also marked the beginning of a wave of repression never seen before in Venezuela, so much so that even the cowardly Attorney General Luisa Ortega Díaz described his administration as having "shifted to the right" during the last year.
Forty people, 34 of them young Venezuelans, died during the demonstrations that began on February 12, while hundreds of other young people were wounded as a result of the colectivos' activities, in many cases with the complicity and collaboration of regular security forces. Some 1,400 students were brought before courts on criminal charges, while 100 of them were imprisoned.
Many of them remain in jail, such as Gerardo Carrero, Lorent Saleh, and Gabriel Vallés, currently on hunger strike over the conditions of their confinement in the basement of Sebin headquarters, known as "the tomb" for the complete lack of sunlight. The Venezuelan Penal Forum has also registered 160 cases of torture committed against students after their arrest.
Only those governments that are accomplices to Chavismo, and that have gorged themselves for years at the petrodollar trough that Venezuela has become, look the other way. They know that the fall of the Chavista regime would result in a wave of scandals that would reflect poorly on their own governments.
Maduro has tried in vain to demonstrate that the gun-toting, motorcycle-mounted paramilitaries belonged to the heroic "left," while the young students who openly confronted them over three chaotic months were "the ultra-right," "fascists," and plotting a "coup d'etat." But in Latin America as in the rest of the world, the images are too familiar to not be understood correctly.
February 12, 2014, had the virtue of laying wide open the natural savagery of the Venezuelan government, through the sacrifice of López and Venezuela's youth. It showed the world a Nicolás Maduro who, in the words of the New York Times, is becoming "increasingly erratic and despotic," like all doomed tyrants.
Venezuela is a warning to every country. The world must be alert to what's happening in a nation that, for decades, was a beacon of liberty and democracy. Venezuela now lies abandoned to its fate, save for a handful of individuals and governments that genuinely fight for human rights, and not their own shameful interests.