EspañolDominican Republic President Danilo Medina was reportedly targeted with death threats while visiting Puerto Rico on Tuesday, January 13. Medina traveled to the island to meet with Puerto Rican Governor Alejandro García Padilla, and signed 11 agreements tackling a wide range of topics.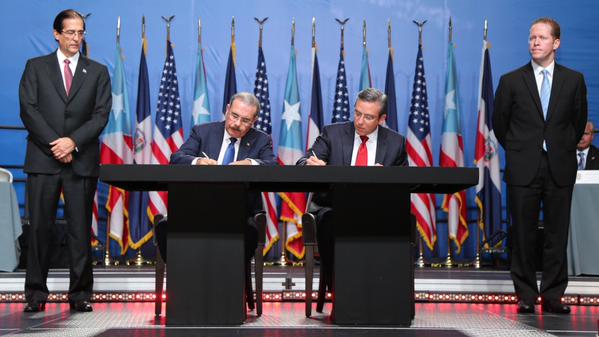 According to Univision and local newspaper El Nuevo Dia, the field operations police division received a phone call in which a man said that three men in a white van were following the Dominican president and planned to assault him.
Cabinet Minister José Ramón Peralta indicated President Medina's activities in Puerto Rico have been developing as scheduled and denied the president was under any kind of risk.
In what Governor Padilla called "a great day for the Caribbean," both leaders signed bilateral agreements in different areas, including economic cooperation, taxes, and environmental issues. They also agreed to lower university tuition fees for Dominicans studying in Puerto Rico, coupled with a US$500,000 scholarship program.
Puerto Rican Secretary of State David Bernier said that the agreements were "the result of months of work, sacrifice, and goodwill" and noted each agreement will have both Puerto Rican and Dominican authorities overseeing its compliance. He further stated each goal has its own road map, with specific dates and officials in charge.
Moreover, Puerto Rico agreed to provide weapons, vests, and other equipment for Dominican police forces, as well as training for their agents.
"We are sure that the relations between Dominican Republic and Puerto Rico will take a historical turn, with extraordinary impact for both countries," said President Medina.
Medina's trip to the island marks his first visit to the commonwealth since he became president in 2012. Meanwhile, Puerto Rico has been struggling with a serious debt problems which have impacted the island's economy.
Sources: Primicias, El Nuevo Día.