EspañolDespite a sharp decline in Canada's crime rates, the nation's cost of achieving justice is higher than ever. A report released last week by the Fraser Institute, a free-market policy institute based in Vancouver, shows a dramatic increase to expenses associated with crime in the 2000s.
In 2009 — the last year with comprehensive data — Canadians spent over CAN$85 billion (US$76.6 billion) in preventing, prosecuting, and punishing criminals. The study "reveals that the cost of crime in Canada is over five percent" of the Canadian national product.
The study "The Cost of Crime in Canada: Report 2014" addresses overall costs of police, courts, prisons, rehabilitation, and education. It also takes into account a variety of costs incurred by crime victims, due to stolen or damaged property, crime prevention, and lost health and productivity — even anger, frustration, and fear.
"Unfortunately crime is a fact of life, but to understand whether we spend too little or too much on fighting crime, we need to understand the full costs," said Stephen Easton, Fraser Institute senior fellow and lead author of the study
The report remarks that despite the fact that crime fell by 27 percent between 2002 and 2012, crime-related costs increased by an average of 35 percent.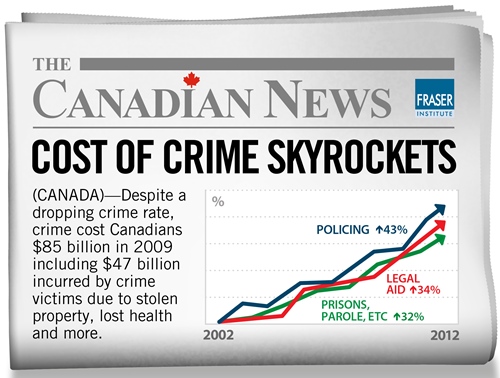 According to the work, the greatest increases have been in policing costs, followed by corrections. Between 2002 and 2012, they rose by 43 percent and 32 percent, respectively.
"The costs of crime are rising in part because the Supreme Court of Canada has imposed a set of evolving requirements on the police and prosecutors that make it more expensive to capture and prosecute criminals," Easton said.
The study also shows a slower pace for resolution of criminal cases in Canadian courts: "the number of criminal cases completed in Canadian courts over the past 15 years has remained relatively stable, [but] the proportion of cases taking more than a year to complete doubled from eight per cent to more than 16 percent."
"When making spending decisions on crime prevention, prosecution and punishment, governments across Canada need to clearly understand the potential effect of those decisions, for the sake of taxpayers, crime victims and their families," Easton added.