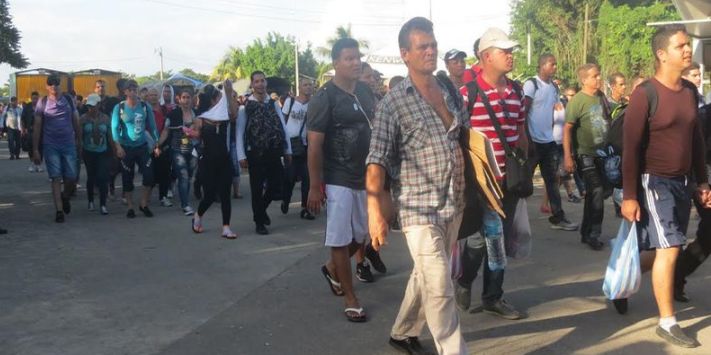 EspañolThe Cuban people do not exist, because no Cuban wishes to live in freedom. After pretending for so long that we were happy without the need to be free, we ended up being content with our particular kind of slavery. And where there are no individuals, there are, of course, no people.
So when the regime's leaders speak of the "Cuban people," they are manipulating words in order to perpetuate themselves in power.
The current migration crisis involving Cubans who make their way to Central America from Ecuador in order to reach the United States is no exception. Whether the Cuban intelligence agency caused the crisis, or it's simply the spontaneous reaction of citizens exhausted with the system, the fact is that Cubans are fleeing a communist totalitarianism now turned into state-led capitalism.
But this time, those leaving Cuba behind are not looking to become migrants, much less exiles. Rather, these outlaws of Castroism only leave Fidel's dominion behind in order to join that bastion of Castro appeasement known as Miami.
These post-Cuba Cubanitos travel not on their own, but as herd animals, with the complicity of Havana's corrupt migration authorities. They're allowed to leave at a time when Miami more than ever needs at least half a million workers to remain the Cuban Revolution's most productive province.
Today, half a continent spanning from Quito's airport to the southern US border has become a network of illegal human-trafficking. Mafia thugs and coyotes dutifully play their role in operation End the Cuban Adjustment Act. The Castro regime has expertly used its migrants as human missiles to strike Washington's policies. The Cuban Adjustment Act is Barack Obama's next concession to Raúl Castro, a suicide pact that alienates the United States from its historic allies and empowers its deadly enemies.
Nicaragua, a Cuban satellite nation, received the order from Havana to deploy the army against this wave of migrants. In any decent and democratic nation, such an episode would shame the government and probably force its resignation.
Nicaraguan President Daniel Ortega was put in charge of giving publicity to this alleged threat to US national security, so his army even launched tear gas at the hoard of Cubans illegally traveling northward. This humanitarian show in real time will duly make headlines in the US mass media, a strategy at which the Castro regime excels.
Many pundits on Cuban affairs think that this is a "vote with your feet" movement, that fear is driving Cubans to flee from the Castro dictatorship. But none of these thousands of migrants have ever uttered the word "freedom" in front of cameras. At the most, some have claimed that they are on their way to the United States to seek better wages — like the rest of mankind — so they can help their families back home.
Of course, they'll peacefully go back to visit their relatives in Cuba three or 30 times a year, as soon as they make their first US social-security savings. That's why no recent Cuban migrant will ever dare to criticize the Castro regime. In other words, Cubans are no longer leaving Castroism — they choose to stay in Miami, that rotten city where millionaires are the most miserable human begins.
The Cuban revolution, now proclaimed by Raúl Castro as the guarantor of peace and stability in Latin America, is, in truth, the source of all violence and imbalance in our hemisphere. The Castro regime's success lies precisely in erecting itself as bridge over troubled waters. The Cuban dictatorship wouldn't survive in a continent of solid peace and pluralism.
[adrotate group="8″]
What the White House refuses to see is that Havana's reactionary regime is a reality-distorting, criminal machine. The Castros create crises to which only they can provide solutions. That is how they legitimize themselves ahead of the next government, which won't count with the original Castros for the first time in six decades, after imposing death on Cuba and the Americas as a tool of governance.
Perhaps Cubans do well in not existing as a people. Maybe it's a very good thing that they don't wish to live in freedom. Perhaps happiness is unique to that state of slavery that we have fallen into. As non-people, we no longer have a place to call home. Only Castroism, for both those on the island and exiles, is the glue that binds us with a sense of belonging to our non-nation.