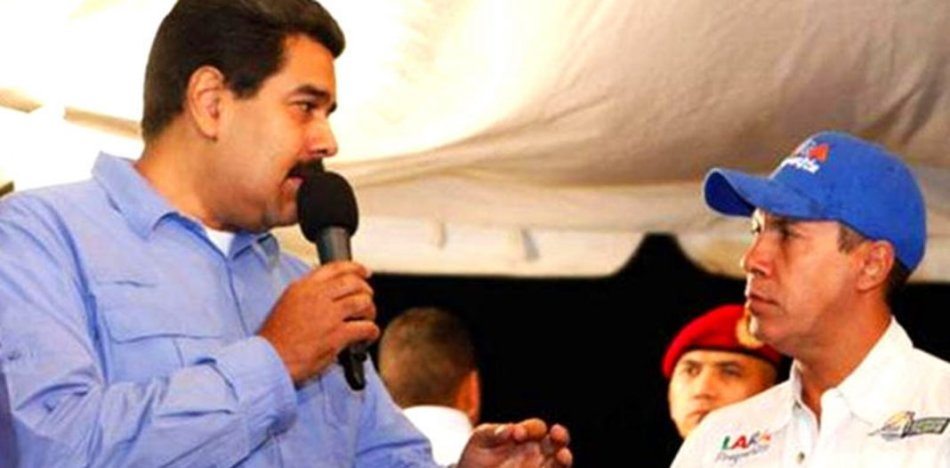 Henri Falcón, the ex-Chavista and current leader of the Avanzada Progresista party, is alleged to have negotiated the results of upcoming sham presidential elections with dictator Nicolás Maduro. The shocking allegations have been widely suspected in Venezuela since Falcón announced his candidacy; however, there is more and more information that suggests the likelihood of a corrupt bargain.
Héctor Schamis is a professor of Latin American Studies at Georgetown University. He is the author of several essays and a regular columnist for the Spanish newspaper El País. In his column, published on May 5, Schamis discloses substantial information.
The professor begins by discussing Kafka's story, The Metamorphosis, to make a sort of analogy with what the Nicolas Maduro's chavista regime intends: to realize a metamorphosis of their own.
"The new political order is being put together in Venezuela, which has been confirmed by several reliable sources. In a lunch meeting two weeks ago, the ambassadors of some European Union countries met in Caracas talked with the opposition candidate Henri Falcón. There, reference was made to a great political agreement spearheaded by [former Spanish prime minister] José Luis Rodríguez Zapatero," writes Schamis.
What the author is going to point out next, is something that has been heavily emphasized previously; figures such as the Andrés Bello Catholic University professor, José Valentín González, have proposed the thesis of "Operation Falcón"; that it would be an attempt by the regime to promote the candidacy of the Avanzada Progresista politician as the supposed new face of the "opposition" in Venezuela.
"Based on that agreement," Schamis continues, "the government and opposition, in other words the candidate Falcón, will commit to ensuring stability and launching an economic recovery plan immediately after the May 20 election. The planned scenario is seven million votes for Maduro and five million for Falcón. It's the well-known formula of smart fraud: 60-40."
"With this result, Falcón will be the leader of an opposition constructed to the exact specifications of the regime. So much so, that there was discussion of offering him the vice presidency. The idea was already floated some time ago, but it was Zapatero, a master of subterfuge, who apparently put the finishing touches on the plan for a great government of reconciliation and national unity," continues the El País columnist.
Schamis pronostica un escenario que concuerda con lo que muchos pensamos.

-Maduro 60%-Falcón 40%.
-Falcón autoerigido "líder de la oposición".
-Incluso va más allá: dice que con Falcón ensayarán la fórmula de "inclusión" a lo Mugabe, para lavar caras. https://t.co/Wnb8FzlHzF

— Nehomar A. Hernández (@Neoadolfo) May 7, 2018
Several days ago, the researcher and author, Thays Peñalver, wrote a column about possible post-electoral scenarios. One such scenario he proposes is, in fact, very similar to that of Schamis, who speaks with certainty.
Professor José Valentín González, who some have deemed "the chronicler of Operation Falcón," also emerged with a nearly identical prediction: "I do not need to do surveys. May 20 Election: Maduro, 58%. Falcón, 37%. Margin of Error: +/- 5%."
But the difference is that Schamis cites "reliable sources" and everything would be part of an agreement. "The scheme is seen as a veneer of legitimacy to escape international isolation…playing with fire involves the danger of getting burning, the tsars [Falcón and his team] should know this, but if their plan comes to fruition, the government will once more have achieved its overarching objective: to lengthen its time horizon in power. That is, to gain time, to demobilize, to repress or even better co-opt, and keep real threats to the dictatorship as political prisoners."
The Georgetown professor affirms that, within the context of the agreement, there would be the idea that Falcón's team be integrated, after the fraud, into the Maduro regime. For example, the economic adviser of the allegedly "opposition" candidate, Harvard graduate Francisco Rodríguez, could become the economic "tsar."
Hector Schamis's column generated a series of reactions. Several leaders of Leopoldo López's party Voluntad Popular, believed the allegations, and began to denounce that Henri Falcón had collaborated with Nicolás Maduro.
¿Te enteraste del pacto que hicieron en contra de los venezolanos? Así es, todo está cuadrado para que después del #20May sea #FalcónVicepresidenteDeMaduro. ¿Lo vas a permitir? Aquí tienes todos los detalles https://t.co/6fDkxjFa72 pic.twitter.com/QbHDRCLBEP

— Voluntad Popular (@VoluntadPopular) May 7, 2018
Francisco Rodríguez cumplirá su sueño de ser ministro de finanzas, pero con Maduro. Es parte del pacto de Zapatero para legitimar a la dictadura después del fraude. Hay que dejar solos a Maduro y a Falcón, pues pactaron en contra de los venezolanos. #FalcónVicepresidenteDeMaduro pic.twitter.com/RG61UzpYRZ

— Voluntad Popular (@VoluntadPopular) May 7, 2018
"You should know that in Venezuela there are two options. Henri Falcón is helping to legitimize Maduro, or even planning to join his government. Being an accomplice of this government only guarantees 6 more years of Maduro," wrote Primero Justicia leader José Manuel Olivares on his Twitter account.
Congressman Juan Guaidó wrote, after the column was published: "Did you ever think about voting for Falcón because you thought it was an alternative? We have news: Falcón deceived you because he made a pact with Nicolás to become his vice president after the May 20 fraud."
Falcon's side also reacted. Some opponents, such as the political scientist Carlos Raúl Hernández, questioned Schamis's sources. "Absurd that such a highly regarded columnist distorts reality like this. I regret that you did not verify the information, or the questionable sources and informants you used," Hernández wrote.
Felipe González no es árbitro aquí porque tomó parte radical por la abstencion con un lenguaje insólito.
Francisco Rodríguez estuvo en la reunión y lo desmintió. A falta de una fuente primaria -que no hay porque eso no ocurrió- responsable sería retractarte. https://t.co/Rs3ijLQOOe

— CarlosRaulHernandez (@CarlosRaulHer) May 6, 2018
Economist Francisco Rodríguez, wrote: "Regrettable that Hector Schamis base his column yesterday in El País on anonymous WhatsApp chains full of fabrications. A dozen ambassadors present at our meeting with the delegation of the European Union can confirm the inaccuracy of their statements."
Agradezco a @frrodriguezc que admita la existencia de dicha reunión, o sea, la veracidad de mis fuentes, y que también proporcione información sobre los participantes, que fueron doce. Seria bueno que ahora expliquen a los votantes la agenda de tal reunión. https://t.co/qYhPcQMpCA

— Hector Schamis (@hectorschamis) May 6, 2018
After the controversy had raged for several hours, Henri Falcón spoke. In a press conference, he said that the accusations are "a dishonest fabrication" and regretted the "echo chamber rumors" – especially pointing blame at the militants of Voluntad Popular.
Falcón se pronuncia sobre rumor de una posible vicepresidencia suya en caso de la reelección de Maduro.

Dice que es una "mentira" y lamenta que "los compañeros de Voluntad Popular" se "presten" para esa "campaña". @contrapuntovzla pic.twitter.com/101vosgPLl

— Héctor Antolínez (@HectorAntolinez) May 7, 2018
Operation Falcón continues to add supporters
As noted in an article published in early April in the PanAm Post, it was "imminent that 'opponents' in Venezuela" would join "Operation Falcon" to lend it legitimacy.
José González, lawyer and professor at the Andrés Bello Catholic University, detailed the operation, which consists of a group of members of the fake "opposition," gathered around the candidacy of accomplice Henri Falcón. According to his thesis, as the day of the false elections approaches, there will be characters that come out of the woodwork to express their support for the May electoral farce.
Some new characters have already appeared, new recruits in the "Operation." They include former secretary of the Democratic Unity Table and journalist, Jesus "Chúo" Torreabla, who reported on May 5 that, after thinking about it, he had decided to support Falcón.
Torrealba was accompanied by the economist and director of the Datanalisis polling firm, Luis Vicente León. At the gathering, he suggested that the best scenario was for society to participate, and be an accomplice, in the May 20 fraud.
Especialistas realizan debate sobre la participaciòn de los sectores del paìs en las elecciones presidenciales del 20 de mayo #NoticiasEnVIVO pic.twitter.com/h1lltuNzWN

— VIVOplay (@vivoplaynet) May 5, 2018
Another new supporter – and whose support reveals much more about interest in the candidacy of Henri Falcón – is Timoteo Zambrano. The Congressman spent years of militancy in the Un Nuevo Tiempo party. When he left the political party of ex-Governor Manuel Rosales a few weeks ago to lend his support to the dubious and obscure character, Leocenis García – supposedly in the opposition, it surprised many. Garcia had just launched his political platform, the Prociudadanos movement, in a sumptuous act. Well, Zambrano did not last two weeks under the sway of Leocenis Garcia.
Fuentes cercanas a Timoteo Zambrano explican que él decidió separarse del movimiento de Leocenis García después de que el segundo cheque rebotó.

— Ibéyise Pacheco (@ibepacheco) May 4, 2018
RUNRUN: Hoy anunciará Timoteo Zambrano, salido ya de UNT y de Prociudadanos, que apoyará la candidatura de @HenriFalconLara y hará campaña para que gane el 20M.

— Nelson Bocaranda S. (@nelsonbocaranda) May 7, 2018
This Monday the Congressman was at a press conference with Henri Falcón – in which the candidate lamented the rumors about him. He took the opportunity to ask the Venezuelans to vote for the leader of Avanzada Progresista.