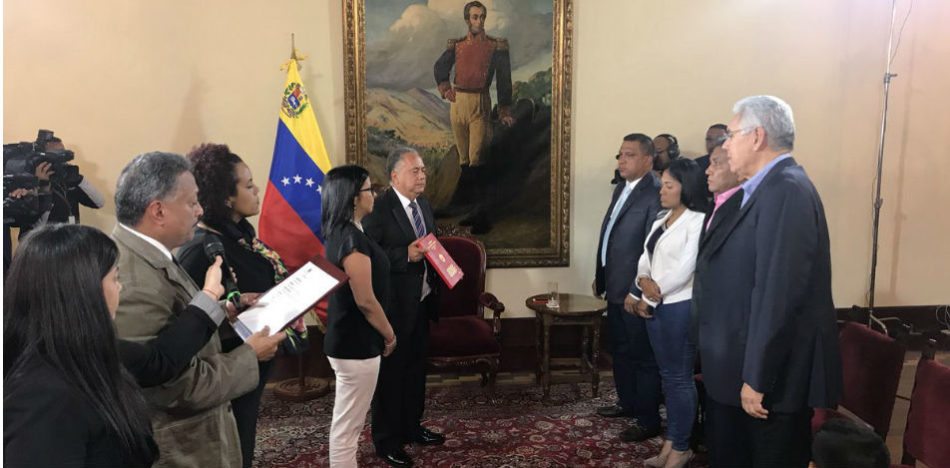 EspañolFour governors from Venezuela's opposition Democratic Action party were sworn in on Monday, October 23 before the illegitimate National Constituent Assembly, a move many critics called an act of subordination.
The Nicolás Maduro regime announced the news over the Constituent Assembly's official Twitter account, saying: "Governors from Democratic Action in Casa Amarilla to swear in before the National Constituent Assembly." Then, a photo went up showing Governors Alfredo Diaz of Nueva Esparta, Laidy Gómez of Táchira, Antonio Barrero Silva of Anzoátegui and Ramón Guevara of Merida being sworn in by Assembly President Delcy Rodriguez.
https://twitter.com/ANC_ve/status/922574390109376512
Other parties within the Democratic Unity Roundtable, the political opposition coalition that goes by the acronym MUD in Spanish, immediately erupted with anger alongside citizens. They said taking an oath with the Assembly — against which they had protested for months straight earlier this year — was unconstitutional, and a betrayal.
"It is not only a matter of swearing in," tweeted Jose Ignacio Hernández, a lawyer and opposition member. "It is an act of 'subordination' before an illegitimate and de facto body."
The leader of the Popular Will party and Vice President of the National Assembly, Freddy Guevara also commented: "The position of our party was decided and agreed upon long ago: not to be sworn in before National Constituent Assembly."
Nuestra posición es clara. Gobernadores cuentan con nosotros para defender su triunfo, pero NO deben juramentarse ante fraude ANC https://t.co/KBOLFMPF1H

— Freddy Guevara (@FreddyGuevaraC) October 23, 2017
Congressman Armando Armas said that it was a good opportunity to form a new alliance outside of MUD.
"It's time for a citizens alliance that integrates real democratic values, republican values and the love for our country and our dignity," he said on Twitter. "Whoever believes that Venezuela forgets quickly is making a poor 'political investment.'"
Hoy en #Venezuela al menos estamos más claro que ayer

— Armando Armas (@ArmandoArmas) October 23, 2017
Tweet: At least things in Venezuela are more clear now than they were yesterday. 
The remaining governor-elect, Juan Pablo Guanipa of the Justice First party, decided not to submit himself to the Constituent Assembly, tweeting, "For the love of Zulia and Venezuela, with consistency and dignity, we will not swear in before the fraudulent National Constituent Assembly."
Buscan en nosotros quien convalide su inconstitucional ANC. El Zulia no se doblegará jamás ante la dictadura. ¡Seguimos de pie! pic.twitter.com/dkRw2FBYb5

— Juan Pablo Guanipa (@JuanPGuanipa) October 23, 2017
Tweet: They look to us to validate their unconstitutional ANC (National Constituent Assembly). Zulia will not kneel to the dictatorship. We are still standing!
Members of the opposition had warned about this possibility from the trenches of protest and resistance; however, opposition leaders insisted it would never happen. Even Secretary of Democratic Action and former President of the National Assembly, Henry Ramos Allup, published a video saying "the governors must not swear in before a 'prostitute constituency.'"
Repito lo que he dicho antes y después de elecciones regionales: Gobernadores NO tienen que juramentarse ante ninguna prostituyente. pic.twitter.com/da3VuEJUOX

— Henry Ramos Allup (@hramosallup) October 18, 2017
Maduro threatened the governors-elect prior to their swearing-in, claiming that he would deny them seats and replace them. Still, the opposition seemed set on its decision to not swear in. Then, they surprised everyone this week.
https://twitter.com/ANC_ve/status/922570369558487040