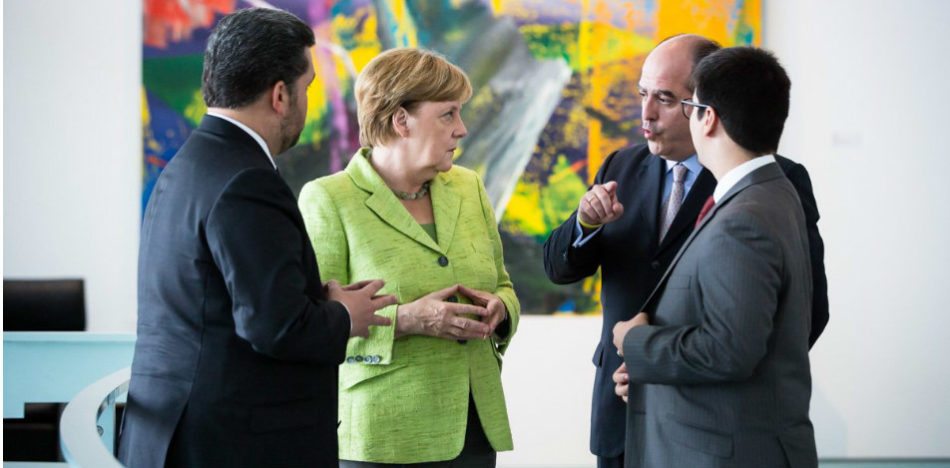 EspañolTwo prominent members of Venezuela's opposition traveled to Germany this week to meet with Chancellor Angela Merkel and discuss the country's deteriorating situation under dictator Nicolás Maduro.
President and Vice President of the National Assembly Julio Borges and Freddy Guevara discussed the possibility of the European Union issuing sanctions against Venezuela this Wednesday, September 6.
"The Chancellor assured the Venezuelan people and all the democratic forces of their support in the search for a peaceful and constructive solution to the conflict," the two opposition members said in a statement from Germany's Federal Chancellery.
Angela Merkel is one of the most prominent leaders of European Union and the western world. So far, in their tour of Europe, the leaders of the Venezuelan opposition have won the support of French President Emmanuel Macron and Spanish President Mariano Rajoy.
"The violation of democracy and human rights that is taking place in Venezuela is unacceptable," Merkel told Guevara and Borges.
Merkel said she was not ruling out the possibility of sanctioning the Maduro regime.
After the meeting, Borges tweeted a photo of them, which read: "Merkel also expressed deep concern about the serious humanitarian crisis and constant violation of human rights in Venezuela."
En reunión con la Canciller de Alemania, Ángela Merkel, nos expresó su absoluto respaldo a la @AsambleaVE y al pueblo venezolano pic.twitter.com/DUakgfmcuH

— Julio Borges (@JulioBorges) September 6, 2017
In a meeting with the Chancellor of Germany Angela Merkel, she expressed her total support of @AsambleaVE, and the Venezuelan people.
Prior to their meeting, the Venezuelan officials visited Secretary of State Walter Linder and met with the head of Latin American Relations Division Frank Hartmann.
Source: El Nacional