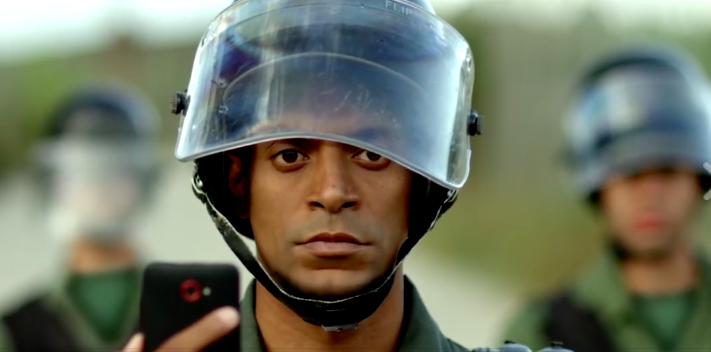 EspañolLast Saturday, September 15, the political party Primero Justicia in Venezuela published a video expressing its anger at President Nicolás Maduro's adminstration, which resulted in multiple arrests.
According to Venezuelan journalist and producer for Telemundo Alberto Rodríguez, the video shows the daughter of a military official who texts her father about not having any food or water. This resulted in a wave of political repression.
In the video, the daughter writes various messages saying, "mom is still doing bad and has run out of pills" while claiming other people are going through a similar situation.
RT | ANTES QUE LO CENSUREN – El vídeo que tiene al Gobierno de Maduro desatando una ola de persecución y arrestos en Venezuela (1/3) pic.twitter.com/AHhN5Eae7V

— AlbertoRodNews (@AlbertoRodNews) September 20, 2016
According to Rodríguez, the producers of the video are Marco Trejo, César Cuellar and James Mathison, who were arrested days after its release.
Rodríguez said they were detained in Caracas and are going through military court. He said they made the video to "incite rebellion" and that prosecutors want to put them in prison for 15 years.
ÚLTIMA HORA| El es Marco Trejo, uno de los arrestados por la DGCIM tras producir video de Primero Justicia: Quieren juzgarlo en Fuerte Tiuna pic.twitter.com/e46A71knq5

— AlbertoRodNews (@AlbertoRodNews) September 20, 2016
The Law School at the Metropolitan University said on Twitter that opposition leader Henrique Capriles Radonski and Mayor of Sucre Andrés Eloy Moreno Febres-Cordero continue to be sought after by Venezuelan intelligence for allegedly having worked on the videos as well.
It added that Andrés Eloy Moreno is accused of "being part of the production team that made the protest video."
Andrés Eloy Moreno Febres-Cordero CI 18004523 empleado de la Alcaldía de Sucre, asesor de Enrique Capriles. El SEBIN se encuentra en su casa

— Derecho UNIMET (@EDerechoUNIMET) September 20, 2016